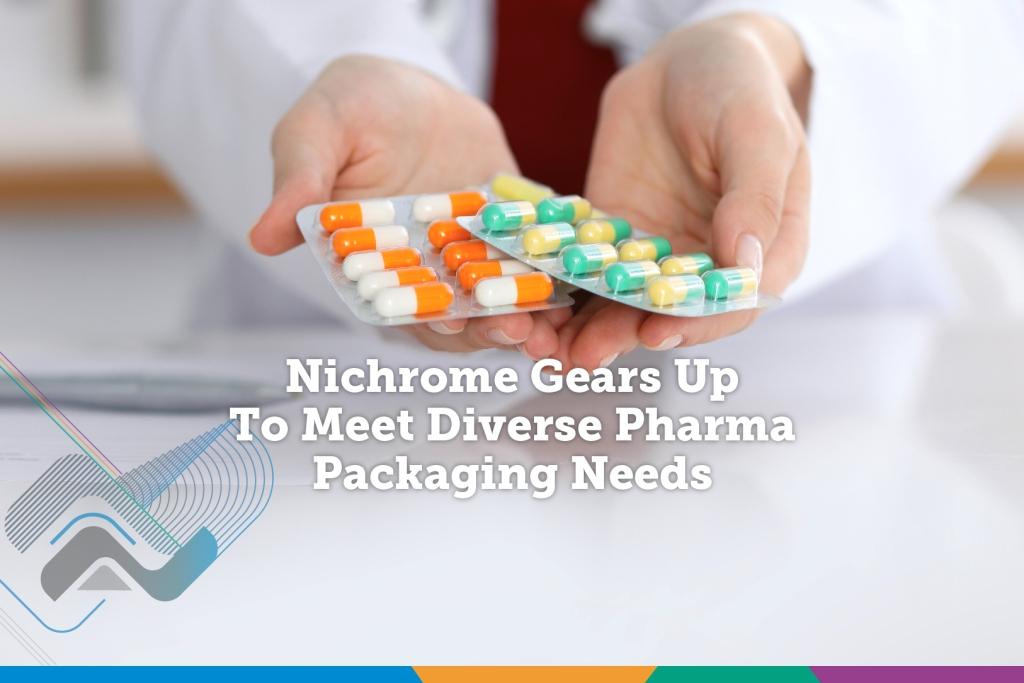 Nichrome Gears Up To Meet Diverse Pharma Packaging Needs
Nichrome has been a pioneer and front runner in the flexible packaging industry for decades. Today, strengthened by its wealth of diversified knowhow in packaging, manufacturing infrastructure and strong nation-wide sales & service network, Nichrome is joining hands with global players to bring the latest technology and integrated packaging solutions for the Pharma packaging machine.
Through its many alliances with various companies around the world, Nichrome brings to India a comprehensive, state-of-the-art range of cost-effective, high-quality filling machines and primary & secondary packaging systems for pharmaceutical products. Through these tie-ups, Nichrome offers the advantage of pooled expertise, delivering top-quality, technologically advanced solutions spanning the entire value chain of filling and packaging lines for pharmaceutical products.
The portfolio includes single units, systems and complete solutions for 4 broad categories of pharmaceutical products:
Oral Solid Dosage
Oral Liquid Dosage
Ophthalmic & ENT
Injectibles (Vials/Ampoules and Pre-filled Syringes)
For each category, Nichrome offers relevant equipment and systems for processes such as Granulation, Tablet Compression, Coating, Counting and Filling, Printing, Inspection, Blister Packing, Bulk packaging, Labelling and Cartoning. Customers can ask for individual machines, complete integrated lines or custom packaging systems tailored to individual requirements.
Nichrome's Partners and Solutions
Through its association with Daeyong Pharmatech of Korea, Nichrome offers a complete Injection Automation Line for Ampoules and Vials, covering:
– Washing (ultrasonic)
– Drying & Sterilising
– Filling & Rubber Stoppering
– AL-Cap Sealing
Nichrome also offers automated packaging systems from Keum Sung Machinery Co., Ltd. of South Korea. Machinery includes:
– Fluid Bed Processor
– High Shear Mixer Granulator
– Auto Coater
– High production Tablet Compression
– Hard Gelatin Capsule Filler
For Tablet Counting & Filling, Nichrome presents high-speed systems such as:
– Bottle Filling, Capping, Labelling Systems
– Dessicant Insertion & Leaflet Insertion Systems
– Integrated Lines
For Tablets and Capsules, Nichrome offers sophisticated Blister Packaging lines.
Through its alliance with Yener Kalip of Turkey, Nichrome brings world-class pharmaceutical tablet tooling supplies & services including tablet pressing tools, tablet press machine spare parts, maintenance kits of pressing tools and plastic tool storage boxes.
Nichrome also offers top quality special parts and pre-assembled units from MPA Technical Devices of Italy. Readily available are Precession, CIP/SIP Dosing Pumps and Needles for liquid, viscous products for sterile applications. Customization and improvisation on OEM products is also possible.
With KWT of Taiwan, Nichrome brings high quality bottle unscrambler, leak tester, filling machine, capping machine and labeling machinery, and through Kyung SEO E&P of Korea, Nichrome offers various kinds of industrial packing machines and spout packing machines including the ultra high vacuum, low temperature extraction concentrator for Oriental medicines.
Revolutionary Easy Snap solution
Nichrome is proud to launch Easysnap® in India. Easysnap® is a worldwide patented packaging by Easysnap Technology S.r.l. of Italy.
Easysnap is the new worldwide standard for single dose units of liquid products, offering convenience, easy one hand opening, complete dispensing of contents and on-the-go mobility.
Packing in single-dose Easysnap packages is safe for consumers (always correct doses and easy to take), sustainable for the environment (reducing waste of excess product), useful for manufacturers (easy to deliver and distribute).
Conclusion
With all these global alliances and their world-class Pharma packaging machine and automated packaging solutions, Nichrome is strongly positioned to be a true partner to the pharmaceutical industry. Nichrome promises customized service, product integration, on-schedule deliveries and after-sales care. We also offer the benefit of single-supplier convenience, and the assurance of international technology backed by expert, local support.