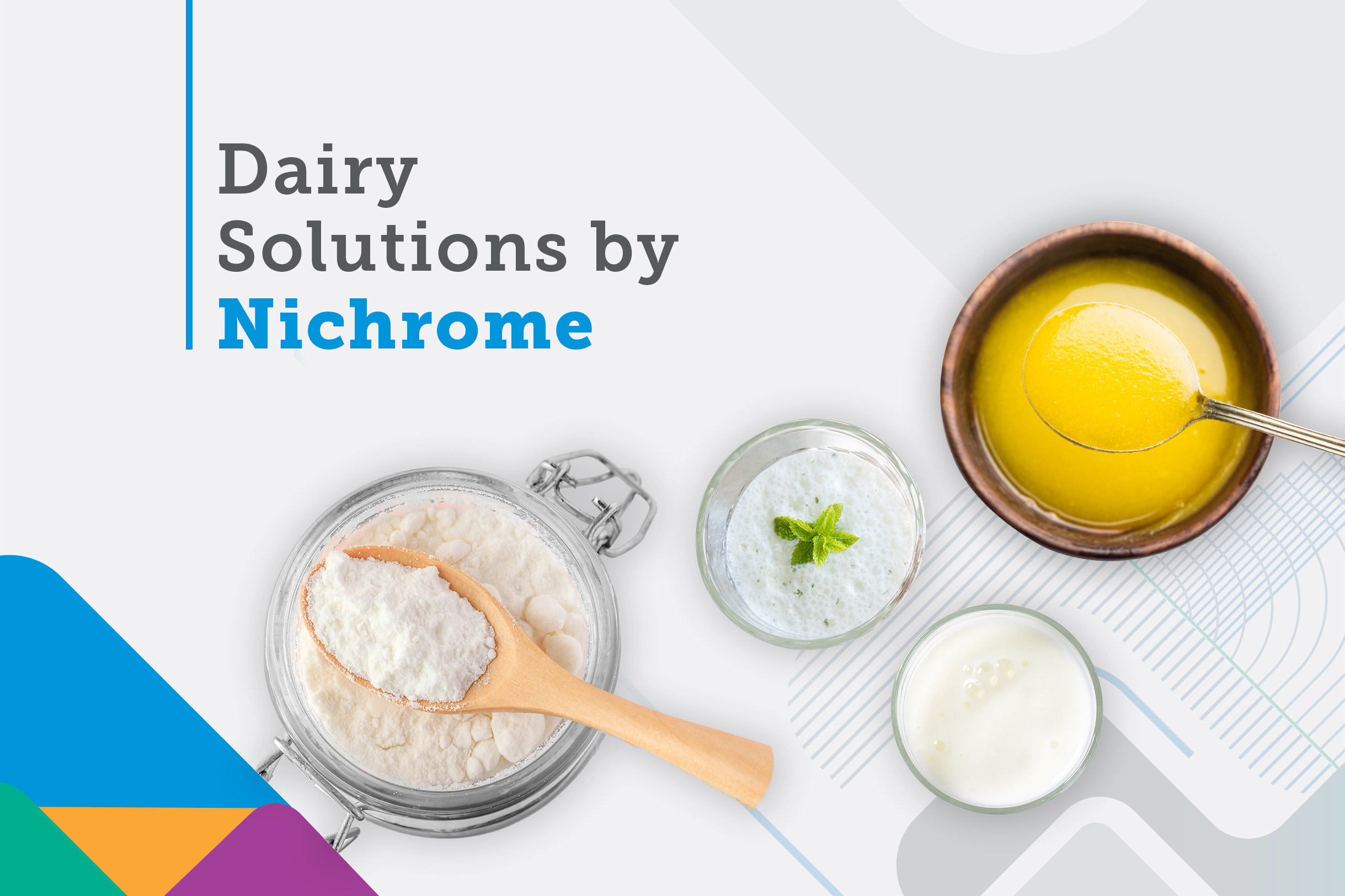 Dairy Solutions By Nichrome
Since Nichrome designed and manufactured India's first indigenous milk pouch packaging machine four decades ago, the company has been continuously building its dairy packaging expertise and product portfolio for packaging milk and other dairy liquids such as flavoured milk, buttermilk, lassi.
In fact, Nichrome offers automated packaging machines and integrated packaging systems for a wide variety of dairy products including viscous (ghee, vanaspati, curd), powders (dairy whiteners, milk powder) and liquids. Nichrome's dairy packaging machines and systems present certain common advantages such as compact, maintenance-friendly construction, high speed performance, requisite hygiene standards, and accurate filling and sealing.
Let's take a quick look at Nichrome's range of offerings for the Dairy industry.
VFFS Packaging Machines
This range includes
Filpack Servo 6K: This compact machine for packing Plain Milk, Flavored Milk, Lassi, etc., is a heavy-duty performer, delivering accurate and well-sealed CSPP pouches at a speed of 6000 packs/hour.
Filpack Servo 12K: This machine is the fastest milk pouch packaging machine, with a speed of 12,000 packs/hour. It can pack CSPP pouches of 200 ml, 500 ml and 1000 ml with equal ease and accuracy. Independent balance tanks offer flexibility to handle single or different products simultaneously.
Filpack Servo Universal: The nextgen solution for Dairy packaging, serves multiple applications in both free flowing liquid (milk, buttermilk, etc.) and viscous (cream, ghee, mayonnaise, kefir, etc.). It is also available in a Double Head Combo Filler model which enables customers to fill viscous products on one head and liquid on the other.
Filpack CMD Alpha: Built substantially shorter than conventional machines, it also occupies less floor space as no side opening is required. It offers twin heads so you can pack two different products at the same time. You can even conduct maintenance on one track while the other is in operation.
Filpack CMS 5L: Yet another high-speed member of the Filpack Series. It is a more versatile machine, packaging both liquids and viscous products with a pneumatic filling system for better filling consistency. Filpack CMS 5L fills and seals pouches of larger quantities – up to 5500 ml in CSPP format.
Wing Stickpack: Offers efficient packaging of milk powder and dairy whitener in single-serve sachets or stickpacks for use in the travel & hospitality industries.
HFFS Packaging Machines
Nichrome brings new generation Horizontal-Form-Fill-Seal machines from Totpack, Spain. The Totpack series is versatile, and can be used for liquid, viscous and powder packaging.
These machines offer a range of pouch formats with superior pouch aesthetics, as well as single and perforated chain of pouches with quick and easy changeover. Duplex models are available for higher outputs.
The Totpack range includes models T-110, T-170 and T-140.
Nichrome also offers another HFFS packaging machine. The Pick Fill Seal Machine which offers the combined benefits of variety, productivity and specialty packaging for ready-to-eat foods. Using versatile Rotary technology, the machine conveniently packs a wide variety of food products and ready-to-eat foods in eye-catching innovative shapes while maintaining freshness of the products. Some of its dairy applications include gulab jamun mix, flavoured yogurt, etc.
Integrated Solutions
Nichrome's expertise also extends to intelligent Project Integration Solutions. Nichrome offers a variety of Pre and Post Packaging equipment that provide a Complete System Solution. They can also be customized and fitted into existing packaging lines. With its indepth understanding of the Dairy industry and knowledge of virtually all process steps taking care of product, output and regulations, Nichrome offers unmatched strengths for Project Integration and complete packaging lines.
To discover how Nichrome's expertise and technology can benefit your Dairy business, contact Nichrome today.