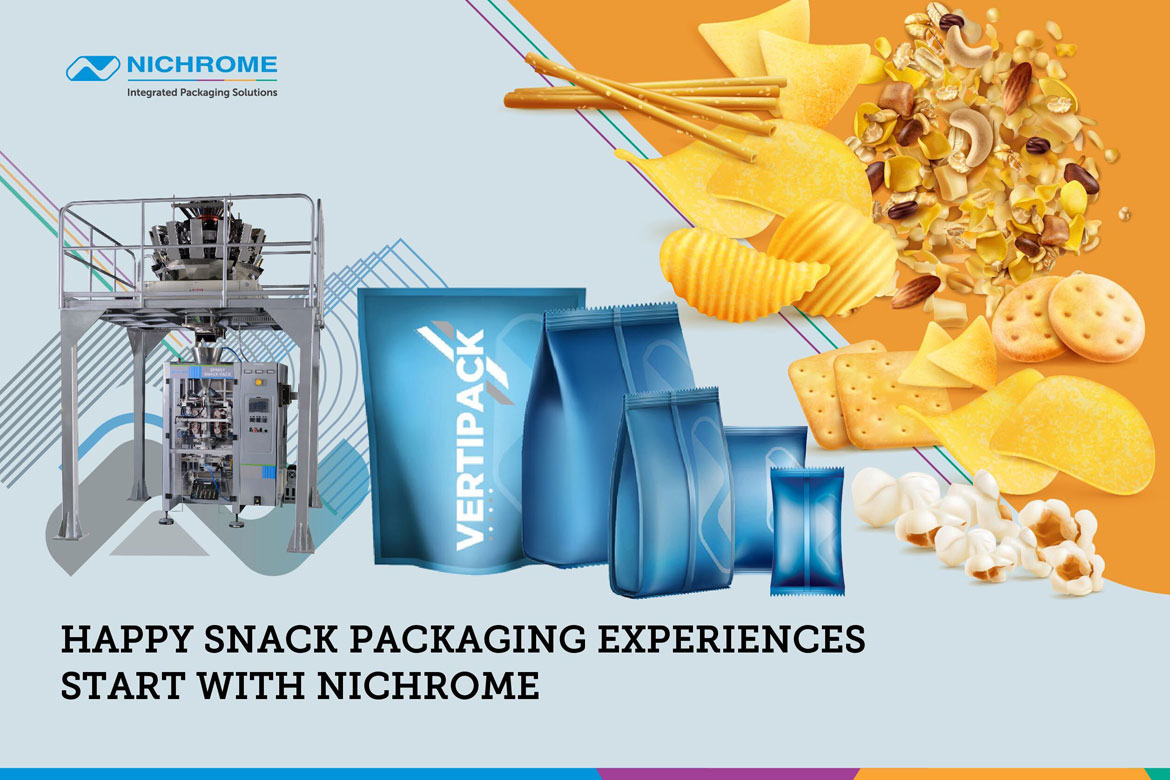 Happy snack packaging experiences start with Nichrome
The snack industry is bursting with potential. And why not? Ours is a world of 'snackification' with people munching on snacks throughout the day. Many are often replacing large cooked meals with snacks. Moreover, with the introduction of affordable, single-serve packs, it's become even easier for consumers on the go.
The India snacks market is predicted to grow with double digit CAGR during 2018 to 2024. The market is dived between organized players and unorganized sector. Currently, while the unorganized market is dominating the India snacks market, there is ample evidence that the organised or branded sector is growing rapidly amidst increasing concerns about hygiene, purity and shelf life.
When it comes to snack packaging solutions, Nichrome delivers compelling advantages so it's always a happy experience for customers working with Nichrome.
Range
Potato chips packing machine or namkeen packaging machine, Nichrome is the automatic filling machine manufacturer who offers a wide range of snack packing machines for the diverse Indian market. From small single-serve packs to large bulk packs, VFFS technology to HFFS technology, traditional CSPP pouches to more modern standup pouches with reusable seals – Nichrome has a solution for every need.
Nichrome's offerings include:
Wing 200 E-line Snack Pack
Exclusive packaging solution for startups and small-medium enterprises
Excel Vertipack 320
India's first vertical pouch packaging machine with special features
Snackpack
For a variety of snacks and pouch formats, with tool-less changeover
Excel 400 plus multi-head weigher
PLC-controlled efficiency for up to 10 Kg pouches at 80 bags per min.
Sprint 250 plus multi-head weigher
Speed, accuracy and efficiency for pouch quantities up to 2 kgs
PV 215 Multilane
Efficient sealing and bagger speed up to 1000 pouches per min.
Durability
Nichrome knows that packaging machines are expensive capital investments, so every Nichrome snack packaging machine is designed and built for long and trouble-free service life. Maintenance is easy and economical; regular maintenance maximises lifespan.
Nichrome's packaging solutions are also designed to be future-proof with upgrades and integration with other systems easily done. Most of Nichrome's machines are created versatile, so functionality can be expanded by simply adding new filling systems.
Versatility
Nichrome's snack packing machines are designed for a full range of snacks such as Potato Chips, Puffed Snacks, Kurkure, Indian Namkeen, Dry Fruits, Nuts.
However, they work just as well for other food products such as Wrapped Candies, Macaroni, Biscuits, Pasta, Breakfast Cereals, Macroni, Soya Chunks, or even Grains, Pulses, Sugar and powdery products.
Service
Any supplier or snack packing machine manufacturer can deliver a competent machine, but Nichrome understands that it takes a lot more to satisfy today's demanding customer.
So Nichrome takes the 'complete lifecyle' approach, partnering with the customer right from understanding individual business and application criteria, and then custom-designing and implementing packaging solutions based on those unique requirements. The final solution is put through exhaustive testing and stringent QC before it leaves the Nichrome factory.
At the customer's facility, Nichrome ensures expert installation and commissioning so the machine works with 100% efficiency. Nichrome even trains the customer's machine operators and later, provides prompt and dependable service support.
Conclusion
So if you are a snacks manufacturer looking to automate your packaging process, or planning to upgrade your existing set-up, talk to Nichrome. They have 4 decades of experience and expertise in the packaging machine industry, and today, are reputed as a leading provider of integrated packaging solutions. With strong R&D, state-of-the-art manufacturing facilities and a positive 'can do' attitude, Nichrome develops and delivers the best, most relevant and cost-effective automated packaging solution for diverse products across Food, Pharma and other industries.