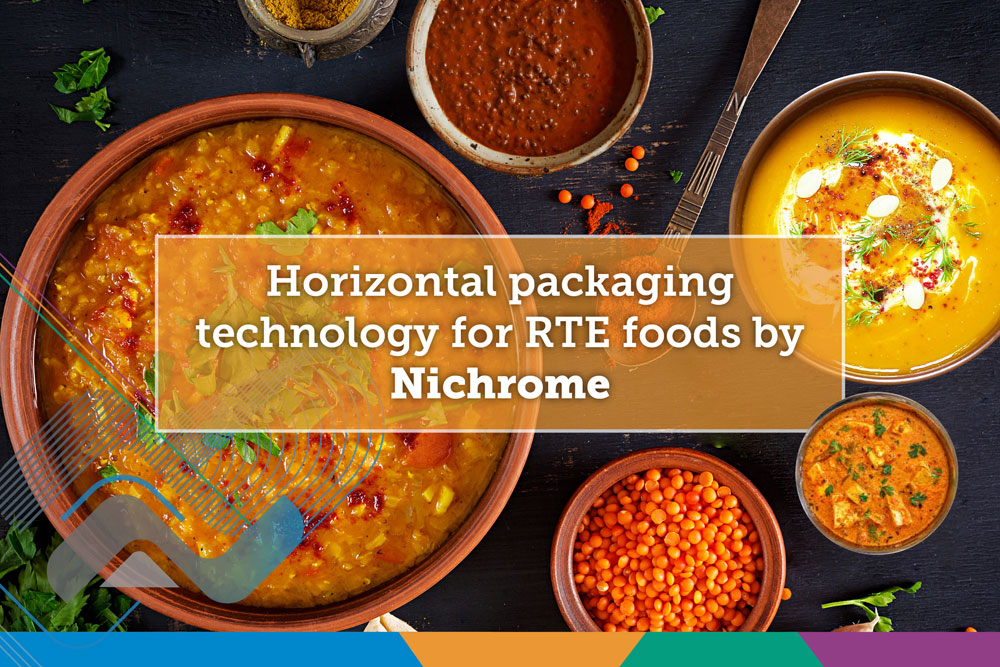 Horizontal packaging technology for RTE foods by Nichrome
Nichrome is India's leading integrated packaging solutions company with special expertise in Food packaging solutions. So when it comes to the growing trend of ready-to-eat (RTE) and ready-to-cook (RTC) foods, it's only obvious that Nichrome will offer a superior solution. Nichrome partners to understand specific product and performance requirements, and tailors solutions for best outcomes.
Nichrome's PFS Machine
Get the combined benefits of variety, productivity and specialty packaging for ready-to-eat foods with Nichrome's Pick-Fill-Seal (PFS) machine. Using versatile Rotary technology, the machine conveniently packs a wide variety of ready-to-eat foods in eye-catching innovative shapes while maintaining freshness of the products. The machine is sturdy and compact, easy to clean and maintain.
Nichrome's PFS is a Horizontal Form Fill Seal (HFFS) machine – a durable, cost-effective solution with multiple filler options. An advanced variant of packaging technology innovated by Nichrome enables 2 or 3 different fillers to dispense multiple types of ingredients in the same pouch.
The ready to cook packaging machine with RTE Filler facilitates the packaging of products such as Palak Paneer, Dal Makhani, Butter Chicken, Gravies, Matar Paneer, Punjabi Chhole, Punjabi Kadhi, Rajma Masala, Pulao, Biryani, etc.
The high-precision PFS packaging machine is controlled through a PLC with touch-screen interface, and supports a variety of pack/pouch formats. Packing material for preformed pouches include heat sealable laminates like PET/PE, Paper/Alu-foil/PE, Alu/PF, PET/Alu-foil/PE or Co ex films.
Nichrome's PFS machine packs in a range of pouch formats: 3 side seal, 4 side seal, standup pouch, standup with zipper and Doypack with side spout.
More than just an RTE packaging machine
Nichrome's PFS is a truly versatile automatic packaging machine. By changing the filling system, the PFS can be efficiently used to package a wide variety of diverse products.
– Linear/Gate Weigher filling system can be used for vegetable seed packaging
– Servo Auger Filler is suitable for powders like ORS, Pharmaceutical Powder, Spice Powder, Milk Powder, Coffee, Health Drinks, Instant Mixes, Premixes, etc. – Multi-Head Weighers are used for snack & namkeen packaging.
– Piston Fillers transform the machine into a ketchup packaging machine, ideal for viscous products like sauces, pastes, pickles, soup, ghee, etc. Even non-food products like shampoo, cosmetics, gels, hair dye, adhesives, etc.
– Cup Filler enables grain packaging of products such as rice, pulses, sugar, etc.
– Gravity Filler/Flow Meter is the ideal choice for liquids like milk, lassi, oil, juices, wines, etc. To know more about Nichrome's PFS machine and how it can benefit your business, contact Nichrome today. Nichrome will study your requirements and optimise the solution for best results.