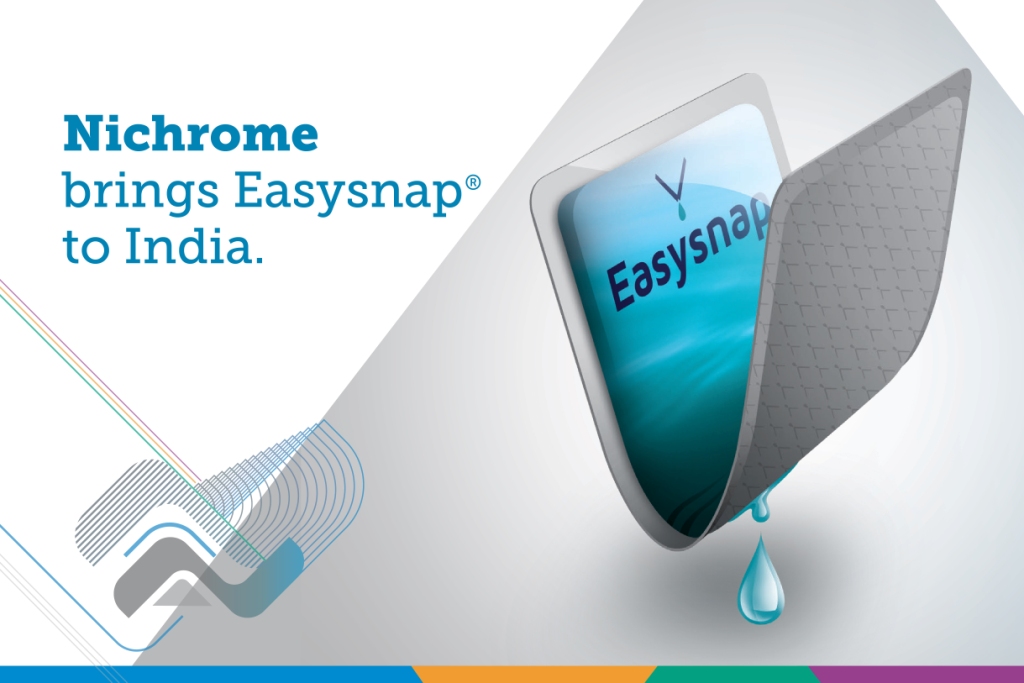 Nichrome Brings Easysnap to India
Nichrome, India's leading player in integrated packaging solutions, is a company committed to providing cutting edge packaging technology for Indian industry. Pursuing this passion, Nichrome has joined hands with Easysnap Technology of Italy to bring their worldwide patented packaging to India.
EasysnapR is the new worldwide standard for single dose units of liquid products, offering convenience, easy one hand opening, complete dispensing of contents and on-the-go mobility.
It is a single-dose packet that opens itself when you fold it in half. No need to tear, to peel or to unscrew caps EasysnapR opens and dispenses product with only one hand; just fold and squeeze. It is ideal for packing all liquid and semi-liquid products.
Packing in single-dose EasysnapR packages is safe for consumers (always correct doses and easy to take), sustainable for the environment (reducing waste of excess product), useful for manufacturers (easy to deliver and distribute).
Six reasons why EasysnapR is the smarter packaging solution
1. It is easy
EasysnapR opens with one hand only, without efforts. It is suitable for children, elderly and disabled people and all conditions, it is universal.
2. It is resistant
EasysnapR can be transported individually in your pocket or handbag or in greater quantities in packs without the risk of leakage or of being compressed. It has a semi-rigid bottom which is unbreakable unless folded over 90 percent.
3. It is cheap and ecologic
EasysnapR has lower production costs compared to bottles, jars or thermoformed unit dose packaging, does not disperse any residue and is more easily recyclable.
4. It is smart
EasysnapR has an ergonomic design, versatile and stylish, which you can customize at your will in form and graphics.
5. It is hygienic and clean
EasysnapR dispenses the content in a clear and accurate way, there is no risk of spills or contamination of the product. There is no product contamination while opening and dispensing.
6. It has longer shelf life
EasysnapR allows no air inside and offers 100% barrier properties to maintain product integrity.
Easysnap Technology can replace the production of any conventional portion pack container, including small cups, small bottles and tubes, with content from 1 to 30 ml, with many advantages in term of flexibility and production cost for units.
Easysnap Technology machineries are designed and certified for food, cosmetic, pharmaceutical and medical devices industries.  The list of applications is endless – and includes ketchup, mayonnaise, salad dressing, jam, melted cheese, mustard, spirits, syrups, honey, liquid medications, baby-care products, ointments, toothpaste, shampoo, hair conditioner, liquid hand-sanitizer, body lotions, creams, bath foam, moisturizers, sun creams, liquid detergents, promotional dispenser, and many others!
This game changer is brought to India by Nichrome. For more information, contact Nichrome today. www.nichrome.com