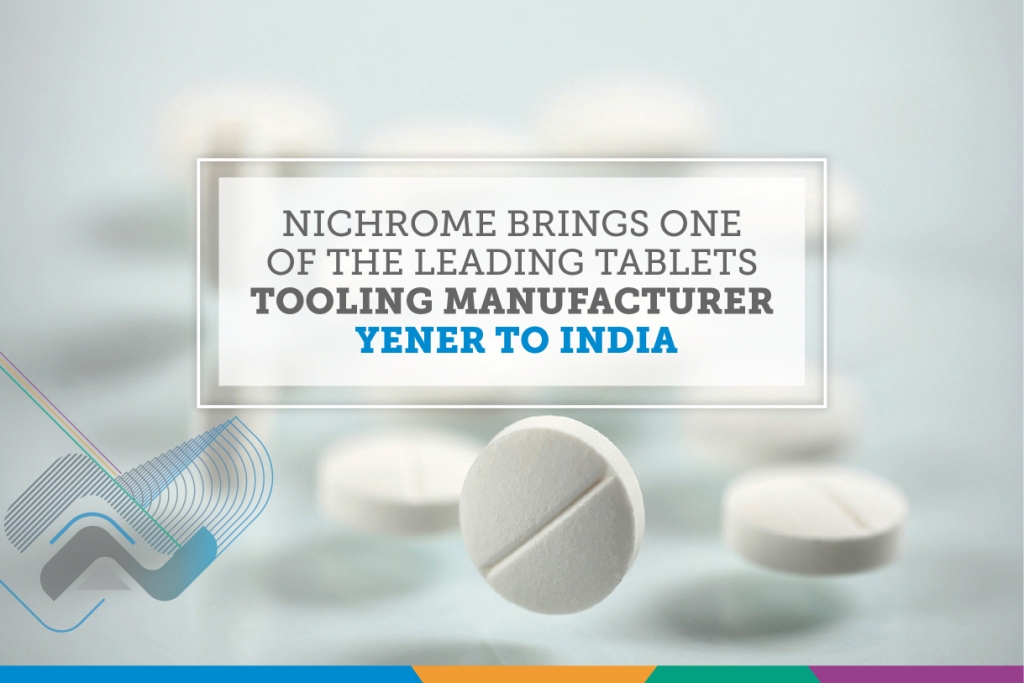 Nichrome Brings one of the Leading Tablets Tooling Manufacturer – Yener to India
As India's leading integrated packaging solutions provider, Nichrome continuously strives to offer the latest, most sustainable and reliable technology for Indian industry. Nichrome's current thrust is on developing and introducing top-notch solutions for the Pharmaceutical industry – for both OEMs and customers.
Nichrome has recently signed a partnership agreement with YenerKalip Ltd. from Turkey, a globala leader in High Performance Tablet Compression Tooling. Yener has been active in the pharmaceutical quality tablet tooling market since 1983. Yener presently operates in tablet punches and dies, maintenance kits and Storage Systems required for Precession Toolings.
Yener highlights:
State-of-the-art production Facility
Yener punches and dies are all manufactured to stringent quality specifications on cutting-edge CNC machines for maximum tooling efficiency, durability and performance. CNC grinding ensures good surface finish and precession in tolerances.
Premium steel quality
At Yener,the focus is always on selection of metallurgy of the toolings. Yener Punches and dies are made from a high quality steel which gives excellent toughness, impact resistant, no deformations and wear resistant. To address the sticking issues with the punches and dies, Yener uses vacuum heat treatment ovens. This process enhances the properties of toolings drastically. Hence the Yener Punches come with
Enhance Hardness
Enhanced Strength
Almost no corrosion
Almost no Sticking
Reduces granule impregnation
Reduces wear and tear
Special coating
The Specialty of Yener's products lies in proprietary chromium nitride (CrN) coating. Chromium Nitride has a metallic silver-like color and forms a tough thin film coating with high hardness, good oxidation resistance, and a low coefficient of friction making it ideal for metal and plastic forming applications.
CrN is also more corrosion resistant than tin especially in aqueous solutions and is used as a direct substitute for chromium plating. The hardness of the CrN coating is approximately 2x that of conventional "hard" chrome plating.
Customisation
Yener works with customers to tailor its products as per specific machine or application needs. Whether for OEMs or the replacement market, Yener offers flexibility. Features such as embossing (numbers, letters, logos, etc.), breakline, seal groove, laser marking, measuring report, etc. are the additional features.
Nichrome introduces this technology which is at par with the global standards yet cost effective, making the business sustainable in the competitive environment. For pharmaceutical machine manufacturers who want to build such reliable and proven technology into their machines, or for end customers in the pharma industry who want to enhance the performance of their existing tablet compression machines, Yener tooling deliver unmatched efficiency, strength and durability.