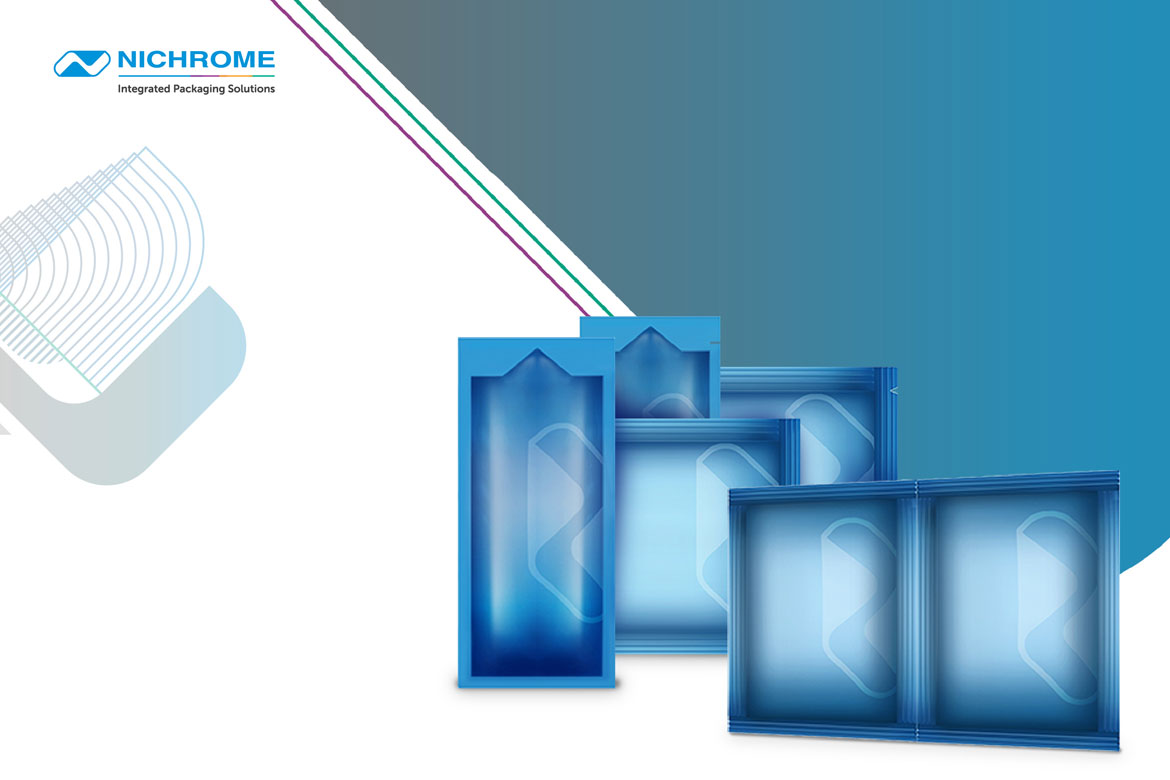 Access bigger markets with Nichrome's small sachet packaging
Sachet packaging is here to stay. Anywhere we look, we see these small, sealed flexible bags containing a small amount of liquid or powder product such as shampoo, ketchup, chilli flakes, herbs, sugar, oil, coffee, dairy whitener, lubricant, ORS, cosmetic cream, etc.
Sachet packaging was launched initially by smart marketers and targeted at the mass market or low income groups. FMCG majors like Hindustan Unilever introduced these sachets to penetrate and grow their rural market.
However today, across industries, cities and villages, and target audiences, sachet packaging has delivered convenience, affordability, safety and mobility, proving itself as an important flexible packaging format. For food & beverages, pharmaceuticals, cosmetic and personal care, healthcare & toiletries products, there is a growing demand for sachet packs worldwide.
Nichrome's sachet packaging solution
As a leading packaging machine manufacturer in India, Nichrome offers a wide range of automated packaging machines for diverse applications and varied pouch format preferences.
An important sachet packaging machine from Nichrome is the VFFS Multilane machine, PV-215. For practically every application in Pharma, Personal Care, Cosmetics, Healthcare and Food industries, PV-215's intermittent motion technology ensures efficient sealing and user-friendliness.
This sachet filling machine is a accurate and durable sugar packaging and coffee packaging machine, especially for marketers supplying to the hospitality, travel and food chain industries.
Highlights of PV-215
Intermittent motion technology
Bagger speed of up to 1000 sachets/min.
Shaft-mounted modular concept
Flexibility to accommodate quickly any attachments/additional features at any stage
Wrinkle-free sealing through specially engineered jaw assembly
Single side or front-back registration
PLC machine control
User-friendly web tracking
Applications of PV-215
Pharmaceutical: Cream Gel, Lotions, Iodine, ORS and other Free Flowing and Granular Powders, Capsules, Tablets, Alcohol Pad, Wet Wipes Medical Devices, Syringes
Food & Non- Carbonated Beverages: Sauces, Fruit Pulps, Toppings, Puree, Jam, Jelly, Yogurt, Mayonnaise and other Viscous Products, Water, Liquor, Electrolytes, Energy Drinks, Freeze Pops, Juice, Wine, Refined Sugar, Drink Mixes, Condiments, Snacks, Sweeteners, Mouth Fresheners, Milk Powder, Coffee Powder, Pre-mixes, Spices, Seasoning Powders
Cosmetic/Personal Care: Cream Rinse, Liquid Soap, Shampoo, Conditioner, Toothpaste, Gel, Lotions, Make Up Remover, Fragrances, Iodine, Towelettes, Dictionary and Wet Tissues
Chemical: Epoxy Grease, Lubricants, Oil, Sealants, Hand Cleaner, Sanitizer, Glycol, Cleaning Liquids, Detergent Powder, Free Flow & Non Free Flow Powders, Tubes and Vials
Pouch formats of PV-215
PV-215 offers a variety of sachet formats. These include:
4 side seal
4 side seal with V notch
Twin pouch
Contour pouch
Contour with V notch
Unique compatible combo capability
PV-215 can pack two different products in twin pouches at the same time. An exclusive feature that works wonders for marketers promoting complementary products such as salt & pepper, shampoo & conditioner, oil & vinegar, etc.
Conclusion
Nichrome also offers a range of HFFS packaging machines for sachet packaging. This range from Totpack, Spain, provides the latest linear technology for packaging a wide variety of food, pharma and other products.
Talk to Nichrome for your sachet packaging needs. For automatic packaging machines or end-to-end packaging systems, Nichrome is your trusted partner for integrated packaging solutions. Nichrome will study your requirements and deliver the most appropriate, efficient and cost-effective solution – harnessing its decades of industry experience, inhouse R&D, state-of-art manufacturing capabilities, and widespread dealer network.