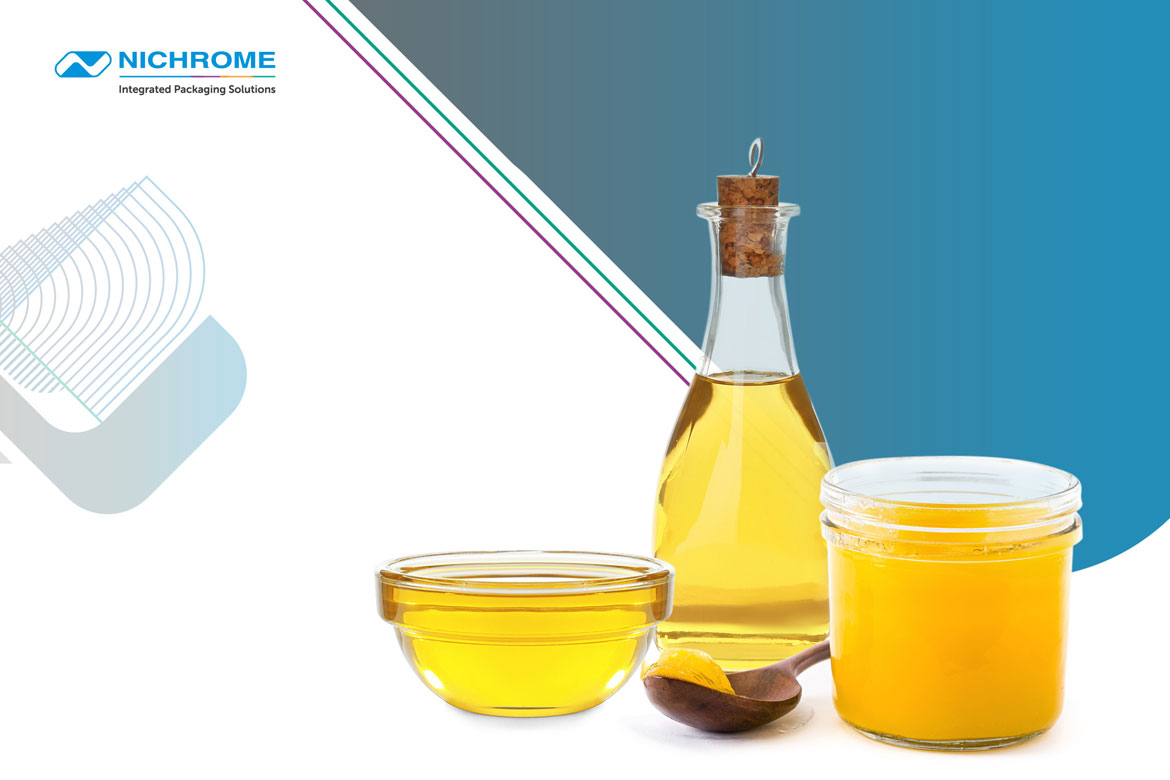 Flexible Oil Packaging to protect oils & vanaspati
Edible oils and hydrogenated fats (vanaspati) are extensively used in human diet. About 55% of vegetable oil consumed in India is imported, making India the world's leading importer – ahead of China and the EU. Bulk quantities are packed and transported in expensive in containers and galvanised iron drums, and sold loose by retail vendors. This practice gives scope for adulteration which has been a cause of ill health in India and many other countries.
Governments have been trying to enforce compulsory packing of edible oils in inexpensive plastic unit packages. Distribution of oils/fats in unit consumer packs is increasingly becoming popular as it assures quality product packed under hygienic conditions. In view of their logistic advantages such as light weight, reduced material cost, low storage & handling costs and convenient shapes, flexible packaging is replacing conventional bulk packs. (Source: icpe.in)
In fact, the use of flexible pouches has made it possible for organised brand owners to penetrate the rural markets with smaller SKUs. This has allowed manufacturers to pass on price reductions to consumers.
Edible oils are highly susceptible to deterioration, and need to be protected from the following:
Moisture: Moisture is a major cause of spoilage of fats and oils. Hydrolytic rancidity is caused by moisture due to hydrolysis of fats and oils to glycerol and free fatty acids which cause the off odour.
Oxygen: Oxidation of oils creates aldehydes and ketones which are responsible for the rancid odour of oils & fats. Unrefined oils are less prone to oxidation due to the presence of natural antioxidants and pigments.
Tainting by extraneous sources: Oils & vanaspati are susceptible to odour pickup from external sources, packaging materials, etc. and must be protected.
Colour & vitamin degradation: This occurs due to exposure to UV light and further accelerated by oxygen. Using opaque and pigmented packaging materials can protect oil from this.
Edible Oil packaging with Nichrome
Nichrome offers a range of automated cooking oil packaging machines for retail oil packaging. Nichrome is a leading oil filling machine manufacturer with decades of experience and a history of innovation in packaging in India.
Filpack Servo SMD
Nichrome's most popular automatic oil filling machine is the Filpack Servo SMD. For packaging oil, ghee, vanaspati and other viscous products such as ketchup, fruit pulp, mayonnaise, curry pastes, and even grease, paint, adhesives, etc., Filpack Servo SMD is the sturdy workhorse for your packaging operations.
Main features include:
touch screen HMI and PLC-controlled operation
Occupies less floor space
enclosed SS cabinet for hygienic operation
bagger speed: 70-85 packs per minute
pack size range: 50 ml to 1000 ml
twin head construction with independent head operation so you can pack two different products and quantities at the same time.
Multilane Stickpack with Multi-Piston Filler
This oil sachet packing machine has been especially innovated for packing oil and other viscous liquids in convenient single-serve stickpacks. Besides oil and ghee, the Multilane Stickpack efficiently packs ketchup, honey, mustard paste, jam, mayonnaise – even shampoo!
Main features include:
stainless steel structure
pneumatically operated piston filler
longitudinal & cross sealing jaw assemblies suitable for laminates
CE-certified PLC controller
multiple lanes – 3,4,5,6 lanes
speed: 90-240 stickpacks per minute
HFFS Series
Nichrome offers a series of HFFS machines with new-gen linear technology from Totpack, Spain. The machines in this series are versatile and can pack a wide range of powders, grains, snacks, liquids and viscous products by using different fillers.
Main features include:
PLC-based with touch screen interface
compact design
offers both single and perforated chain of pouches
wide range of pouch formats with superior aesthetics
quick & easy changeover
duplex models available for higher outputs
speed: 100 (simplex) and 200 (duplex) packs per minute
Conclusion
To protect your edible oil, vanaspati or ghee in hygienic flexible packaging, and enhance its retail value with better aesthetics and range of SKUs, partner with Nichrome's edible oil filling machines. Nichrome is the proven oil packing machine manufacturer with a wide range of packaging solutions in India.
VFFS, HFFS, Multilane and even oil filling lines or tin filling lines – Nichrome is the single-point provider of cost-effective packaging solutions for all enterprises large and small.