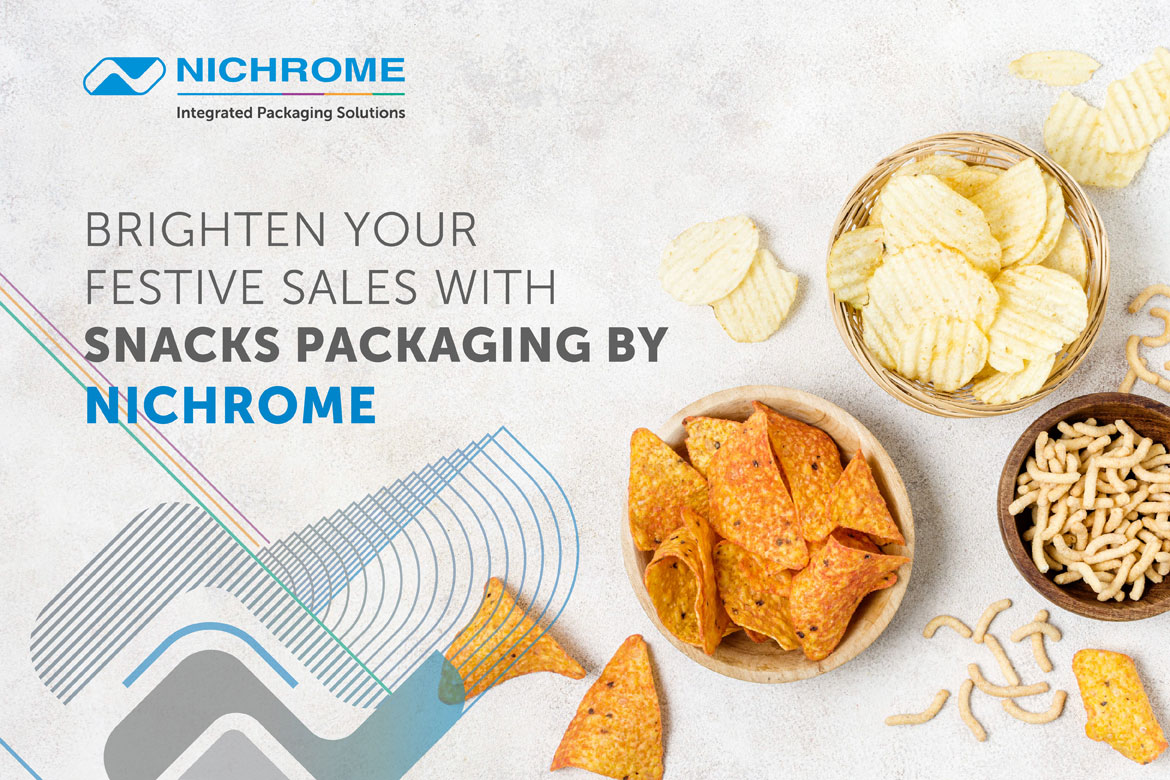 Brighten Your Festive Sales With Snacks Packaging By Nichrome
The upcoming festive season in India offers a tremendous opportunity for marketers to connect with customers. This time of year includes the most popular spending season; a period with back-to-back festivals: Navratri, Durga Pujo, Diwali, Eid and soon after, Christmas and New Year. During this time, even the most frugal consumers open purses to celebrate and exchange gifts.
In fact, many brands have seen the potential of this season and launch their products such as cookies, namkeen, chocolates, mithai, etc. in special festive packs, promoting them as unique gifting options.
This year, the pandemic is sure to alter the dynamics of this seasonal consumption. It has raised critical questions of hygiene and safety, making customers veer away from buying loose mithai and namkeen and towards well packaged products. More and more people are opting for online shopping, and will probably be ordering sweets, namkeen and dry fruits to be delivered to friends and relatives.
For marketers of such products, high quality snack packaging is the need of the hour. Who better than Nichrome to lend a helping hand?
Nichrome is India's leading provider of integrated packaging solutions with a whole gamut of offerings for diverse applications. Especially for snacks, Nichrome offers a range of automated snacks packaging machines and namkeen packing machines to suit different needs and budgets.
Nichrome's snack packaging solutions
If you're searching for the best snacks machine manufacturer to enhance productivity in your snacks packing unit, Nichrome should be your first choice. Just check out some of their VFFS offerings:
Excel VertiPack 320: India's first vertical pouch packaging machine! Yet another versatile innovation from Nichrome, Excel Vertipack 320 has been developed for packaging dry fruits, snacks, pasta, grains, etc. in a variety of standup pouches with or without zipper.
With its high speed performance, sturdy design, online check weigher & metal detector, compatibility with multiple fillers, and a host of other features, Excel Vertipack 320 assures you robust performance with unmatched versatility.
Sprint 250 Snack Pack: When it comes to snack packaging, Nichrome leads the way with its high-speed, accurate Sprint Snack Pack. Designed especially for the snack industry, Sprint Snack Pack is a potato chips packing machine that offers quick and easy tool-less changeover of size parts resulting in minimum product falling height.
It packs a wide variety of snacks and similar food products in pouch formats such as the CSPP, Gusset with D-cut and Gusset. The perforation system makes it possible to produce chain of small pouches. Sprint Snack Pack has HACCP & GMP compatible construction.
Excel 400 Plus Multi-Head Weigher: This snacks packing machine is suited for bulk packs up to 10 kgs. It comes with a plus advantage of automation equipped with CE marked PLC Controller and touch screen HMI. Key features include print mark scanners, static charge eliminator, servo motor driven bag length control system, and adjustable stroke of cross sealing jaws for optimum performance.
It is designed as per stringent quality standards, and can be easily integrated to upstream or downstream machines/systems.
Sprint 250 Plus Multi-Head Weigher: For pouch quantities up to 2 Kgs, Nichrome's Sprint 250 Plus series offers speed, accuracy and efficiency for flexible packaging of a wide variety of snacks such as potato chips, kurkure, Indian namkeen, dry fruits, nuts, puffed snacks, etc.
Sprint 250 Plus is an automated snack packing machine with CE marked PLC and touch screen HMI. Its servo motor driven sealing system can effectively seal with pressure levels maintained. It is programmed to pull the exact length of film required for packaging, and offers a perforation system to deliver a chain of small pouches.
Wing 200 E-Line Snack Pack: This machine has been developed by Nichrome as an exclusive snack packaging solution for startups and small-medium enterprises.
It offers all the superior expertise and reliability of Nichrome, in a compact, affordable format – designed to fit the space, budget and performance expectations of small businesses. This machine packs products in CSPP pouches and also has the feature to deliver a perforated chain of pouches.
Tray Sealers: Nichrome has tied up with Tecnovac to bring their highly reputed and globally popular tray sealing machines to India. For Indian mithai, snacks and other food products, these namkeen packing machines deliver MAP (Modified Atmosphere Packaging) technology whereby the items are packed safely in preformed trays, untouched by human hands – and sealed tight in a modified atmosphere that prevents spoilage and extends shelf life. The range includes Athena Automatic Tray Sealing Machine, Olympia Pro and Olympia VG Semi-automatic Tray Sealing Machines.
Conclusion
To ensure safety, shelf life and retail value of snacks, mithai and namkeen, it makes smart business sense to invest in a snacks packing machine from Nichrome. Not just for the festive season but beyond. Nichrome assures robust, high-performance technology and end-to-end support.
Want to know Nichrome's chips packing machine price? Can't decide if you need a semi-automatic or fully automatic tray sealer? Wondering which pouch formats are right for your product? Worried about ROI in these difficult times? Talk to Nichrome. Nichrome works as your partner and consultant, custom designing the optimal snack packing solution for your specific needs and business goals.