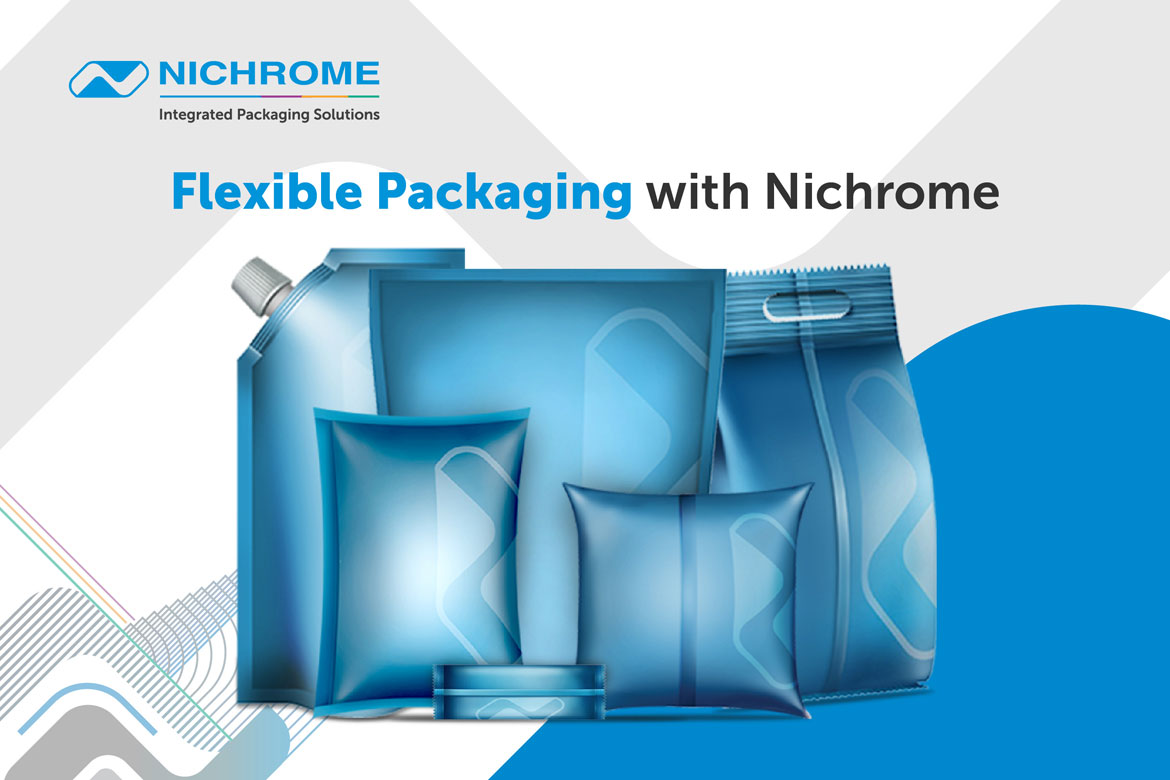 Flexible Packaging With Nichrome
According to the Flexible Packaging Association, flexible packaging is any package or any part of a package whose shape can be readily changed. Examples include pouches and bags. Its opposite is rigid packaging, which includes formats like bottles, cans, and jars.
Flexible packaging accounts for 19 percent of the overall packaging market and is expected to grow at a rate of 3.9 percent CAGR by 2023, according to the 2019 Flexible Packaging Marketing Assessment by PMMI, The Association for Packaging and Processing Technologies. Convenient packaging, excellent barrier properties, sustainable materials and growing customer base for fast-moving consumer products and consumer durables in emerging countries are driving this expansion.
Especially for food manufacturers and even pharmaceutical and cosmetic product manufacturers, flexible packaging is emerging as the preferred choice. Here are some of the reasons why:
Convenient – fulfils consumer demand for portability
Cost-efficient – low cost per package
Lightweight – low storage & distribution costs
Safer distribution – less risk of breakage and injury
Eco friendly – small carbon footprint
Customisable – can be moulded into varieties of shapes & sizes
Brand building – more surface for graphics & messaging; scope for creative concepts
AUTOMATIC FLEXIBLE PACKAGING MACHINES
Automatic flexible packaging machines can be divided into 2 broad categories:
Form-Fill-Seal: FFS machines are the most widely used flexible packaging type. As the name suggest, the machine forms bags, fills them with the product, and seals the filled bag. Some FFS machines work vertically(vertical-form-fill-seal or VFFS) and some perform the process horizontally (horizontal-form-fill-seal or HFFS). VFFS are the more popular type as they occupy limited floor space and usually cost less than HFFS machines.
For industries that need to package their products (e.g. condiments, drink mixes, sugar, etc.) in small packets, multi lane machines are extremely popular. Used popularly as sugar sachet packaging machine or ketchup packaging machine, these form-fill-seal machines create multiple packages via multiple channels simultaneously.
Fill-Seal:These machines are growing in demand. The machine fills pre-made pouches with product and then seals the pouches shut.Some of these premade pouch filling machines operate in a rotary fashion and others in a straight line. Rotary machines offer better ergonomics for operators, and occupy less floor space.
NICHROME EXPERTISE IN FLEXIBLE PACKAGING
Nichrome is a leading name in packaging solutions India. A pioneer of flexible packaging in1977, Nichrome today has built up the expertise, experience and product range to serve the widest range of flexible packaging needs in food, pharma and other industries.
Whether you are looking for a namkeen packaging machine or automatic sugar filling machine; salt packaging machine or shampoo packaging machine; cosmetic packaging machine or powder filling machine, grain packaging machine or milk filling machine– Nichrome has a solution for you.
POUCH FORMATS IN FLEXIBLE PACKAGING
Nichrome's flexible packaging machines can accommodate a variety of pouch formats. Some of the main ones include:
THREE SIDE SEAL BAGS are flat pouches sealed on three sides.
CENTRE SEAL PILLOW PACKS comprise of two flat panels sealed together on the top and bottom with a vertical seal down the back. This bag type is popular for value-brands, chips, single-serving snacks, milk, and fractional packs of coffee.
DOYPACKS are stand-up pouches with an oval-shaped base. This bag type is growing in popularity for premium products in many industries, including snacks, dry fruits, coffee, and powder supplements.
QUAD SEAL BAGS have a rectangular bottom and can stand unassisted. This bag type has two side gussets and two panels joined together with four vertical seals, providing a more structured bag and modular look. This bag type is popular for premium coffee brands.
FLAT BOTTOM BAGS are similar to quad seal bags, featuring two gussets, but only have a single vertical seal. This bag type is popular for coffee and pet food.
GUSSETED BAGS are similar to pillow packs but have side gussets, offering more internal space.
SACHETS are small, flat 4-side sealed packets, often used for single-serving condiments and spices.
STICK PACKS are very narrow pillow bags, used for single-serving powders and liquids.
CONCLUSION
Over four decades in the business, Nichrome has proved itself as one of the most capable and competitive packaging machine manufacturers in India. Nichrome flexible packaging solutions are marked by speed, accuracy and durability. They incorporate advanced technology and state-of-the-art features at a competitive price. Nichrome's plus point is its capabilities for customisation. Nichrome studies the client's product and packaging requirements in detail, then customises a solution that delivers the best ROI and business outcomes.