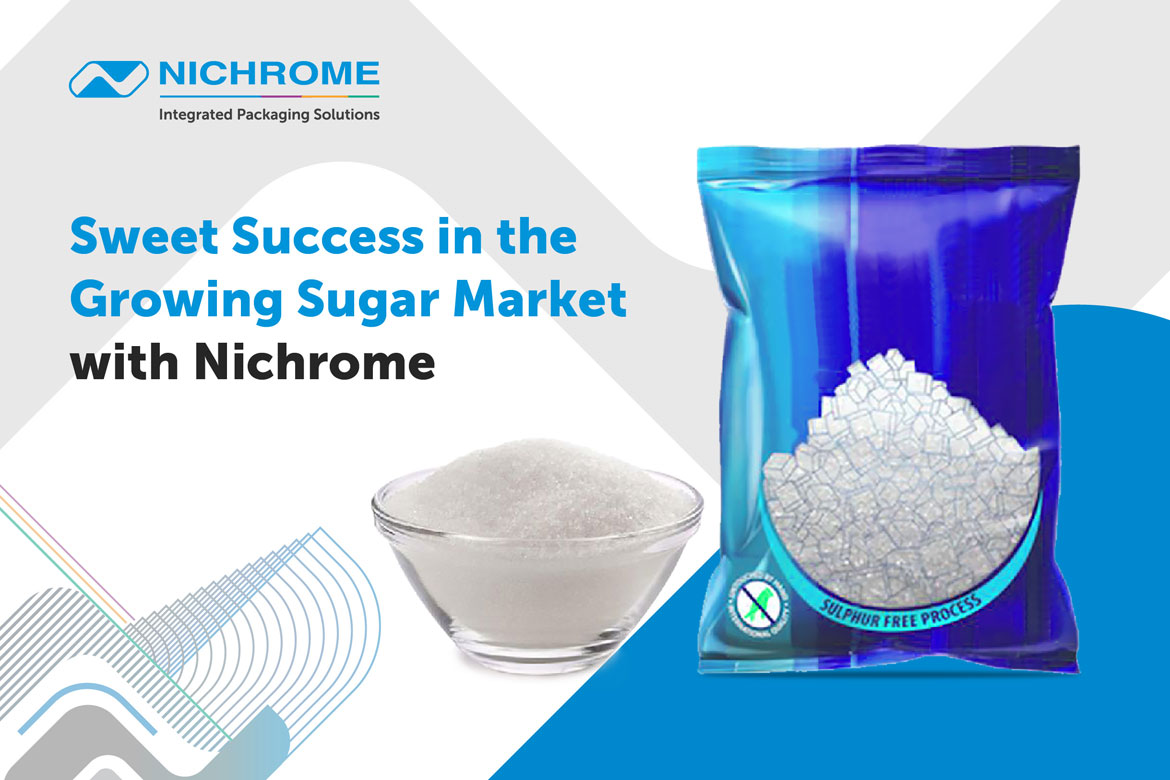 Sweet Success In The Growing Sugar Market With Nichrome
According to a research report titled 'SUGAR PACKAGING MARKET – GROWTH, TRENDS, COVID-19 IMPACT, AND FORECASTS (2021 – 2026)'by Mordor Intelligence, the sugar packaging market is expected to reach a CAGR of 4% during the forecast period (2021 – 2026). The changing lifestyle of the people and changing food preferences of consumers, along with the increasing population in developing nations, is expected to drive the market's growth in the forecasted period.
Asia-Pacific will register the highest growth as the food packaging industry in the region is witnessing significant innovations in branding and packaging. Moreover, consumers in the region enjoy sugar confectionery for indulgence, where the experience is highly valued. India and China are the leading countries in the global consumption of sugar with 27 million metric tons and 15.2 million metric tons, according to the US Department of Agriculture.
The market is driven by a tremendous shift in preference for flexible packaging as sugar is packed in a variety of formats, both in bulk and retail. The advent of new packaging technologies, such as active packaging, intelligent packaging, and engineering science, enables flexible packaging for sugar and enhances the shelf life of sugar.
Packaging sugar with a plastic bag is the most common packaging type in the food packaging industry as this type offers moisture-proof, waterproof, and cost-effective packaging. Sugar manufacturers prefer this packaging as plastic bags can be colored or transparent to make it attractive.
(https://www.mordorintelligence.com/industry-reports/sugar-packaging-market)
NICHROME SUGAR PACKAGING SOLUTIONS
Nichrome is a leading sugar Packing Machine Manufacturer India with a whole range of automated machines for retail sugar packaging and bulk sugar packaging. Nichrome's automatic sugar filling machines incorporate the latest technology to deliver speed, accuracy and hygiene for sugar packaging.
Nichrome offers innovative and versatile sugar packaging solutions that protect and preserve the inherent goodness of sugar, enhancing the brand value.
Nichrome's machines and integrated packaging solutions help the manufacturers package various quantities of sugar up to 10kg in versatile pouch formats that are hygienic, leak-proof and convenient for storage. Apart from protecting the contents, these pouches help the manufacturer's brand stand out on the retail shelf and also to compete in the international market.
VFFS RANGE
Nichrome's VFFS range of automated packaging machines includes:
Excel 400 Plus Intelligent Electronic Weigh Filler
The Excel Plus series comes with a plus advantage of automation equipped with CE marked PLC Controller and touch screen HMI. Key features include print mark scanners, servo motor driven bag length control system, and adjustable stroke of cross sealing jaws for optimum performance. It is designed as per stringent quality standards, and can be easily integrated to upstream or downstream machines/systems.
A range of fillers makes this sugar packing machine a truly versatile packaging solution for powders, granules, grains, snacks, etc. Pouch formats include the CSPP, 4 side seal, Gusset, Pentaseal and Pentaseal with D cut.
Sprint 250 Plus Intelligent Electronic Weigh Filler
For pouch quantities up to 2 Kgs, Nichrome's Sprint 250 Plus series offers speed, accuracy and efficiency for flexible packaging of a wide variety of snacks, grains, powders, etc.
Sprint 250 Plus is an automated sugar packaging machine with CE marked PLC and touch screen HMI. Its servo motor driven sealing system can effectively seal with pressure levels maintained. It is programmed to pull the exact length of film required for packaging, and offers a perforation system to deliver a chain of small pouches.
Pouch formats include the CSPP and Gusset pouch.
E-Line Snack Pack
E-Line is Nichrome's exclusive sugar packaging solution for startups and small-medium enterprises. Buyers can enjoy all the superior expertise and reliability of Nichrome, in a compact, affordable format – designed to fit modest space, budget and performance expectations.
Pouch formats include the CSPP and chain of CSPP packs.
VFFS MULTILANE RANGE
Multilane Stickpack With Volumetric Multiple Cavity Filler
For producers supplying sugar and other free flowing powders such as salt, pepper, mouth freshner, etc. to food chains, travel and hospitality industries, Nichrome's Stickpack offers unmatched efficiency.
Nichrome's Multilane Stickpack with Volumetric Multiple Cavity Filler is a stick pack pouch packaging machine equipped with a product hopper of 25 liters capacity approx. and a mesh at the product inlet to avoid entry of foreign particles. A CE certified PLC controller makes it easy to operate.
Pouch formats include the Centre Seal Stickpack and Centre Seal Stickpack with V notch.
CONCLUSION
Whether you want to market your sugar in single-serve packs for the travel and hospitality industry,or 500gm and 1000gm packs for the retail market or bulk packs for commercial buyers, Nichrome should beyour preferred partner. With over four decades of experience and knowhow in food packaging, Nichrome is the expert sugar packing machine manufacturer with the domain knowledge, R&D facilities and manufacturing capabilities to deliver the optimal solution for your needs. Nichrome's automatic sugar filling machines and sugar sachet packing machine have been proven in tough industrial conditions, and assure efficient performance and long service life.