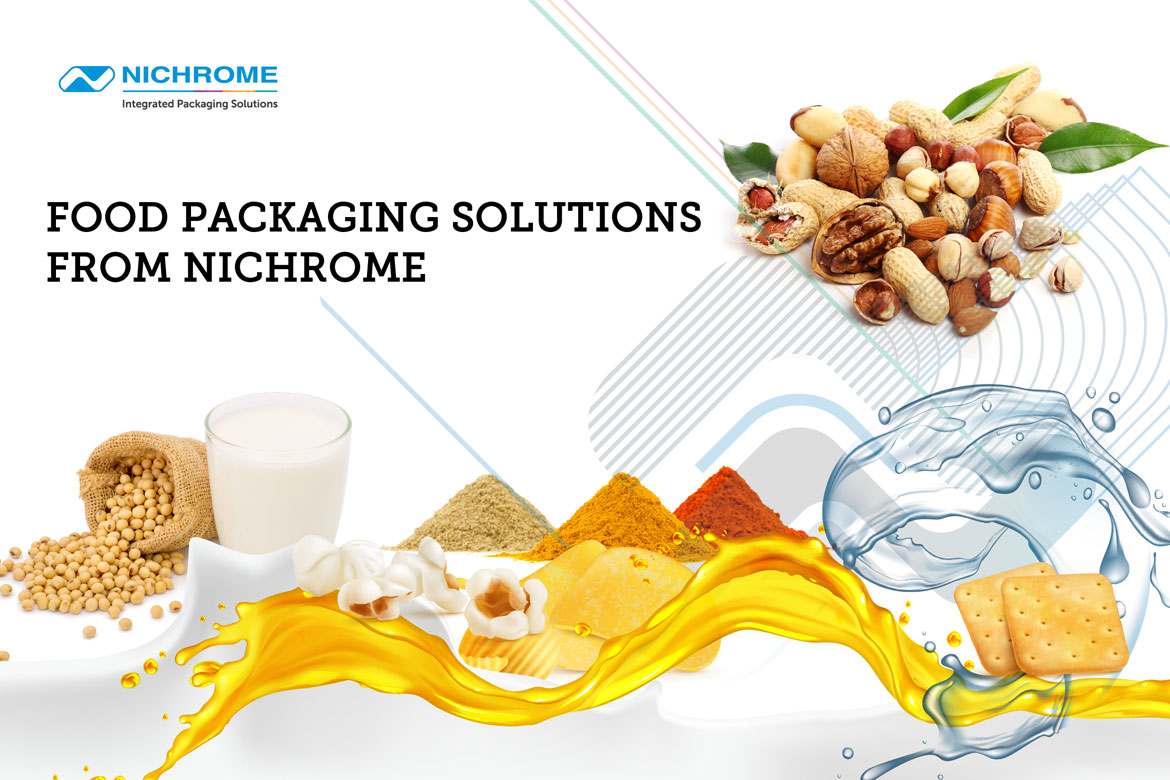 Food packaging solutions from Nichrome
The demand for good quality food packaging machines is growing. As consumers grow more conscious of hygiene, storage and portability issues,as manufacturers seek to produce more with less downtime and expand their markets, as international standards become mandatory in a globalised world – packaging technology is the obvious answer.
While the demand for packaging machines has been growing steadily, the pandemic has made it soar! In India, where so much of the market is unorganised and un-branded,even those small food product producers are shifting to professional, automated packaging to preserve and increase their clientele. In supermarkets and restaurants, for frozen foods, pre-made meals, etc., they are using shrink-wrapping or film-covered sealed trays to ensure the products are untouched and safe from the virus.
Nichrome in Food Packaging
Nichrome's entry into food packaging machines goes back four decades. Nichrome pioneered the first indigenous milk pouch packaging machine forty years ago, and since then has consistently grown its expertise and product portfolio to include the most efficient and cost-effective solutions for the food industry. Whether you are looking for liquid packaging machines or powder packaging machines, grains & seeds packaging machines or teapackaging machines, ketchup packaging machines or sugar packaging machines – Nichrome is the one-stop packaging machines supplier you can trust.
A key aspect of Nichrome's food packaging machines is their versatility. Many of the machines are designed to serve a variety of applications by simply changing the filler. What's more, Nichrome automated packaging machines ensure minimum downtime for activities such as product changeover, dimensions or filling weight changeover, cleaning, etc.
Let's take a quick peek into Nichrome's offerings for food packaging. The product portfolio can be broadly divided into the following sections, as per the applications they serve:
Oil & Viscous
For packaging oil and other viscous products, Nichrome's Filpack Servo SMD is a durable, heavy-duty performer, with touch screen HMI panel and PLC that controls operations. It occupies less floor space and has an enclosed SS cabinet for hygienic operation.
Nichrome also offers the Multilane Stickpack, a fast and durable stickpack packaging machine to package viscous products in convenient single-serve stickpacks that are gaining popularity in the hospitality and travel sectors.
Milk & Liquid
For milk, other liquids and dairy products, Nichrome's Filpack series offer reliable, hygienic and accurate liquid filling solutions. Equipped with advanced servo technology, Nichrome's milk and liquid packaging machines offer fast and accurate pouch packaging. The range includes:
Filpack Servo 6K
Filpack Servo 12K
Filpack Universal
Filpack CMD Alpha
Filpack CMS 5L
Powder
Nichrome offers a range of proven powder packaging machines for the full gamut of free flowing and non-free flowing powders.Spice powder packaging machine or atta packaging machine, salt packaging machine or milk powder packaging machine–Nichrome has a suitable solution for every need.
Besides the multilane stickpack packaging machine for packing in small, single-use sachets, Nichrome offers some high speed vertical and horizontal packaging machines:
Excel 400 Plus Servo Auger
Sprint 250 Plus Servo Auger
Maxima 200
Maxima 400
T-series of HFFS
Snacks & Namkeen
Nichrome offers a wide range of automated snack packaging machines, each offering different flexible packaging formats. From large bulk packs and stand up pouches to chain of small pouches and sealed trays using MAP technology, Nichrome's snack packaging solutions offer a variety of pouch formats, speeds and applications. The machines vacuum-pack chips, namkeem kurkure, pasta, dryfruits, candies -even grains, sugar and pulses.
Nichrome also offers the Wing 200 E-Line for entry-level requirements of startups and SMEs. Other snack packaging machines include:
Excel Vertipack 320
Snackpack
Excel 400 Plus Multi Head Weigher
Sprint 250 Plus Multi Head Weigher
Grains & Pulses
Nichrome offers a wide range of automated packaging machines, filling systems and integrated packaging solutions for your grain and seed packaging needs. Food Packaging Machines like those in Nichrome's Excel Plus series, equipped with modern technology offer innovative packaging solutions that follow stringent packaging quality standards for a wide range of products.
Whether you want to pack grain in 500gm retail pouches or larger 2 Kg and 10 Kg formats, Nichrome has the grain packaging machine for you. Nichrome also offers Wing 200 E-Line, an automated packaging machine for startups and small-medium enterprises. It offers all the technology and expertise in a compact, affordable format. Nichrome's offerings include:
Excel 400 Plus Intelligent Electronic Weigh Filler
Sprint 250 Plus Intelligent Electronic Weigh Filler
Excel 400 Plus Cup Filler
Excel Vertipack 320
Wing 200 E-Line Snackpack
These machines are also well suited for other applications such as sugar, tea, whole spices, dry fruits, even snacks & namkeen.
Tea &Coffee
Nichrome has been a pioneer in tea packaging machines in India. Today, besides tea packaging machines for packing tea in a variety of flexible pouches, Nichrome offers complete integrated packaging systems for tea packaging for end-to-end efficiency. For tea packaging and coffee packaging, Nichrome's rugged range of packaging machines includes:
Excel 400 Plus Intelligent Electronic Weigh Filler
Sprint 250 Plus Intelligent Electronic Weigh Filler
Excel 400 Plus Servo Auger
Sprint 250 Plus Servo Auger
DH Wing Servo Auger Filler
Excel Vertipack 320
Multilane Stickpack& PV215 for sachet packaging of coffee powder
Nichrome also offers a series of horizontal form fill seal (HFFS) machines for packaging tea and coffee. The advanced linear technology and small footprint make Nichrome's T-series a popular choice.
RTE & Instant Mixes
For effective and hygienic packaging of ready-to-eat and ready-to-cook foods, Nichrome's Pick-Fill-Seal (PFS) machine comes with specially designed fillers.
The rotary filling and sealing technology of this RTE packaging machine enables 2 different fillers to dispense different ingredients in the same pouch, allowing for easy and gentle mixing of ingredients. Foods can be packed in a variety of stand up pouches which can then be subjected to retort packaging for longer shelf life.
Besides this horizontal packaging machine, Nichrome offers Athena Thermoforming Tray Sealing machine from Tecnovac, Italy. Athena is able to seal, pack in a protective atmosphere (vacuum + gas) or with "Skin effect" all types of trays or jars. Due to its strong stainless steel structure and easy maintenance, Athena is ideal for use in small and medium sized companies.
For marketers of cut fruits & vegetables, meat & fish, namkeen & sweets and even ready-to-eat meals like biryani, Athena ensures the food products stay safe and hygienic till they reach the consumer's table.
Conclusion
For all your food packaging needs, try Nichrome. Nichrome will study your product, understand your requirements, and deliver the optimal solution for your specific industry. For the latest, most cost-effective automatic packaging machines and packaging solutions India, Nichrome is the preferred partner for progress.