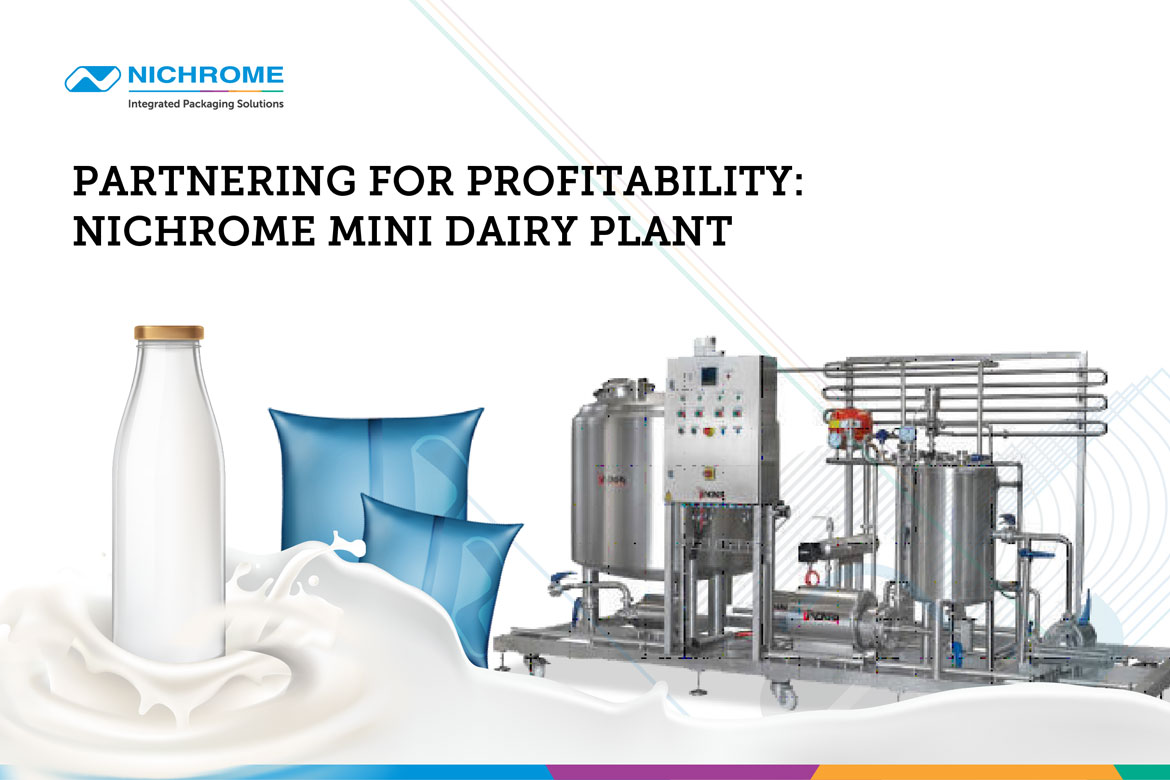 Partnering for Profitability: Nichrome Mini Dairy Plant
As per the latest report by IMARC Group titled 'Dairy Industry in India 2021 Edition', the dairy market in India reached a value of INR 11,360 Billion in 2020.
It is expected to cross INR 21,971 billion by 2024.
India has been the leading producer and consumer of dairy products worldwide since 1998 with a sustained growth in the availability of milk and milk products. Dairy activities form an essential part of the rural Indian economy, serving as an important source of employment and income.
Nearly all of the dairy produce in India is consumed domestically, with the majority of it being sold as fluid milk.
Along with offering profitable business opportunities, the dairy industry in India serves as a tool of socio-economic development. Keeping this in view, the Government of India has introduced various schemes and initiatives aimed at the development of the dairy sector in the country.
Nichrome and the Indian dairy industry
Nichrome's association with the dairy industry goes back more than four decades. Indeed, Nichrome's foray into automated packaging machines was motivated by its commitment to further the cause of the White Revolution. Nichrome pioneered India's first milk pouch packaging machine in the 1970s in response to the Government's call for indigenous, cost-effective packaging solutions.
The first Filpack machine was commissioned at Kurla Dairy, Mumbai where the commercial distribution of milk pouches was started on 7th March 1977.
Today, as India's leading integrated packaging solutions provider, Nichrome offers the fastest milk packaging machine besides many other automated dairy packaging solutions for liquid, powder and viscous products in the dairy industry.
Nichrome's Mini Dairy Plant
More recently, Nichrome has developed a special mini dairy plant to help small dairy farmers process and package their produce for independent retailing.
Most small dairy owners sell their milk production to local cooperatives where they may not always get the best price.
Nichrome has developed an entry-level milk processing plant without boiler for the benefit of small dairy farmers. It is a low investment small milk processing plant that uses electricity to heat the milk.The milk plant is energy-efficient, low maintenance and easy to operate.
The process
Raw milk is collected in silos
The milk is filtered and impurities removed
After filtration, the milk passes to the pasteuriser
In the pasteuriser, the milk is heated to 72.5 degrees Celsius using electric heaters
When the milk is heated to 65 degrees Celsius, it is passed to the homogeniser
Homogenising breaks down the fat globules to extremely small particles and distributes them uniformly throughout the milk
This prevents the separation of cream in the milk
The milk returns to the pasteuriser where, at 72.5 degrees Celsius, pathogens, bacteria and micro-organisms are destroyed
The milk is then immediately cooled to 8 degrees Celsius in the PHE Chiller
The cooled, pasteurised and homogenised milk is stored in a storage tank
This milk is then packaged in 200ml, 500 ml or 1000ml pouches with a Nichrome milk packaging machine
Conclusion
Since its pioneering start, Nichrome's capabilities and offerings for milk packaging have grown and developed with every passing decade. Today, Nichrome offers automated packagingmachines and integrated packaging systems for a wide variety of dairy products including liquid (milk, buttermilk, flavoured milk), viscous (ghee, vanaspati, curd)and powders (dairy whiteners, milk powder). Nichrome's dairy packaging machines and systems present certain common advantages such as compact, maintenance-friendly construction, high speed performance, requisite hygiene standards, and accurate filling and sealing.
For small dairy farmers, Nichrome's mini dairy plant opens the doors to business prospects. Nichrome partners to study individual requirements,needs and constraints, then customises the solution. Nichrome makes it easy and hassle-free, training farmers and their staff to operate the plant with ease.
It's Nichrome's way of helping small dairy farmers access the power of modern technology to open the door to productivity and profitability.