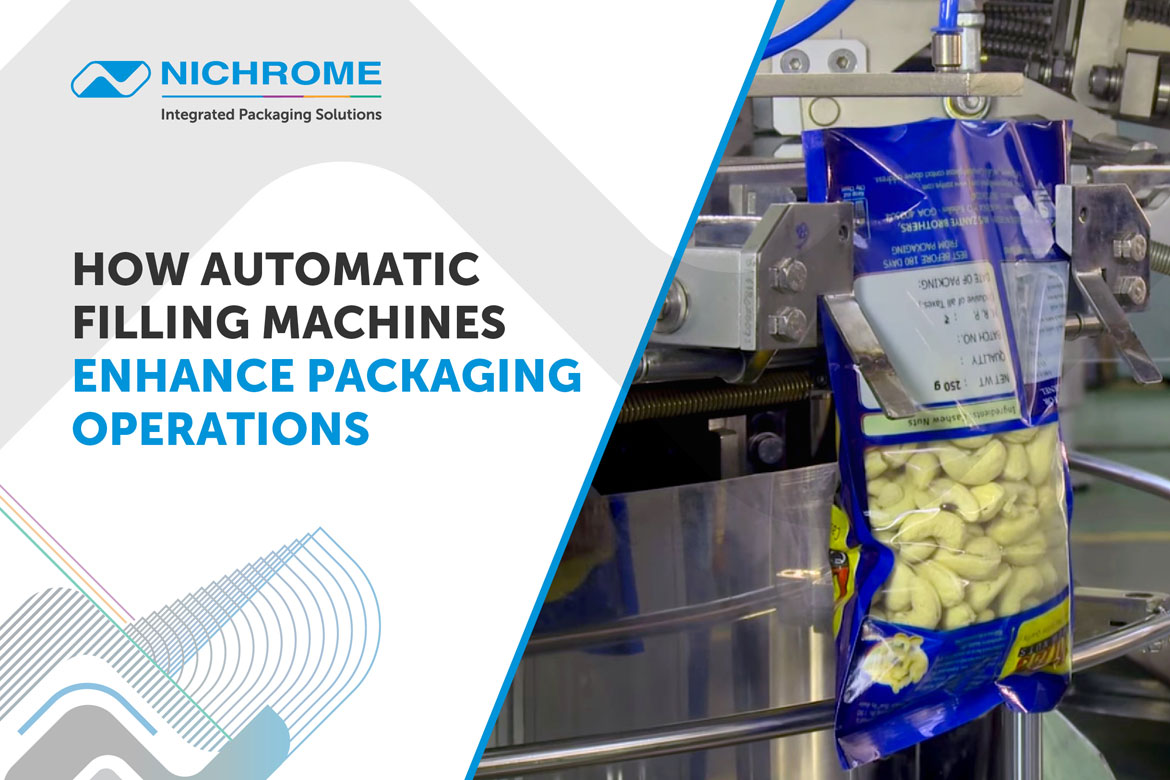 How automatic filling machines enhance packaging operations
For the manufacturing and packaging industry, automation has impacted industries with reduction in production time, reduced wastage, improved system performance and process control.
Whether you are filling liquids, solids or powders, whether your product is being filled in bottles, cans or flexible pouches, manual filling methods are no longer viable as they result in low production outputs and losses through spillage. Automation is crucial to completing processing in a timely and cost-effective manner.
ADVANTAGES OF AUTOMATIC FILLING MACHINES
Automation in the packaging process creates many benefits for the packaging company. In automating the filling process, a company can expect to improve the packaging operation in a number of ways.
The main advantages include:
Reliability and consistency
Automatic filling machines will allow for a repeatable, reliable and consistent fill with each cycle, whether that fill is based on a level, volume, weight or other measurement. An automatic filler eliminates uncertainty from the process.
Higher speed
This is the most obvious benefit of using automatic packaging machines! From thin, free-flowing products like water or some powders to highly viscous products such as jelly or pastes, automatic fillers use power conveyors and multiple filling heads to fill more containers per cycle. So production runs faster – and constantly.
Simple controls
Modern filling machines come equipped with a PLC and easy-to-operate touch screen interface. Operators can quickly and easily set up indexing times, pump speeds, fill times and other parameters for the process. The 'recipe' is recorded by the PLC so it can be easily recalled in the future.
Versatility
Automatic filling machines can usually be set up to handle a range of products and container shapes and sizes. For companies that package multiple products, the right packaging machine filling machine offers ease of changeovers with simple adjustments so that downtime is minimised and production maximised.
Future ready
Automatic packaging machines should be purchased with the future in mind. It should be upgradeable – offer potential to grow capacity, add more filling heads and be compatible with other fillers so different types of products may be packed on the same machine.
FILLING MACHINES FROM NICHROME
Nichrome offers the full gamut of food packaging systems, pharma packaging systems and other non-food packaging systems for diverse industry verticals. Nichrome's filling solutions broadly include:
Liquid filling machines
These are automatic packaging machines used to fill water and other beverages such as milk, alcoholic beverages, juices, soup, etc. They are also used for filling viscous products such as lassi, yogurt, sauces, edible oils, and more.
Powder filling machines
These machines are made using spiral feeding technology that enables proper filling with zero-drip. They are ideal for filling powdered items, which are both free-flowing (such as sugar, table salt) and non-free-flowing (such as brown sugar, milk powder). Nichrome's machines also serve non-food applications such as pesticides, starch, dyes, pharma powders, etc.
Granule filling machines
Nichrome's granule filling machines are used to fill granule products into sachets and pouches. Applications include grains, pulses, dry dog food, whole spices, etc.
Gel filling machine
This machine is formulated with a pump head so it can handle shampoo, hair gels, hair conditioners, cosmetic creams, thick sauces, honey, paste, cleaners, car wax, and much more such substances effortlessly.
Capsule filling machine
Used in the pharmaceutical industry for packing medicines, these pharma packaging machines are efficient in counting gelatin capsules, either soft or hard. They can also count coated tablets and pills.
This filling machine also finds application in the food industry, besides agriculture, healthcare, and chemical engineering fields.
ABOUT NICHROME
Nichrome India is a leading integrated packaging solutions provider with over four decades of industry experience, having served diverse clientele across continents.
Nichrome's innovative packaging solutions for food, pharma and other applications are complemented by solutions for secondary packaging, wrapping & cartoning, bulk packaging and other custom packaging solutions for specific application needs.
Nichrome's filling machines are sure to streamline your entire operation and boost productivity with their speed, efficiency and reliability. Nichrome offers you single source convenience for both automated packaging machines and end-to-end packaging systems and supplies, backed by a sound nation-wide network for dependable service and spares.
Contact Nichrome today for a great selection of solutions, affordable pricing, and knowledgeable customer support.