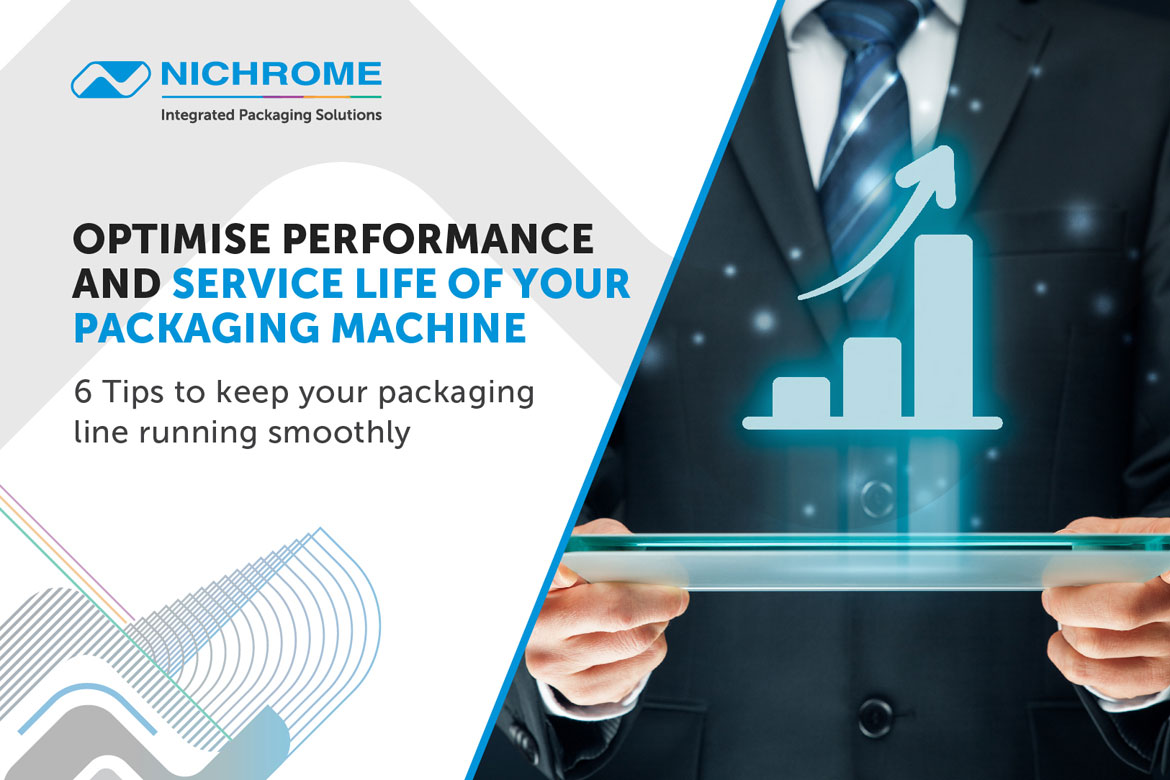 Optimise Performance & Service Life of Your Packaging Machine
6 Tips to keep your packaging line running smoothly
Automatic packaging machines are expensive capital investments; so naturally, you want maximum return on your investment. You expect high performance and long service life. Besides, packaging downtime is an inconvenient and costly situation that no enterprise can afford.
Whether it is a horizontal packaging machine or vertical-form-fill-seal machine, liquid filling machine or powder packaging machine, pharmaceutical packaging machine or food packaging machine – if you want to maximise performance and longevity of your packaging line, here is a checklist of practices to adhere to.
Follow a preventive maintenance schedule
Preventive maintenance is the number one recommendation for long service life of your packaging machine. A packaging machine must be regularly and periodically serviced to ensure optimal OEE (Overall Equipment Effectiveness).
Create and maintain a preventive maintenance schedule that is conducted by qualified personnel on a pre-set basis. The tasks may be on a monthly, quarterly or even annual basis but it is imperative to adhere to the schedule.
Preventive maintenance includes activities such as checking and replacing wear components, lubricating machinery, etc. This helps prevent both minor problems and major disasters before they occur. You can plan downtime and arrange necessary materials, rather than be caught off guard.
Leading packaging machine manufacturers in India, Nichrome, provides annual maintenance contracts with regular onsite visits tailored for your individual business and packaging line needs.
Track line efficiencies
Measuring and tracking the throughput during optimum uptime helps to pinpoint slow spots in the packaging line that are unable to manage the product as efficiently as other parts. This can help you detect potential bottlenecks before they arise.
Maintain an autonomous maintenance checklist
Compile a checklist of tasks and schedules for inspections, cleaning and lubrication as required by your packaging machine, which can be done by the operators. After all, the operator is at his machine consistently and will be the first to notice if something changes – such as noise, speed, unusual motion, etc. He can raise the flag long before a scheduled maintenance visit.
Make sure the maintenance tasks are assigned, scheduled and done, and signed off by a supervisor.
Be prepared for replacements and spare parts
When you buy your packaging machine, ask for a recommended spare parts list, and keep a minimum supply of these on your premises. Make the list of parts in stock easily accessible to the maintenance teams. A reliable OEM will have these spare parts as inventory so they can be delivered immediately when required, but waiting even for a single day can mean extremely costly downtime.
Plan and budget for upgrades
To combat obsolescence and expensive breakdowns, you must regularly review the production statistics, projected lifespan of the machine, its hardware and software. Components such as PLC, servo drive and other electronics require replacement; software require upgrades.
Keep in touch with your packaging machine manufacturer to learn of recommended upgrades or if your particular model of equipment is being phased out. Whether you budget for partial upgrades or complete replacement, it's better to be prepared with a proactive plan and budget.
Get the OEM who is responsive and supportive
Before purchasing your namkeen packaging machine, milk packaging machine or oil filling machine, check if the automatic filling machine manufacturer is responsive and can provide prompt support to your site. Now with the pandemic, the vendor should also offer remote service capabilities for remote trouble-shooting.
It is also important that the manufacturer provides installation, commissioning and training service. Partnering with an industry-leading packaging machine manufacturer like Nichrome makes sound business sense. Nichrome will ensure you get the most cost-efficient, high quality equipment for your application, and the kind of service and support you need to keep your packaging operations running smoothly.
Conclusion
To sum up, a sound, well-planned maintenance strategy will help packaging line owners to avoid unplanned, costly repairs, maximise equipment availability, optimise machine performance and increase the ability to predict production and maintenance budgets.
The secret is to be proactive rather than reactive to keep your packaging machinery in good condition, ensure productivity and profitability of your packaging operations. A packaging partner like Nichrome can make all the difference. Nichrome is the pioneer and leading provider of integrated packaging solutions India. Liquid filling machine, tea packaging machine, spice packaging machine, shampoo packing machine, coffee packaging machine, cosmetic packaging machine – you name the application, Nichrome has a high-speed, high-performance solution for it. Nichrome's expertise extends to Food, Pharma and non-food sectors, and every automatic packaging machine from Nichrome is backed by the company's decades of experience, strong R&D, state-of-art manufacturing, and reliable nation-wide service.