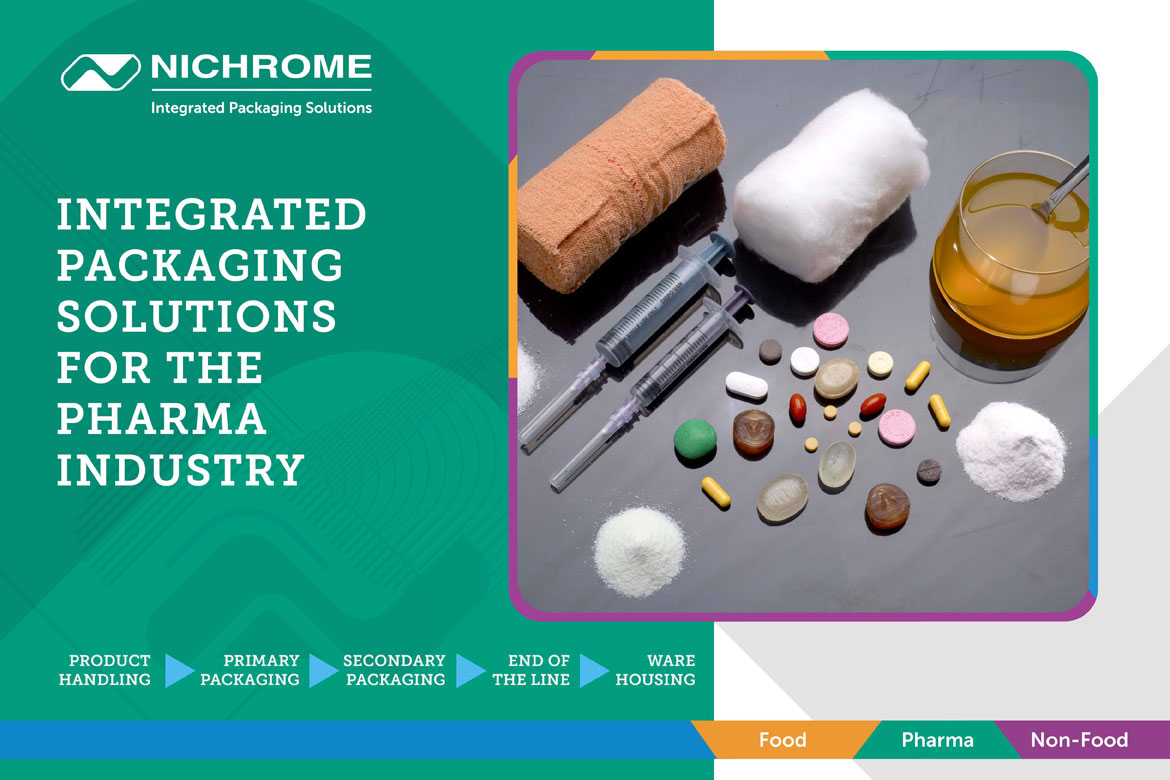 Integrated Packaging Solutions for the Pharma Industry
The pharma industry is at the forefront of innovation across the world. We regularly see new formulations for increased efficacy, and alternative user-friendly configurations in response to patients' needs – complemented by innovations in packaging design, materials and technology.
The most important function of packaging is to protect the packaged product. Most pharmaceutical products need to be shielded from the harmful effects of the environment. Many drug formulations become unstable when they are exposed to air, moisture, or light, and hence, effective protection from these factors is essential to ensure that the medicines remain safe and effective.

The pharma industry is effectively more global than ever before, hence, pharma packaging should fulfil some universal requirements.
Functions of Pharma Packaging
Containment: High-quality pharma packaging must take into consideration both the needs of the product and of the manufacturing and distribution system. Hence, pharma packaging should not leak, not allow diffusion and permeation of the product, be strong enough to hold the contents when subjected to general handling, and should not be altered by the pharmaceutical ingredients in the final dosage form.
Protection: Pharma packaging should protect the product from all undesirable external influences that may have an effect on the quality, efficacy or potency. Some adverse external factors include light, moisture, oxygen, biological contaminants, physical damage and adulteration.
Information: The labels and package inserts in pharma packaging are an essential source of information on medicinal products for patients.
Convenience: The packaging must be convenient to use, open and store the pharma products.
Nichrome's Integrated Pharma Packaging Solutions
Tablets and capsules are the most popular forms of oral medicine. They are either filled into plastic or glass pharmaceutical bottles or packed in blister packs. Nichrome offers cutting-edge integrated packaging solutions for pharma packaging and in both bottle filling and blister packaging.
Nichrome has collaborated with international pharma packaging machinery manufacturers to add their world-class technology to their stable for the benefit of the Indian pharmaceutical industry.
For tablet and capsule packaging, Nichrome offers two state of the art integrated packaging solutions:
Counting and Filling
Nichrome's tablet counting and filling machines are the industry standard for speed and versatility for the counting and filling of any tablet or capsule in a wide range of bottles and containers. This integrated packaging solution is the optimum solution to the increasing demand for flexible and modular solutions, increased efficiency and productivity, and a smaller footprint.
This high-speed counting and feeding system for tablets and capsules is an integrated solution that covers the entire packaging process:
Bottle filling and capping
Labelling systems
Desiccant insertion
Leaflet insertion
Customers can order the specific pharmaceutical packaging machines they need for specific processes or invest in an integrated packaging line.
Blister Packaging
Blister packaging has become one of the most popular packaging formats across the world. Blister packaging increases the shelf life of capsules, tablets, pills, and other pharma/cosmetic products. Blister packaging is an effective solution for the protection of pharmaceutical products and is convenient for patients since blister packs are easy to carry and use on the go. Some formats of blister packaging are PVC, PCTFE, PVDC, and thermoform blisters for the less sensitive products or Alu-Alu cold form for the more sensitive Active Pharmaceutical Ingredients.

Nichrome's offerings in blister packaging machines in the pharmaceutical industry include both medium and high-speed Blister Packaging Machines for tablets/capsules. It also offers high-speed Card Blister Packaging that comes with an automatic feeding system for cosmetic and other healthcare products.
Nichrome also offers a cartoning machine range for the secondary packaging of Blister Strips, Bottles, Tubes and Sachets. Customers can also purchase a complete integrated packaging system for these products.
Why go with Nichrome?
Nichrome possesses the latest technology and integrated packaging solutions for the pharmaceutical industry. Bolstered by its wealth of diverse know-how and expertise in packaging, Nichrome has joined hands with global players to bring a comprehensive range of state of the art, cost-effective, high-quality automated packaging solutions for pharmaceutical products.
Nichrome is committed to providing customized pharma packaging services, product integration, on-schedule delivery and after-sales support. Their integrated packaging solutions also come with the benefit of single-supplier convenience and the affirmation of international technology that is backed up by expert, localised support.
Conclusion
Get in touch with Nichrome if you are a producer of pharmaceutical products planning to automate the packaging process or looking to upgrade your current setup. With more than 40 years of experience and expertise in the packaging machine industry, Nichrome is renowned as the leading provider of automated packaging machines and integrated packaging solutions.

Nichrome has a strong focus on R&D, state of the art manufacturing facilities and a path-breaking approach, Nichrome has the capacity to develop and deliver the most ideal, efficacious and cost-effective automated packaging solutions for a diverse range of products across Food, Pharma and other industries.

Visit www.nichrome.com for more information.