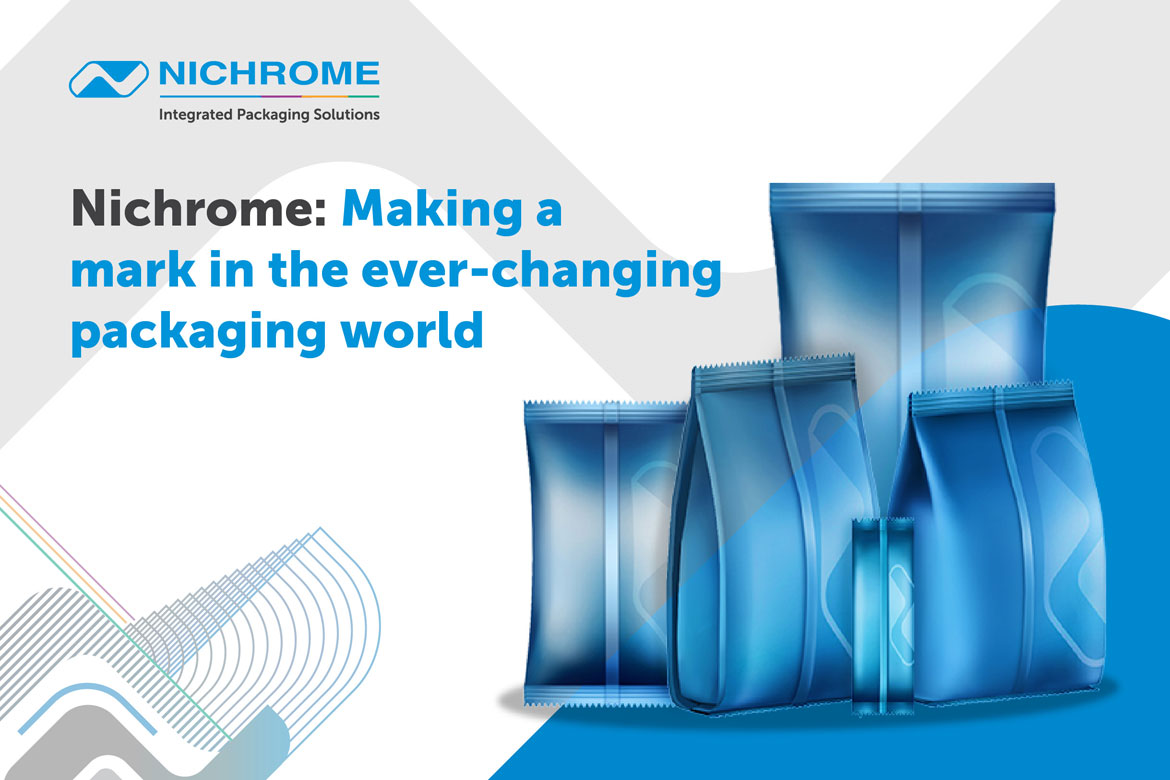 Nichrome: Making a mark in the ever-changing packaging world
The packaging sector is at a turning point in its history. Today, more than ever, companies need high performance machinery that meets quality and productivity requirements.
Environmental concerns are forcing the packaging industry to reinvent itself, especially through the use of eco-friendly materials that are less energy-intensive, more easily recycled.While plastic is widely used thanks to its many advantages especially its low weight per unit, glass and metal containers are making a comeback in certain categories, driven by environmental concerns. Even the flexible packaging industry is looking for biodegradable materials.
So packaging is continuously evolving. Technological innovations and growing automation have transformed the industry. Some of the most noticeable developments include:
Connectivity: The various functions involved in packaging are integrated thanks to automation. Users get a clearer picture of the various sub-processes and plant conditions which helps to improve maintenance and optimise packaging processes.
Digital engineering: Most processes are now digitised; manual operations have been replaced by automated speed and accuracy. Errors in the process can also be identified and rectified sooner with digital engineering.
Space saving: The packaging machinery industry is adopting modular machine configuration and re-designing equipment to save space and reduce machine footprint.
Simplicity: The ability of companies to integrate new machines or lines easily into existing systems is essential for them to adapt to the changing technology.The growing need to simplify diagnostics and maintenance is giving birth to more web-based service tools and innovative machine concepts.
NICHROME'S PACKAGING SOLUTIONS
Since Nichrome developed India's first indigenous milk packaging machine in 1977, it has been at the forefront of next-generation packaging technologies; a brand trusted for its rich legacy of pioneering innovation, extensive domain knowledge and manufacturing competency in packaging systems.
For enterprises big and small, for applications existing and emerging, Nichrome offers infinite possibilities in integrated, automated packaging solutions. With its strong thrust on R&D, Nichrome partners with customers through the complete lifecycle, offering application-specific solutions, backed by dependable service and support.
It could be a small variation in a pouch format or customization of an existing machine; a pro-actively developed filling system or consultancy & system design for a complete packaging plant – Nichrome has the expertise, capabilities and innovation to transform productivity and enrich customer relationships in endless ways.
Based in Pune, India, Nichrome's sales & service network spans India and the world. It has presence in 45 countries and more than 7000 successful installations worldwide.
NICHROME'S OFFERINGS
Horizontal packaging machine, vertical form fill seal machine, tray sealing machine, multilane sachet packaging machine, bottle or tin filling line,blister packaging machine, mini dairy plants, complete end-to-end integrated packaging system, filling systems – the gamut of Nichrome's offerings is vast and comprehensive.
Nichrome designs and manufactured automated packaging machines for almost any application in Food, Pharma and other verticals.
Nichrome is among the leading edible oil filling machine manufacturers who is equally adept at supplying powder filling machines, salt packaging machines,ketchup packaging machines, milk packaging or grain packaging machines. The Nichrome portfolio also includes shampoo packing machines, cosmetic packaging machine, tablet & capsule packaging lines and even packaging solutions for pet food, dyes & pigments, adhesives, agrochemicals & fertilisers. Indeed the list of applications is endless.
Nichrome's inhouse R&D works tirelessly to upgrade existing machinery and innovate new solutions that meet the challenges of the times. Compact footprint, advanced technology, high speed performance, ease of operations and long service life are the hallmark of Nichrome's packaging machines. Nichrome ensures that its machines can be easily integrated (upward or downward) into existing plant systems, and can also be modified to adapt to some changing needs.
A contemporary feature of Nichrome's machines is the DOIT (data over Internet) which uses Cloud connectivity to provide anytime, anywhere access of the packaging machine. Users can monitor, evaluate and even change machine operation parameters from any connected device, anywhere in the world. Today, more than four decades since Nichrome developed India's first indigenous milk pouch packaging machine, Nichrome continues to make a mark on the packaging world, leading the way with innovation, technology, quality and service that enhances productivity and profitability for its customer's business.