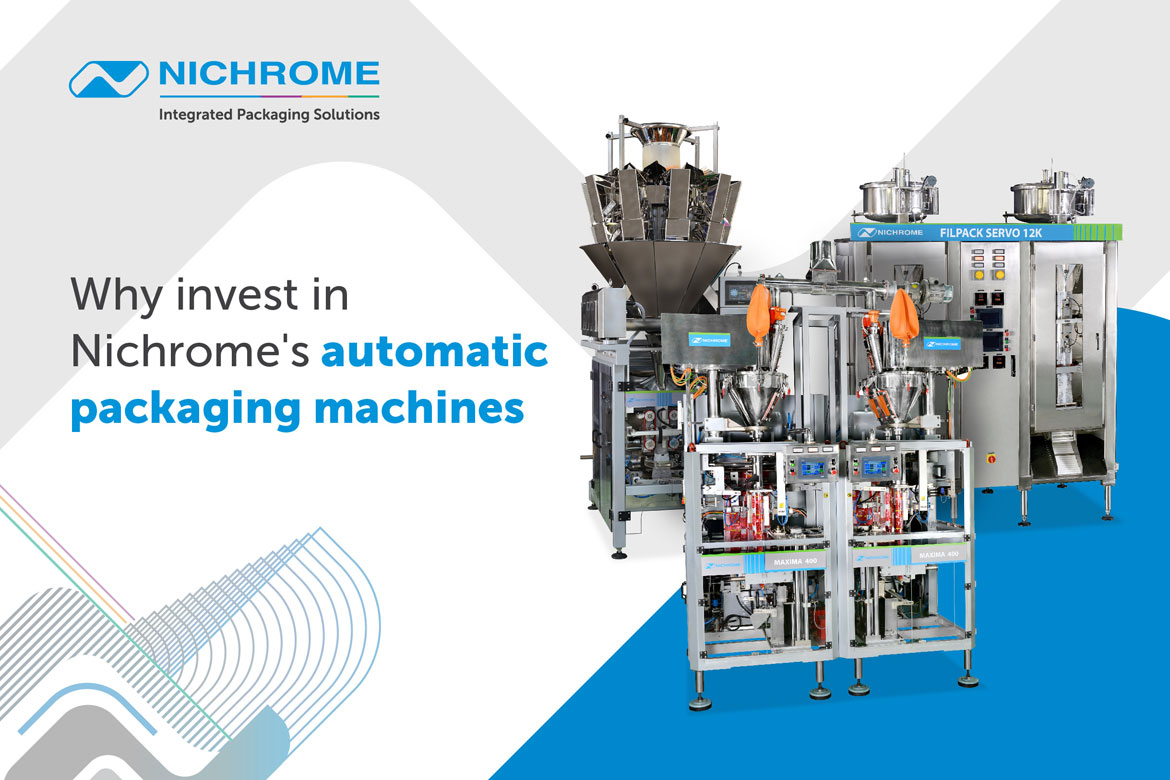 Why invest in Nichrome's automatic packaging machines
If you are a manufacturer or marketer of foods, consumer goods, pharmaceuticals or indeed, almost any product; if you are trying to sell in a competitive, even global market; packaging is an aspect that requires special attention.
Today's market and changing global standards call for high standards of packaging. And as your business gears up for increased demand, you will undoubtedly face 'growing pains' such as labour issues, inefficiencies and wastage, operation costs and bandwidth limitations.
Automatic packaging machines are the solution. Automatic packaging machines are automated machines that use a wide range of technologies that reduce human intervention in processes. Automation implies automatic control via modern PLCs or information technology.
Nichrome's automatic packaging machines
Nichrome is a leading provider of integrated packaging solutions India with over four decades of industry experience to their name. For a wide range of applications in Food, Pharma and other industries, Nichrome offers a variety of flexible packaging machines, filling systems and integrated packaging systems.
Oil pouch packing machine, salt packaging machine, powder filling machine, ketchup packaging machine, milk packaging machine…the Nichrome portfolio of automatic packaging machines is vast. Nichrome also offers solutions for non-food applications – cosmetic packaging machines, shampoo packing machines, blister packaging and bottle filling lines for pharma industries, and many more.
Nichrome's automatic packaging machines also offer the latest DoIT (data over internet) feature whereby you can monitor and control your packaging machine from anywhere, any time. Just connect your laptop or mobile phone, and you'll be in control 24×7.
Benefits of Nichrome's automatic packaging machines
Productivity
Automated packaging machinery work much faster than manual methods, so you can dramatically increase productivity to save time and ensure a faster production line. Rather than struggling with employing additional staff when you want to increase production, you have a reliable automatic packaging machine that can take on the extra work and isn't afraid of a repetitive task. For example, Nichrome's milk packing machine Filpack 12k is a super-fast machine filling and sealing 12000 milk pouches in an hour!
Safer working conditions
If the items that you are packaging are bulky, cumbersome and heavy, then there can be a risk for health and safety. Back injuries from manually wrapping pallet loads, carpal tunnel syndrome from repetitive motion during package assembly, or a lack of safety guards on older equipment, are all areas that can be addressed with automatic machines. Automated packaging thus creates a safer working environment.
Meticulous quality
With automated packaging, you can be sure that every package is well-protected through a standardised packing process. With automated packaging, each product has a tailored packaging design and shape so that you can be sure of the same level of protection for each item.
Reduced wastage
An automatic packaging machine is programmed to be economical in its use of material, cutting to precise size and creating an efficient pattern that maximises protection out of the least material. This helps businesses save a considerable amount in packaging material costs. Moreover, with more consistent seals and improved tunnel performance, reworks and scrap rates will decrease further delivering substantial cost savings.
Lower labour costs
Labour intensive processes can be expensive and also unreliable as workers can make mistakes, fall ill, lose concentration while performing repetitive tasks, etc. Plus, labour costs keep rising, making it hard to calculate the budget required for your packaging and the cost of packaging per product. By reducing the labour requirements, you can utilise your staff in other value-adding areas in the business.
Specialised packaging
If you have many products and different packaging sizes, an automated solution is right for you. Whether the need is vacuum packing, pressure filling, modified atmosphere packing (MAP), sterilised or inflatable, Nichrome can tailor the right piece of equipment to suit your bespoke needs. Nichrome also offers machines compatible with different fillers so the same machine packs diverse products and pouch formats with easy changeover.
Conclusion
Although automatic packaging machines may seem expensive, you will be able to recover the costs in a matter of months.
Besides, people buy products if they are pleasing to the eye and assure good hygiene standards. Automation means great packaging with accurate information. This creates a good impression and helps promote the brand. Nichrome's automatic packaging machines make your products cost-effective, safe and appealing. Consult Nichrome with your needs and projections – they will help you with a solution that best suits your requirements. This will help you to expand operations, improve productivity and grow your consumers, while ensuring employee safety and profitability.