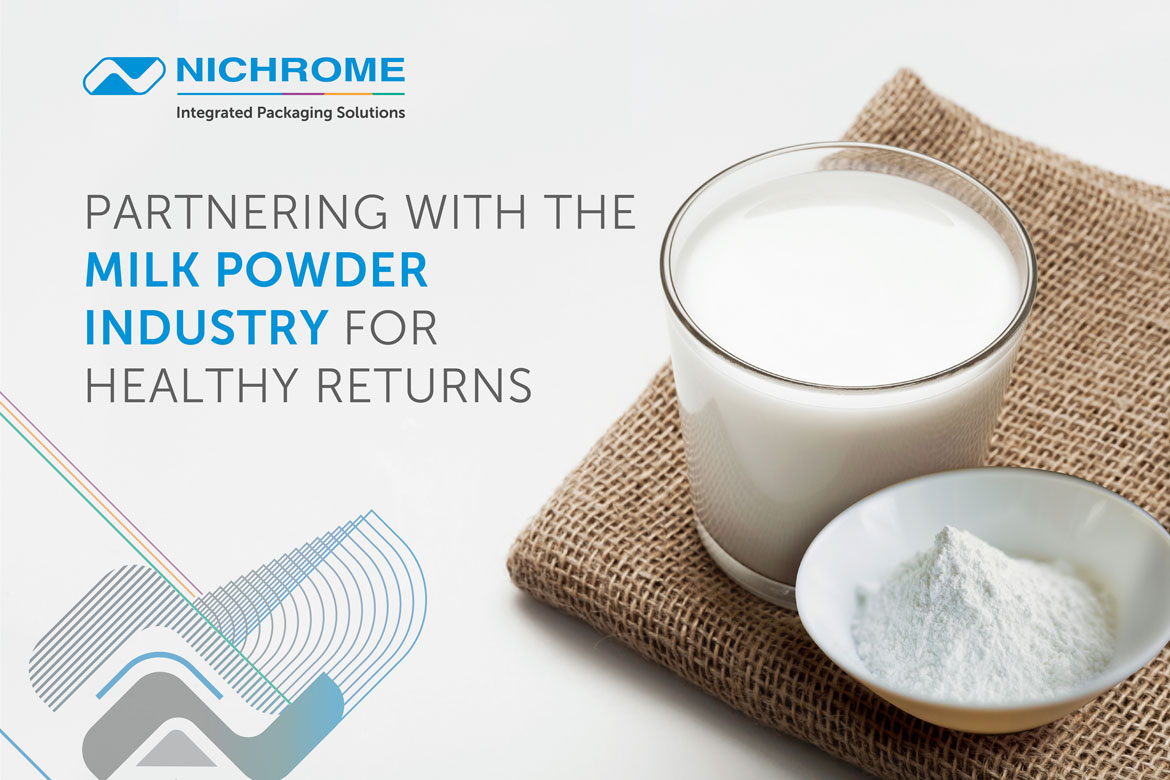 Partnering with the Milk Powder Industry for Healthy Returns
India is the leading milk producer in the world, currently badly hit by the Covid-19 crisis. Demand for liquid milk has dropped drastically due to the closure of restaurants, sweetmeat shops and the unorganised sector. In fact, CII has recommended that the government should rationalise GST on value-added products like ghee & butter, and create a strategic reserve for milk powder that can be distributed through the public distribution system to help poorer sections in nutrition intake.
However, milk powder production in India is booming. Besides growing consumption at home, exports of milk powder have surged too – at rates that are significantly higher than world average growth.
And why not? It's an effective way to consume the taste and nutritional goodness of milk without worrying about storage and spoilage. Milk powder is a dry dairy product, made by dehydrating milk to increase shelf life without refrigeration. There are various types of milk powder: whole milk powder, skimmed milk powder, dairy whitener, buttermilk powder, etc. which are widely consumed in infant formulas, baked desserts, confectionaries, savoury foods, nutritional supplements and many other products.
Milk powder packaging with Nichrome
For manufacturers of milk powder, Nichrome offers a wide range of dairy products packaging machines. Nichrome is well known as India's pioneering milk pouch packing machine manufacturer, having innovated the country's first indigenous milk pouch packing machine four decades ago. Today, Nichrome's milk packing machines are market leaders for their speed and accuracy.
For milk powder packaging, Nichrome's range of dairy packaging machines offers options to pack small SKUs of 5 to 20 gms as well as larger pouches up to 10 kgs. Nichrome's product portfolio includes:
Wing 200 E-line with Auger Filler: Exclusive packaging solution for start-ups and small-medium enterprises. Wing 200 E-line has a compact footprint and bagger speed up to 80 packs per minute.
Sprint 250 with Auger Filler: Accuracy and efficiency for packing pouch quantities up to 2 kgs at speeds of 120 packs per minute. Perforation system delivers a chain of pouches.
Excel 400 with Auger Filler: Fully automated powder packaging machine, designed as per stringent quality standards. It packs up to 10 kg pouches at speeds of 80 packs per minute.
Tin Filling Line: A sturdy, low maintenance system for accurate milk powder filling in metal or composite metal tins. Various tin cleaning & sterilisation options are available.
Multilane Stickpack with Multihead Auger Filler: Ideal stickpack packaging solution for the travel and hospitality industries. The machine can have up to 10 lanes to pack quantities of 2 gm to 20 gm in convenient single-serve stickpacks.
HFFS Machines:
Nichrome offers a range of horizontal packaging machines with latest linear technology from Totpack, Spain. The HFFS machines offer a range of pouch formats and duplex models are available for higher outputs.
Conclusion
For milk products packaging machines or liquid milk filling machines, Nichrome's technology and expertise is undisputable. From filling systems and packaging machines to turnkey dairy plants, Nichrome is the go-to partner for success in the dairy products business. If you're looking to launch or grow your milk powder business, talk to Nichrome. Nichrome will study your requirements, understand your business goals and tailor the optimal solution for your needs. They also assure timely and expert installation & commissioning, as well as nationwide spares and service support.