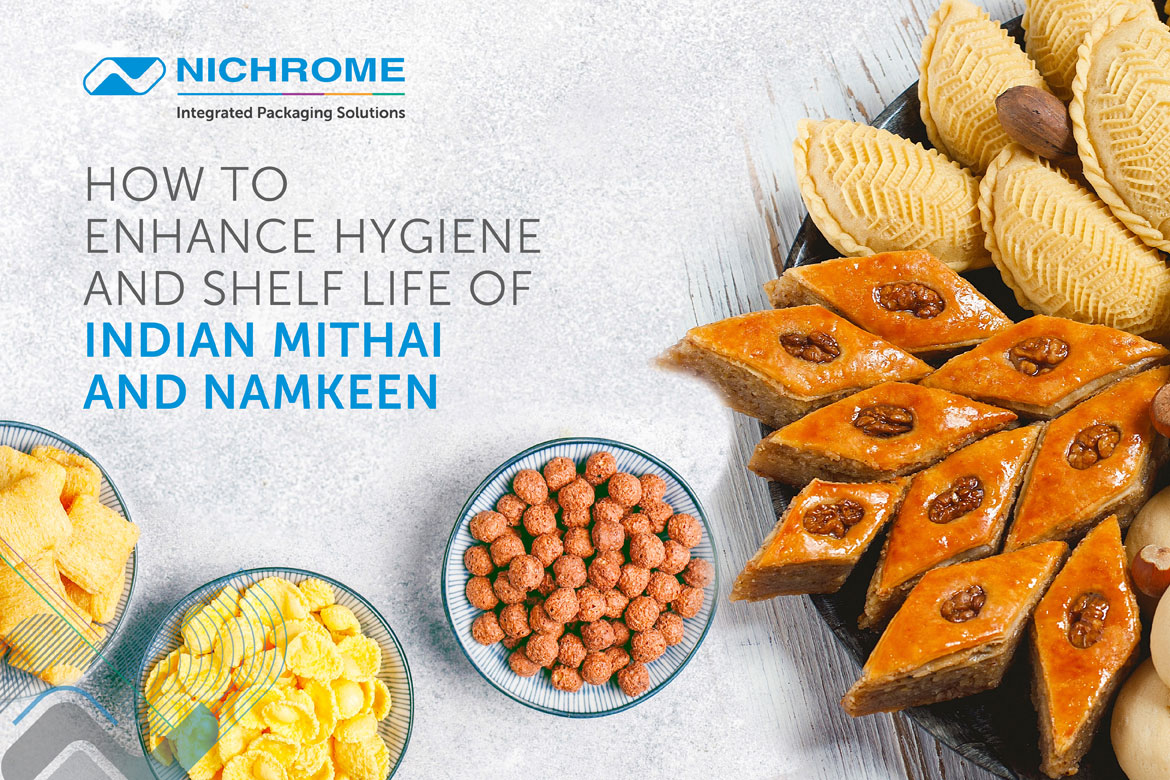 How to Enhance Hygiene and Shelf life of Indian Mithai & Namkeen
As modern consumers grow increasing conscious of purity and hygiene, they are willing to pay the extra buck for products that deliver these qualities. Add to this the current pandemic, and you have even greater concerns over safety and hygiene.
Over the last few years in urban India, mithai and namkeen manufacturers are slowly but surely realising the need for better quality packaging that protects their products from contaminants and ensures protection during transportation to the distribution network. Here we are talking not only about the Haldirams and Cadbury's of the industry. Even small retail mithai walas with local clientele are considering modern snack packaging machines to ensure hygiene and shelf life of their sweet and savoury products.
Thermoformed tray packaging offers an innovative packaging solution. We all know that the convenience and presentation of mithai, dry fruits, namkeen and confectionery is highly valued when packed in elegant trays and beautifully decorated outer cartons.
About thermoformed food packaging
This is food packaging in thermoformed trays using MAP (Modified Atmosphere Packaging) technology. In modern thermoforming machines, the operator selects the appropriate packaging, packaging material and product features. The food packaging machine produces the trays or containers as per the set criteria, fills them with the food product and automatically seals the tray using inert gas.
Thermoforming machines can also produce packaging with vacuum skins. The product is placed in a tray or a preformed packaging mould and is then sealed with skin film. This allows the safe packaging of products with a variety of shapes – as if they were given a second skin. The product is untouched by human hands, and the sealing process with MAP ensures longer shelf life.
Whether you use this technology as namkeen packaging machine, RTE packaging machine or dairy products packaging machine – the contents are assured hygiene, freshness and preservation for longer.
Advantages of thermoformed food packaging
Suitable for diverse products: frozen foods, fresh fruits, vegetables, confectionery, mithai, namkeen, etc.
Waterproof
Durable
Hygienic
Visibility of contents
Non toxic and food grade
Preserves freshness
Eco friendly & recyclable
Available in HIPS/PVC/PET/PP
Tailor-made designs
Disposable
Trays can be freezing and microwave usable grade
Thermoformed food packaging solutions from Nichrome
Nichrome has tied up with Tecnovac, Italy to bring their globally recognised thermoformed tray sealer machines to India.
For 30 years Tecnovac has been developing and producing professional tray sealers for preformed trays. These machines are able to seal, package in modified atmosphere, or in skin, all types of trays or jars.
These machines offer infinite customisation; Tecnovac specialises in the creation of made-to-measure lines with the integration of destacking, dosing, lidding, weighing, labelling, printing systems.
The entire range is designed to fulfil any production need, from the small tradesman to large automated industries. All of our sealers are Industry 4.0-ready.
Semi-Automatic Tray Sealers
These machines are dedicated to anyone starting out in the tray sealing industry with contained investments; easy to use, smaller overall dimensions but offering great performance. This range includes:
Olympia VG
The Olympia model has been designed to package food in a gas vacuum or with "SKIN effect". The compact size and simple use make this machine the ideal choice for those entering the world of professional packaging.
Built entirely in stainless steel, it is fitted with the best components on the market to guarantee performance and reliability.
The entire mould in aluminium is made to measure according to the customer's requests so as to obtain absolute precision in the finish of the package.
Olympia PRO
The Olympia PRO is the latest evolution of the semi-automatic machine. The rotating table and the double vacuum chamber allow production to be maximised while maintaining reduced dimensions.
In fact, during the packaging cycle it's possible to unload and load up the second chamber, increasing productivity; all thanks to an ultra-reliable and easy-to-operate machine.
Automatic Tray Sealers
As Tecnovac's steadfast core-business, the automatic tray sealers for medium production have always been standard-setting in the preformed tray packaging market.
These machines are renowned for their incredible longevity, and are designed to last in aggressive environments and operate continuously over several shifts.
Athena
The automatic sealing machine model Athena is capable of packaging in modified atmosphere any combination of compatible trays and top film studied for such applications. Thanks to Athena's strong stainless steel structure, easy maintenance and conformity to hygienic requirements, this machine is ideal for use in small and medium sized companies.
One of the more important aspects of this machine is the possibility to use the moulds of the semi-automatic machine model Olympia on the Athena. The aluminium mould is made each time according to the customer's requests in order to obtain absolute precision in the details of the packaging.
Conclusion
For small-medium marketers of Indian mithai and namkeen, thermoformed tray sealers present a highly beneficial food packaging solution. And in thermoformed tray sealers, Nichrome offers the most advanced, high-performance options. Indeed, for the latest, most cost-effective packaging solutions India, Nichrome offers the most comprehensive range for a whole gamut of applications in Food, Pharma and other industries. Nichrome's packaging machines, packaging systems and filling systems are all products of Nichrome's decades of industry experience, technological know-how, design & manufacturing capabilities. What's more they come with the backing of Nichrome's nation-wide support of service and spares.