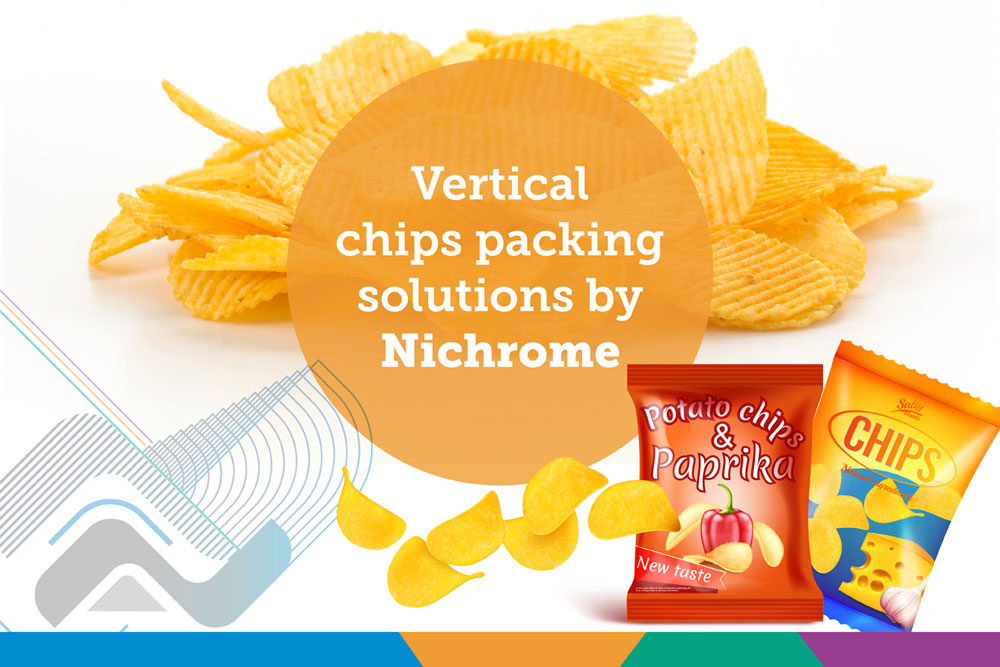 Vertical Chips Packing Solutions by Nichrome
For a long time now, potato wafers or chips have been the most preferred snack option. Euromonitor's report Savoury Snacks in India (December, 2016) estimates that savoury snacks are likely to register a constant value CAGR of 12% over 2016-2021, with sales reaching Rs 445 billion. The Indian chips market, sized at Rs 7,000-7,500 crore according to Euromonitor, has been growing at a robust pace of 15% over the past five years and going forward, is expected to grow at a similar pace.
Partnering with the many Indian and multinational players in this high-growth sector is Nichrome. India's leading integrated packaging solutions provider, Nichrome's expertise in chips packaging is well known. Years ago, Nichrome designed and developed two of India's earliest, indigenous chips and namkeen packaging machines: SnackPack and NamkeenPack.
The Nichrome Portfolio
Today, for chips packaging, Nichrome offers a range of vertical packaging machines that work just as well for other snacks and products like dry fruits, breakfast cereals, pasta, wrapped candies, whole spices, seeds and much more. The latest in Nichrome's VFFS snack packaging portfolio is:
Excel Vertipack 320 – India's first vertical pouch packaging machine. Yet another versatile innovation from Nichrome, Excel Vertipack 320 has been developed for packaging chips, dry fruits, seeds, pasta, grains, etc. in a variety of standup pouches with or without zipper.
With its high speed performance, sturdy design, online check weigher & metal detector, compatibility with multiple fillers, and a host of other features, Excel Vertipack 320 assures you robust performance with unmatched versatility.
Besides the vertical standee pouch, Excel Vertipack 320 also offers other pouch formats: CSPP, Gusset, Gusset with D-cut, Pentaseal and Quadseal.
Other chips packaging machines include:
Sprint 250 Snackpack – Designed especially for the snack industry, Sprint Snackpack is a food packaging machine that offers quick and easy tool-less changeover of size parts resulting in minimum product falling height.
It packs a wide variety of snacks and similar food products in pouch formats such as the CSPP, Gusset with D-cut and Gusset. The perforation system makes it possible to produce chains of small pouches. Sprint Snackpack has HACCP & GMP compatible construction.
Wing 200 E-Line Snack Pack – This is Nichrome's exclusive packaging solution for startups and small-medium enterprises. It offers all the superior expertise and reliability of Nichrome, in a compact, affordable format – designed to fit more modest space, budget and performance expectations.
Wing 200 E-Line packs chips and other snacks in CSPP packs (and chain of pouches) at a maximum speed of 80 pouches per minute.
For chips packaging in large quantities, Nichrome offers two durable automated packaging machines:
Excel 400 Plus Multi-head Weigher – For packs up to 10 kgs, this vertical packaging machine is the preferred solution. It comes with a plus advantage of automation equipped with CE marked PLC Controller and touch screen HMI. Key features include print mark scanners, static charge eliminator, servo motor driven bag length control system, and adjustable stroke of cross sealing jaws for optimum performance. It is designed as per stringent quality standards, and can be easily integrated to upstream or downstream machines/systems.
Sprint 250 Plus Multi-Head Weigher – For pouch quantities up to 2 Kgs, Nichrome's Sprint 250 Plus offers speed, accuracy, and efficiency for flexible packaging of a wide variety of snacks, grains, powders, etc.
Sprint 250 Plus is an automated machine with CE marked PLC and touch screen HMI. Its servo motor driven sealing system can effectively seal with pressure levels maintained. It is programmed to pull the exact length of film required for CSPP or gusset pouches and offers a perforation system to deliver a chain of small pouches.
Conclusion
When it comes to chips packaging, or indeed, packaging of any snacks and namkeen, Nichrome has the industry experience and domain knowledge to ensure the most cost-efficient solution for the needs of individual manufacturers. With sound vacuum packing technology, Nichrome's automated packaging machines ensure the product stays fresh and crisp for longer. Minimised falling heights ensure the shape and form of delicate chips stay intact, and stainless steel construction with easy-to-clean design makes Nichrome's packaging solutions most suited for food applications.
Consult Nichrome with your specific requirements and expect the most relevant, optimised solution for your operations.