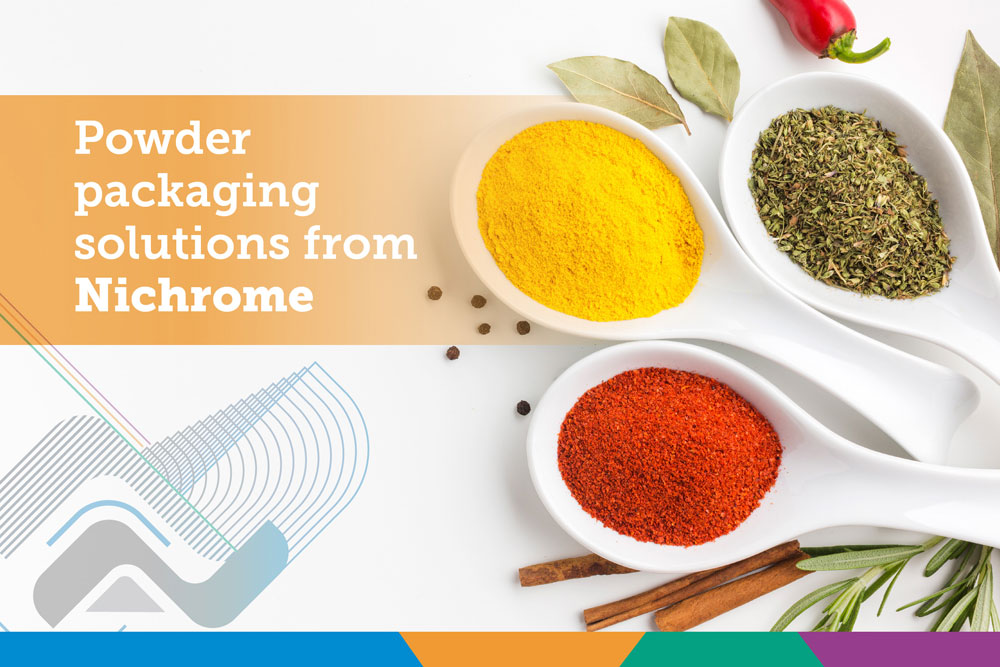 Powder Packaging Solutions from Nichrome
The powder packaging market is growing. Whether it be ground masalas or milk powder, drink mixes or nutraceutical products, flour or pre-mixes, there is a huge amount of food, pharma and other powders out there, all waiting to be packed in safe, accurate and hygienic packs.
As convenience products become increasingly popular, we can expect more products and varying package formats for products like spice blends, instant coffee, and variants, drink mixes, protein powders, sweetners, etc.
Challenges of powder packaging
When choosing a powder packaging machine, or even when providing a powder packaging solution, it is essential to study and understand certain characteristics of the specific powder application.
Is it free-flowing? Products such as table salt or sugar flow freely when dispensed, and do not compact when extra pressure is added.
Is it non free-flowing? These tend to be cohesive and compact under pressure. These include products like brown sugar, powdered milk.
How dusty is it? Products like flour, when dispensed, form a cloud of dust that travels far and clings to every surface in the vicinity. These airborne particles can cause serious mechanical issues.
There are other aspects to be considered as well, such as bulk density of the product, which all directly determine pouch sizes and attributes, the type of filler required, as well as the packaging speeds that can be delivered.
Nichrome's Powder Packaging solutions
Nichrome prefers to consult with clients before making a sale. Nichrome provides integrated packaging solutions based on four decades of domain expertise, and indepth study of every client's specific requirements, challenges and goals.
Nichrome's innovative packaging solutions for powders include a range of VFFS machines:
Excel 400 Plus Servo Auger: This automatic packaging machine comes with a plus advantage of automation equipped with CE marked PLC Controller and touch screen HMI. Key features include print mark scanners, static charge eliminator, servo motor driven bag length control system, and adjustable stroke of cross sealing jaws for optimum performance. It is designed as per stringent quality standards, and can be easily integrated to upstream or downstream machines/systems.
Excel 400 Plus Servo Auger packs up to 10 Kg pouches at a bagger speed up to 80 packs/min. Pouch formats include CSPP, 4 line seal, Pentaseal, Pentaseal with D cut, and Gusset pouch.
Sprint 250 Plus Servo Auger: For pouch quantities up to 2 Kgs, Nichrome's Sprint 250 Plus series offers speed, accuracy and efficiency for flexible packaging of a wide variety of powders.
Sprint 250 Plus is an automated powder filling machine with CE marked PLC and touch screen HMI. Its servo motor driven sealing system can effectively seal with pressure levels maintained. It is programmed to pull the exact length of film required for packaging and offers a perforation system to deliver a chain of small pouches.
Sprint 250 Plus packs up to 2 Kg pouches at a bagger speed up to 120 packs/min. Pouch formats include CSPP and Gusset pouch.
Maxima 200 with Servo Auger: With a compact design, Maxima 200/400 has a small footprint to occupy less space in factories. A PLC-based control system and optional interface with PC & data processors make the Maxima 200/400 a favourite with powder manufacturers.
As the name suggests, the Maxima 200 packs up to 200 pouches/min. while the Maxima 400 packs up to 400 pouches/min. The Maxima 400 has the flexibility to pack different products with different quantities on each head.
Maxima packs in single CSPP or perforated chain of CSPP pouches.
Wing Stickpack: Nichrome's Wing sachet filling machine Series offers efficient packaging solution for versatile, complex and user-friendly applications. With the growing demand for single-serve, portable sachets especially in the travel and hospitality sectors, this innovative packaging solution has many takers.
Its PLC based machine is sturdy in performance and versatile in design. Its multi-featured controller can pack multi-sided sachets and pouches. Pouch formats include the centre seal stickpack, centre seal stickpack with V notch and CSPP. Output speed ranges between 70-80 packs/ minute.
Conclusion
All Nichrome's powder packaging solutions come with process reliability, hygienic design, and easy-to-inspect and clean structure. There is flexibility of different bag styles, sizes and materials so buyers can use the same machine for multiple applications. Nichrome also offers a series of HFFS spice packaging machines that work just as well for other powder applications as well. From food powders to agro-chemicals and pharmaceutical powders, Nichrome's automatic powder packaging machines assure performance efficiency and durability for almost every powder packaging operation.