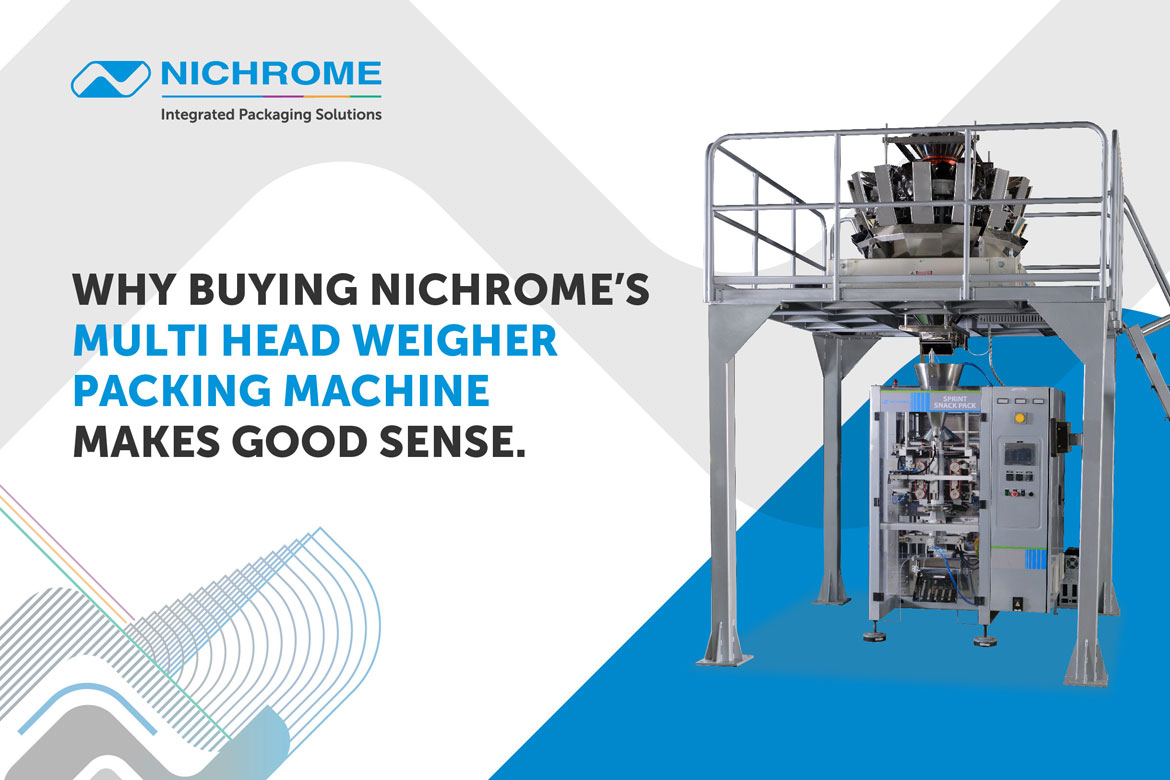 Why Buying Nichrome's Multi Head Weigher Packing Machine Makes Good Sense
Multi head weighers are now the standard equipment for weighing and packing applications in varied industries.
Especially if your business deals with fresh, food products, it is essential that the product is weighed efficientlywhile moving at great speed, and filled competently, without waste.
Multi head weigher delivers two main advantages: speed and accuracy. So if you're looking for an efficient tea packaging machine or coffee packaging machine, namkeen packing machine or any powder packaging machine, a multi head weigher packing machine makes good business sense.
In fact, this machine works well even for products such as sugar, grains, spices, pasta, dog food, etc., which are often considered difficult to weigh efficiently or tend to get stuck within the equipment.
How does a multi head weigher packing machine work?
Basically, a multi head weigher packing machine takes bulk product and weighs it into smaller increments according tothe weight programmed into its software. The bulk product is fed into the scale through the infeed funnel on top. The top cone and feed pans vibrate and gently move the product towards the weigh buckets around the edge of the scale which are constantly weighing the product they contain.
To reach the target weight, the software chooses the sum of a combination of buckets which add up to the correct amount.
Standard multi-head weighers range from 10 to 24 heads. The more weighing heads a system has, higher the possible speeds and greater the accuracy.
Multi head weigher packing machine from Nichrome
Nichrome's Excel 400 Plus Multi Head Weigher is a preferred choice for packaging snacks such as potato chips, kurkure, namkeen. This vertical form fill seal machine is also used for packing pasta, nuts, dry fruits, seeds, soya chunks, breakfast cereals, whole spices, etc.
Excel 400 packs CSPP, Gusset and Pentaseal pouches of up to 10 kgs weight at speeds that go up to 80 packs per minute.
The best thing about Excel 400 is its versatility. Just change the filler, and it can be used for packing grains and powders too.
Why buy from Nichrome?
Buying a fixed asset like this is an expensive, one-time investment. Of course, you will consider several things such asthe machine's weight, size, cost, process, construction, etc. Finding a reliable supplier is crucial.
Meeting Nichrome is a good idea. Nichrome is India's leading packaging machine manufacturer and provider of innovative packaging solutions. As a trusted automatic filling machine manufacturer for over four decades, Nichrome's packaging solutions India such as oil filling machines, milk packaging machines, spice packaging machine, liquid filling machines, pharmaceutical packaging machines, shampoo packing machines, etc. are all helping enterprises to access packaging efficiency and profitability with their advanced technology and durable performance.
Some important reasons to trust Nichrome:
Durability: Obviously, you want your big investment to work efficiently for years.Nichrome's technology and manufacturing is proven; their track record for long service life is excellent.
Operating manuals and training: During purchase, Nichrome provides proper manuals and training for your staff to help them understand the technology and working of your multi head system.
Spare parts: Multi head filling machines are made up of countless small mechanical and electronic components. These parts may need replacement. Nichrome assures availability of genuine and accurate spares – to spare you lengthy downtime and ensure machine efficiency.
Maintenance and service: Periodic maintenance and servicing is essential to keep your automatic packaging machine in top working condition. Nichrome has an efficient Service network and offers professional AMCs to help you avoid breakdowns, get the best from your machine. Buying a multi head filling machine from a reliable, proven manufacturer such as Nichrome would ensure you get the latest technology, world-class quality and return-on-investment you seek. What's more, Nichrome stays committed to your business' efficiency, and is always available with service, spares and support to ensure you never have to face system slowdown or process downtime.