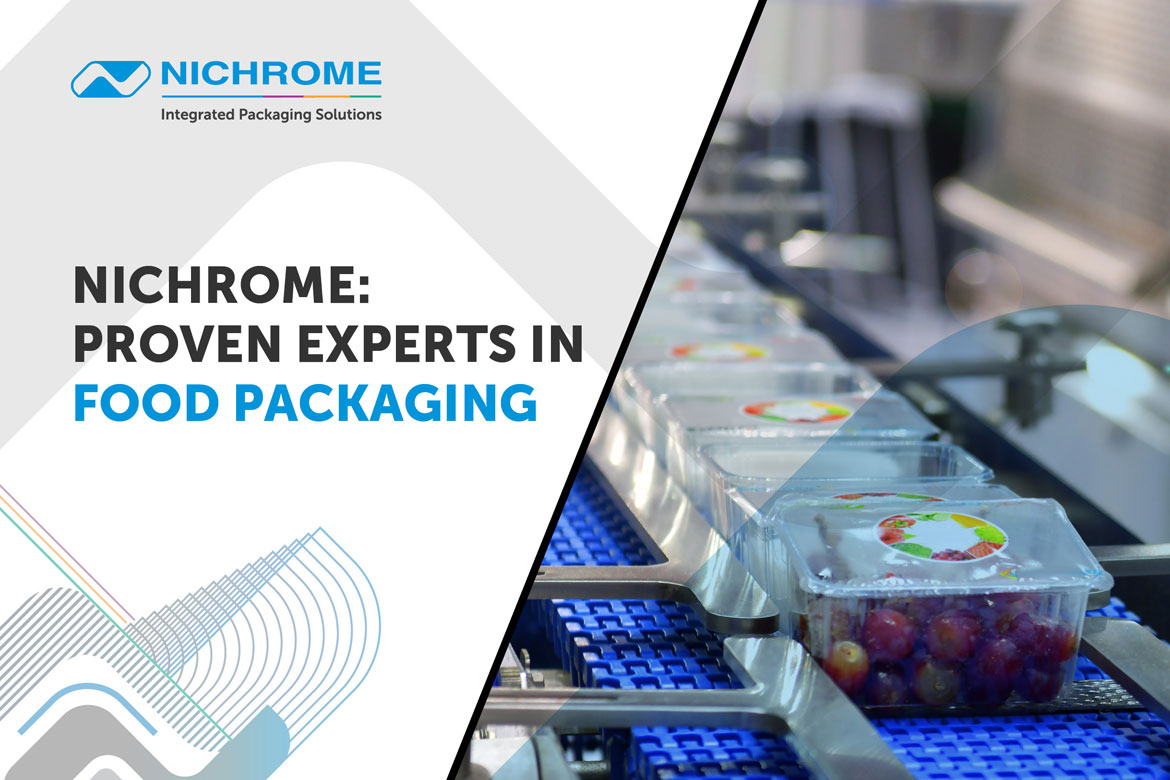 Nichrome: Proven Experts in Food Packaging
The global food packaging market is vast, mature and growing at an exciting pace. Packaging companies serving the sectors of food, beverages, personal care and pharmaceutical are expected to do well in the present pandemic situation, with changing demand patterns, government measures, and stockpiling pushing up demand for packaged food products.
The food packaging market is broadly segmented into 3 categories based on product: rigid, semi-rigid and flexible. While rigid packaging has the largest market share, the flexible packaging market is growing exponentially due to technological advancements. Moreover, flexible packaging offers several advantages: it uses less material, needs less energy during formation, produces lesser green house gases during manufacturing. Being lightweight & unbreakable, it is economical to pack, store and transport.
In India, few can match Nichrome's expertise in flexible packaging for food products. Nichrome is a leading food packaging machine manufacturer and integrated packaging solutions. Nichrome's packaging technology is well accepted around the world too.
Whether you want to package food grains, powders, liquids, viscous products or ready-to-eat foods, Nichrome offers a reliable, high-speed, cost-effective solution.
Nichrome offers a wide range of food packaging machines, besides liquid packaging machines for products such as milk, juice, water. Let's take a look at some of the different technologies Nichrome offers in food packaging machines:
VFFS
VFFS (vertical form fill seal) machines are automated packaging systems used to package the widest range of liquids and solids.VFFS machines deliver high speeds, accuracy, variable bag lengths and shapes, and are easy to operate and maintain.
Whether it is liquid like milk, juice and water, viscous like ketchup, ghee and edible oil, granular like rice, pulses and sugar, powder like masalas, coffee and dehydrated milk, solid like nuts, namkeen or cookies – Nichrome has a VFFS machine for you.
Nichrome's VFFS machines are versatile and can be used for diverse applications by changing the filling system. Cleaning and changeovers are easy and fast.
Multilane
These are VFFS machines with multiple lanes or channels, and are generally used for smaller pouch sizes. For small sachets and stickpacks of salt, ketchup, sugar, coffee, dairy whitener, condiments, etc. which are popular in the travel, hospitality and food business, Nichrome's VFFS multilane machines offer speed, accuracy of filling and reliable sealing.
HFFS
Unlike VFFS machines which are vertical in structure, HFFS packaging machines are horizontal. Nichrome offers a range of HFFS machines based on the latest linear technology from Europe. The series is versatile, and can be used for packing a wide range of powders, grains, snacks, liquids and viscous products using different fillers. HFFS machines also offer a range of pouch formats with superior pouch aesthetics.
PFS
Nichrome's PFS (Pick-Fill-Seal) is the preferred packaging machine for ready-to-eat foods. Using versatile Rotary technology, the machine conveniently packs a wide variety of ready-to-eat foods in eye-catching innovative shapes while maintaining freshness of the products. The machine is sturdy and compact, easy to clean and maintain.
An advanced variant of packaging technology innovated by Nichrome enables 2 or 3 different fillers to dispense multiple types of ingredients in the same pouch.
For liquid/semi-liquid packaging, Nichrome offers another PFS machine with an automatic cap feeding system for filling liquids in spouted pouches. Manufactured by Kyungseo E&P Co. Ltd., Korea, this Tower III liquid packaging machine is aimed at SMEs and start-up businesses with small production equipment.
Tray sealing
For small-scale marketers of cut fruits & vegetables, meat & fish, namkeen & sweets and even ready-to-eat meals like biryani, Nichrome offers Athena thermoforming tray sealers from Tecnovac, Italy. Athena is able to seal, pack in a protective atmosphere (vacuum + gas) or with "Skin effect" all types of trays or jars. Due to its strong stainless steel structure and easy maintenance, Athena is ideal for use in small and medium sized companies.
Tin filling line
Nichrome's tin filling line is a sturdy, low-maintenance system made for accurate and efficient performance.The PLC-controlled line has a digital LCD touch screen displaying settings, and safety enclosures with interlocks for rotary parts.
Machine construction is available in SS3014, SS316 and MS painted material. Various tin sterilisation and cleaning options are available.
By using different filling systems, this system can be used for filling and packaging products such as milk powder, health drink powders, tea powder, sugar, rice,whole spices, dry fruits, candies, pan masala, premixes, etc. in a variety of tin sizes.
If you are looking for a high performance, cost-effective, durable food packaging machine or liquid packaging machine for your business, talk to Nichrome. Nichrome can even customise solutions to suit your specific requirements.