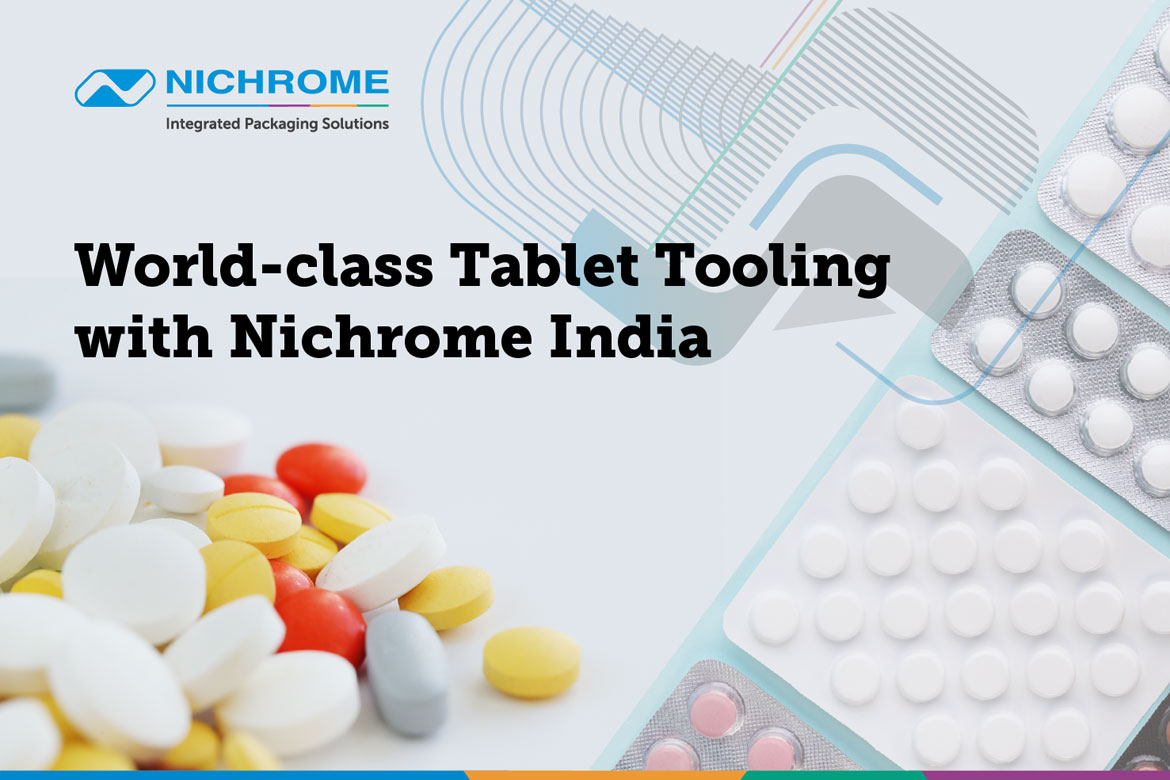 World-class Tablet Tooling with Nichrome India
Nichrome, India's leading provider of integrated packaging solutions for four decades, is growing its pharma packaging services. It has tied up with international players for products and technologies that are sure to make a difference to India's pharma industry. Among Nichrome's many offerings in pharma packaging solutions is Tablet Tooling.
What is Tablet Tooling?
Some call it punch & die tooling; some call it compression tools. Tablet tooling is the tooling used to produce a tablet,the basic and crucial unit of your pharmaceutical industry.
Tablet tooling is one of the quick-wear parts of a tablet press machine – the pharma packaging machine where tablets are formed by compression. The raw powdered, crystalline or granular ingredients are compressed using a die and punch – the key elements ofthe tablet compression process.
Tablet press punches and dies are the metallic components designed to determine the size and dimensions of the final tablet. Since they are responsible for the final appearance of the tablet, they have to be designed with high precision and accuracy, using materials that can withstand strong compression forces and corrosive/abrasive environments.
Nichrome brings Yener Tablet Tooling to India
In its drive to deliver industry best-in-class technology and solutions for the Pharmaceutical industry, Nichrome India has tied up with Yener Kalip of Turkey – the leader in high performance Tablet Compression Tooling since 1983.
Yener manufactures punches and dies to support all types of tablet presses available in the market. Yener products are broadly divided into 2 segments:
Single Tip Tooling: For industries producing under 1 million tablets per hour, single tip tools are called for.Single Tip Tools reduce tooling costs and provide faster tool production time. So suppliers benefit from:
Quick setup time
Faster lead time (for supplier)
reduced tooling costs
Multi Tip Tooling: For rotary tabletting press machines where you produce more than 1 million tablets per hour, Multi Tip Tools are used. These tools contribute by:
increasing productivity
reducing working hours
lowering production costs
Yener also supplies tools for special machines or to enhance capacity of existing pharma packaging machines. For example, ifyou're producing 5000 tablets per minute using Single Tip Tooling, Yener's Tree-Tip Tooling on the same machine,can enable production of 15000 tablets per minute. You can triple production of your pharma packaging line- that too, without adding equipment or personnel!
The material makes the difference
Yener's punches and dies are all manufactured to stringent quality standards on CNC machines for maximum tooling efficiency, durability, good surface finish and performance. Metallurgy is also a critical element.
Yener Punches and dies are made from a high-quality steel which gives excellent toughness, impact resistant, no deformations and wear resistant. To address the sticking issues with the punches and dies,Yener uses vacuum heat treatment ovens. This process enhances the properties of tooling's drastically.
Hence Yener tooling comes with:
Enhanced hardness
Enhanced strength
Almost no corrosion
Almost no sticking
Minimal granule impregnation
Less wear and tear
Special coating
The specialty of Yener's products lies in proprietary chromium nitride (CrN) coating. Chromium nitride has a metallic silver-like colour and forms a tough thin film coating with high hardness, good oxidation resistance, and a low coefficient of friction making it ideal for metal and plastic forming applications.
CrN is also more corrosion-resistant than tin especially in aqueous solutions and is used as a direct substitute for chromium plating. The hardness of the CrN coating is approximately 2x that of conventional "hard" chrome plating.
Customisation
Yener works with customers to tailor its products as per specific machine or application needs. Whether for OEMs or the replacement market, Yener offers flexibility. Features such as embossing (numbers, letters, logos, etc.), break line, seal groove, laser marking, measuring report, etc. are the additional features.
Round tablets or capsule, square, triangle or oval; or special shapes such as heart, fish or animal shape, etc.,Yener can help achieve any shape of tablet for the pharma or detergent industries. Simple or complex, standard or original design,Yener custom designs and manufactures as per the customer's individual need.
Conclusion
For pharma packaging machine manufacturers who want to build such reliable and proven technology into their machines, or for end customers in the pharma industry who want to enhance the performance of their existing tablet compression machines, Yener tooling deliver unmatched efficiency, strength and durability. Nichrome brings this international yet cost-effective solution to India. Among the top pharma packaging companies in India, Nichrome is assurance of new technology in pharma packaging, backed by strong and reliable support.