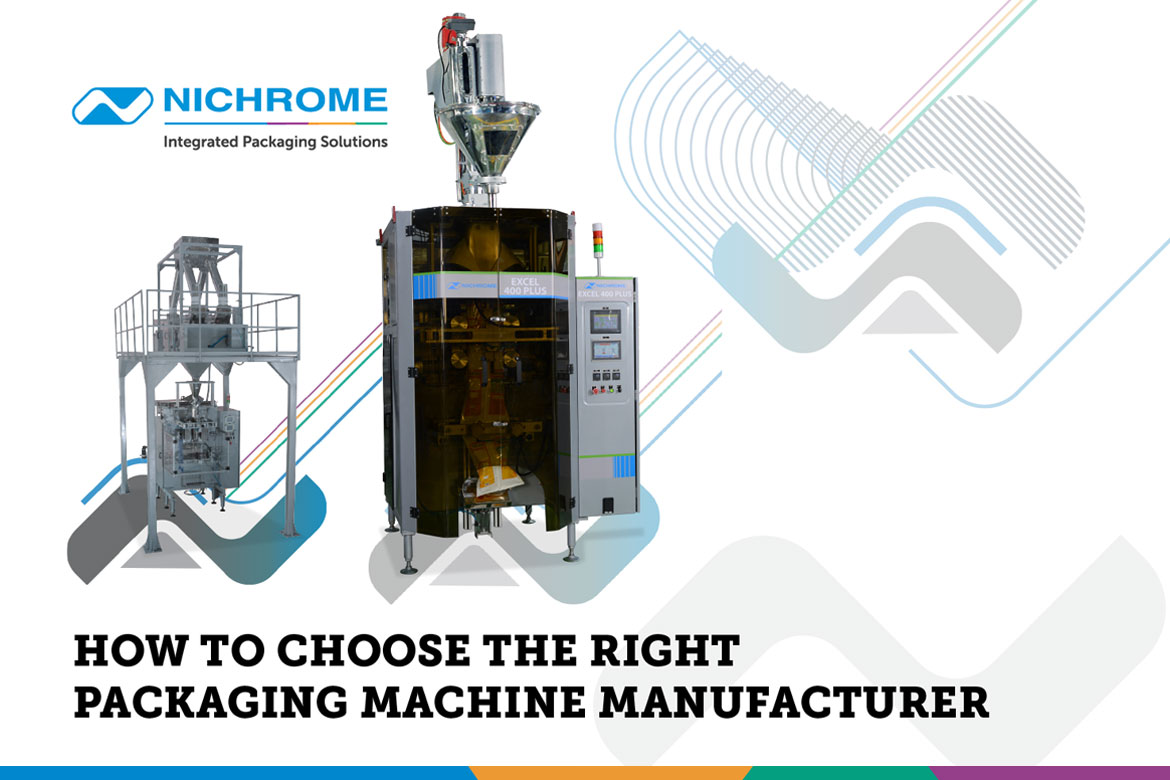 How to choose the right packaging machine manufacturer
According to Mordor Intelligence's research paper 'Packaging Industry in India – Growth, Trends and Forecast (2020-2025),the Indian packaging industry is growing at a CAGR of 26.7% during 2020-2025. Rising populations, increasing incomes, changing lifestyles,and the growing economy are the main factors driving this growth. Huge investments in the food processing, personal care andpharmaceuticals end-user industries are creating scope for expansion. India's rising e-commerce sector is further fuelling the growth.
A stroll through a modern retail/departmental store with its overflowing shelves, will provide clear indication of how the number and variety of packaged goodsare increasing exponentially.
Today, machines are used to pack almost all kinds of consumer goods which include snacks, foods and beverages, pharmaceuticals, electronics and electrical products, and much more. The manual packaging process is being overtaken by flexible packaging machines that are capable of performing the same process with much greater accuracy, much lower need for manpower, and at a much greater speed and efficiency.
As a manufacturer, it's quite obvious that automated packaging is the need of the hour if you wantto compete in the crowded marketplace.
Why invest in automated packaging machines
The advantages of automated packaging are proven and well known. Automated packaging machines help enterprises to:
Improve efficiency
Add capacity
Extend product shelf life
Reduce labour costs and human errors
Eliminate safety hazards due to manual operations or outdated equipment
Reduce material cost
However, while the benefits of automated packaging machines are well known, the criteria for choosing your packaging machine manufacturer are not.
How to choose your packaging machine manufacturer
An automated packaging machine can be an expensive proposition. So naturally, you need to be sure that you are making the right choice and that your packaging machine manufacturer has what it takes to deliver the best solution.
The list of packaging machine manufacturers in India is huge, and whether you are looking for packaging machine manufacturers in Mumbai,packaging machine manufacturers in Delhi, or in any other city, you need to evaluate your supplier based on 6 main points:
Experience: How long has the packaging machine manufacturer been in business? What is their legacy and track record? Nichrome boasts four decades of experience serving different applications in diverse industry verticals. From a pioneering start in 1977, Nichrome has continuously augmented its capabilities and offerings, and today offers the widest range and domain knowledge among packaging machine manufacturers in India.
Manufacturing: Does the supplier manufacture the machines it is marketing? Or is it a dealer for one/multiple packaging machine manufacturers? Nichrome has been a packaging machine manufacturer in Pune for four decades and has built up world-class capabilities and infrastructure for manufacturing. This expertise in manufacturing ensures Nichrome has control over the construction and quality of the products they sell.
Nichrome also markets packaging solutions manufactured by some international companies, especially for Pharmaceutical and Personal Care applications. However, customers have assurance that these 'foreign' machines come with the expertise and reliable support of Nichrome.
Design: Nichrome is a company with a strong thrust on R&D, and works continuously to improve on their offerings or introduce innovative solutions for specific applications. For instance, with their indepth knowledge of the market and its evolving trends, Nichrome has developed the E-Line Series – specifically for startups and SMEs in the snack industry. Nichrome has also designed a range of filling systems to enhance the versatility of packaging machines. Just change the filler and your powder packaging machine becomes a grain or viscous product packaging machine!
Customer focus: Does the supplier simply offer the packaging machine, negotiate the price, and deliver the machine or does it take the time to study and understand your needs? Nichrome is a customer-focussed and solution-driven packaging machine manufacturer who believes in partnering for best business outcomes. Nichrome takes the time and effort to understand customer needs, specific application requirements and limitations such as those of budget, space, manpower, etc. Then, using their decades of expertise and technological know-how, Nichrome customizes the optimal solution.
Service:Does the vendor assure good service? Does he have presence in your location? What about availability of spares? Nichrome has a nation-wide network of sales and service that provides reliable and prompt support through the entire life cycle of the machine. From timely delivery, installation and commissioning to training your work force and providing efficient post-sales service and genuine spare parts when you need them, Nichrome delivers. Nichrome also assists when you want to upgrade your existing packaging machine or integrate it with pre- or post-primary packaging systems.
Quality: Last but not least, is Quality. Especially for a big investment like this, you need to be confident that your purchase is best-in-class. One that will deliver excellent performance, long service life and sound ROI. Nichrome is synonymous with Quality, with a reputation built over four decades in the business. Nichrome's materials, manufacturing processes and products all meet the latest, world-class Quality standards and certifications. Best of all, Nichrome stands firmly behind every product it manufactures or distributes, and can be contacted if any problems arise.
Conclusion
So while the decision to go in for automated packaging may be easy to make, choosing the right machine and manufacturer is a little more difficult. Ideally, you need to go with a packaging machine manufacturer in India who not only has the right technology, quality and reputation, but will also partner through the entire cycle – understanding your needs, allaying your doubts and suggesting the most cost-effective solution. Nichrome believes in being a dependable and helpful partner, recommending and even customizing the optimal solution for customers. Nichrome assists and supports right from enquiry to commissioning, and beyond. Nichrome can even help with training the customer's staff on the new machine. Contact Nichrome today for your automated packaging system requirements.