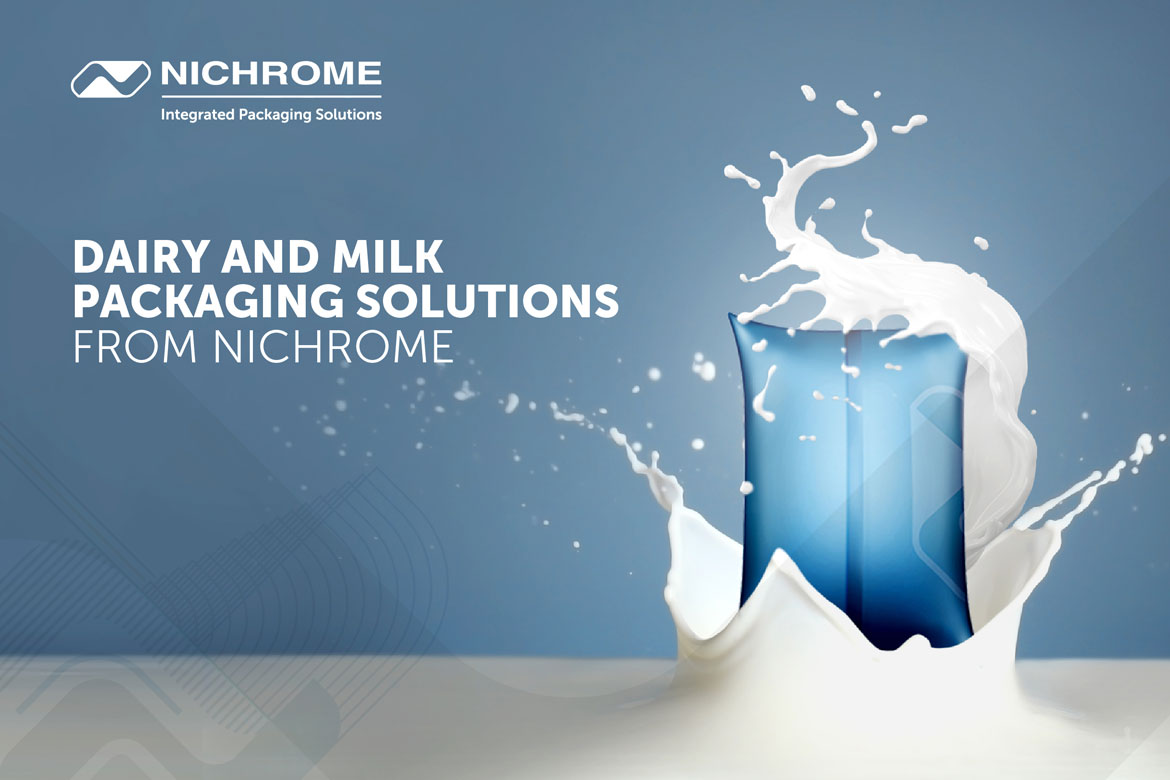 Dairy and Milk Packaging Solutions from Nichrome
Since developing the first indigenous milk pouch packaging machine in the 1970s, Nichrome has been growing its expertise and developing technology for milk and dairy packaging. In the present day, Nichrome is India's leading integrated packaging solutions provider and offers the fastest milk packaging machine in addition to other automated dairy packaging solutions for liquid, powder and viscous products in the dairy industry.
VFFS Machines for Dairy Packaging
The Filpack Series from Nichrome presents pathbreaking technology for milk and dairy packaging. The Filpack Servo 12K, with a speed of 12,000 packs/hour is the fastest milk pouch packaging machine. It can pack CSPP pouches of 200 ml, 500 ml and 100 ml with proficiency and accuracy.

Another machine from the Filpack Series is the Filpack Servo 6K that delivers accurate and properly sealed CSPP pouches at a speed of 6000 packs/hour. The applications of this machine include milk, flavoured milk, lassi, buttermilk, curd.
The Filpack Series also includes:
Filpack CMS 5L
The Filpack CMS 5L from Nichrome is a more versatile machine that can package both liquids and viscous products with a pneumatic filling system for better filling consistency. This machine fills and seals pouches of larger quantities – up to 5500 ml in CSPP format.

The packaging speed goes up to 800 pouches/hour for liquids while it is 400 pouches/hour for viscous products.
Filpack CMD Alpha
The Filpack CMD Alpha is another effective packaging solution for milk and other liquids. This machine is significantly shorter than conventional machines and occupies less floor space as no side opening is required.

Solid-state control technology controls the impulse seal system while there is a specially designed film roll unwinding mechanism for snag-free bag pulling.
This machine comes with twin heads so it is possible to pack two different products at the same time. One can even carry out maintenance on one head while the other is in use.
Filpack Servo Universal
This machine is a nextgen solution for dairy packaging. Filpack Servo Universal is a high speed, versatile performer that serves multiple applications in both free-flowing (milk, buttermilk, etc) and viscous liquids (cream, ghee, etc).
The pack size from this machine ranges from 200 ml to 1000 ml, with output speed reaching up to 5000 packs per hour.
The Double Head Combo model of the Filpack Servo Universal enables customers to fill viscous products on one head and liquid on the other.
Nichrome's Filpack packaging machines are heavy-duty performers with simple, maintenance-friendly construction. With product contact parts made of SS304 stainless steel and a UV film sterilization system for the packaging material, the Filpack machines are built for hygiene. Optional accessories like balance tanks, SCADA system, automatic CIP system, automatic pouch counting & crating systems etc are available.
Nichrome's HFFS Series
Bringing in new generation, linear technology, Nichrome's HFFS packaging machines are versatile and can be used for packing a wide range of dairy powders, liquids and viscous products such as ghee using different fillers. This series of machines also offers superior pouch aesthetics along with a range of pouch formats.
These machines from Nichrome are based on PLCs and have a touchscreen interface. The HFFS machines are compact and adaptable and offer both single and perforated chains of pouches with a quick and easy changeover. Nichrome's current range of HFFS machines includes the T110, T140 and T170.
Conclusion
Since its pathbreaking start, Nichrome's capacity and offerings for milk packaging have grown and evolved with every passing decade. Nichrome offers automated packaging machines and integrated packaging systems for a wide variety of dairy products that are liquid (milk, buttermilk, flavoured milk), viscous (ghee, curd) or powders (milk powder).
Nichrome's dairy packaging machines and systems bring with them certain common benefits such as compact maintenance-friendly construction, high-speed performance, requisite hygiene standards and accurate filling and sealing. Nichrome's mini dairy plant opens the doors to business opportunities for small farmers. Nichrome customises the solution after partnering with customers to study individual requirements, needs and constraints. Nichrome works hard to ensure that training farmers and their staff to operate the machine is easy and hassle-free.
Nichrome helps even small dairy farmers gain access to modern technology thereby opening the door to productivity and profitability.