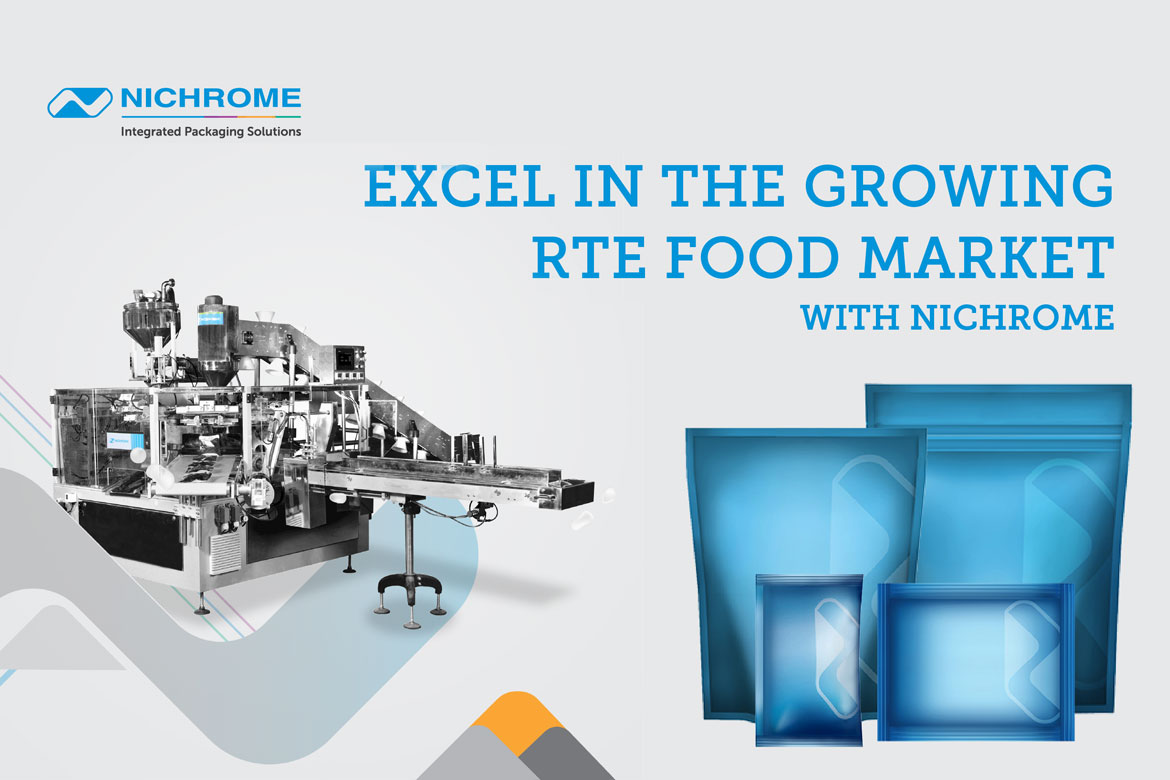 Excel in the Growing RTE Food Market with Nichrome
Ready-to-eat and ready-to-cook food sales are soaring in India. The pandemic and the government's stay-at-home advisory have forced people to become 'quarantine chefs' and bring home the joy of eating out.
According to a report in Economic Times, in the first 3 months of the lockdown (April-June 2020), fresh packaged food brand 'iD Fresh Food' saw paratha sales rise by 60% compared to the previous quarter while meat and seafood brand 'Licious' saw more than a 300% jump 300% jump in sale of ready-to-eat meat spreads, a two-fold increase sale of ready-to-cook kebabs, marinated meat and seafood.
It's evident that quick-fix meals, do-it-yourself meal kits, packaged foods and ready to eat products have seen a huge and sustained uptick in demand during the lockdown. The growth can be ascribed to most people cooking and eating at home, and the will to experiment with newer items. There is clearly a shift in consumer behaviour and preferences. More Indian consumers are opting for better quality and safer food products.
Picking up on this consumer trend, food companies are launching ready-to-eat products including easy-to-prepare options. DIY meals are also being introduced, for consumers who are cautious about ordering cooked food from restaurants & caterers. With home cooking and at-home consumption rising, such foods will help food manufacturers to gain greater acceptance and household penetration – in both big metros and smaller towns.
(Ref: https://economictimes.indiatimes.com/industry/cons-products/food/ready-to-cook-food-sales-rise-as-india-stays-at-home/)
NICHROME'S RTE PACKAGING MACHINES
As a leader in food packaging solutions, Nichrome offers two outstanding machines with the latest European technology.
Pick-Fill-Seal machine
Nichrome's Pick-Fill-Seal machine is a RTE packaging machine that uses versatile Rotary technology, to conveniently pack a wide variety of ready-to-eat foods in eye-catching innovative shapes while maintaining freshness of the products. The instant food packaging machine is sturdy and compact, easy to clean and maintain.
The high precision machine is controlled through a PLC, with the latest synchronised motion Servo System.
An advanced variant of packaging technology innovated by Nichrome enables 2 or 3 different fillers to dispense multiple types of ingredients in the same pouch.
Pouch formats include 3 side seal, 4 side seal, stand up pack, stand up with zipper and Doy pack with side spout.
Nichrome's PFS is the most suitable automated RTE and RTC packaging machine for foods such as biryani, palak paneer, butter chicken, dal makhana, Punjabi chole & other gravies, besides instant mixes, namkeen, liquid yogurt and sweets such as gulab jamun.
Salient Features:
Servo driven precision indexing
Precision Cam operated mechanism
Less power consumption
Operator friendly, easy-to-clean and maintain
Compact & versatile design
User friendly PLC based machine with touch screen interface
No Pouch, No Fill, No Seal Interlock
Pouch Open Error, No Fill Interlock
Heater malfunction error interlock
Low air pressure alarm
Machine guards with safety interlock
Hygienic stainless steel construction available as an option
Contact parts SS316, SS304 options available
Thermoforming Tray Sealing machine
Nichrome also offers a Thermoforming Tray Sealing machine from Tecnovac, Italy. Athena is able to seal, pack in a protective atmosphere (vacuum + gas) or with "Skin effect" all types of trays or jars. Due to its strong stainless steel structure and easy maintenance, Athena is ideal for use in small and medium sized companies.
For marketers of cut fruits & vegetables, meat & fish, namkeen & sweets and even ready-to-eat meals like biryani, this horizontal packaging machine ensures the products stay safe and hygienic till they reach the consumer's table.
The modified atmosphere packaging (MAP) machine extracts oxygen & carbon dioxide from the air of the trays, synchronously filling them with nitrogen or mixed air, to ensure that food does not deteriorate. Then the tray is well sealed. Ready to eat meals packed in modified atmosphere packages are guaranteed to stay fresh for at least 72 hours.
CONCLUSION
The RTE meal is designed to save time for the modern working class individual and make variety available to them. As modern life gets busier, the demand for RTE food continues to rise.
For food producers and marketers, this is a golden opportunity – but you need the right ready to eat food packaging machine to make the cut.
Partner with Nichrome for your RTE packaging needs. Nichrome has the specialised solutions to rapidly and accurately pack tasty meals and ready-to-cook ingredients, without compromising on taste, hygiene and aesthetics.
For food manufacturers looking to gain the competitive edge in the modern RTE food market, Nichome should be the first choice.