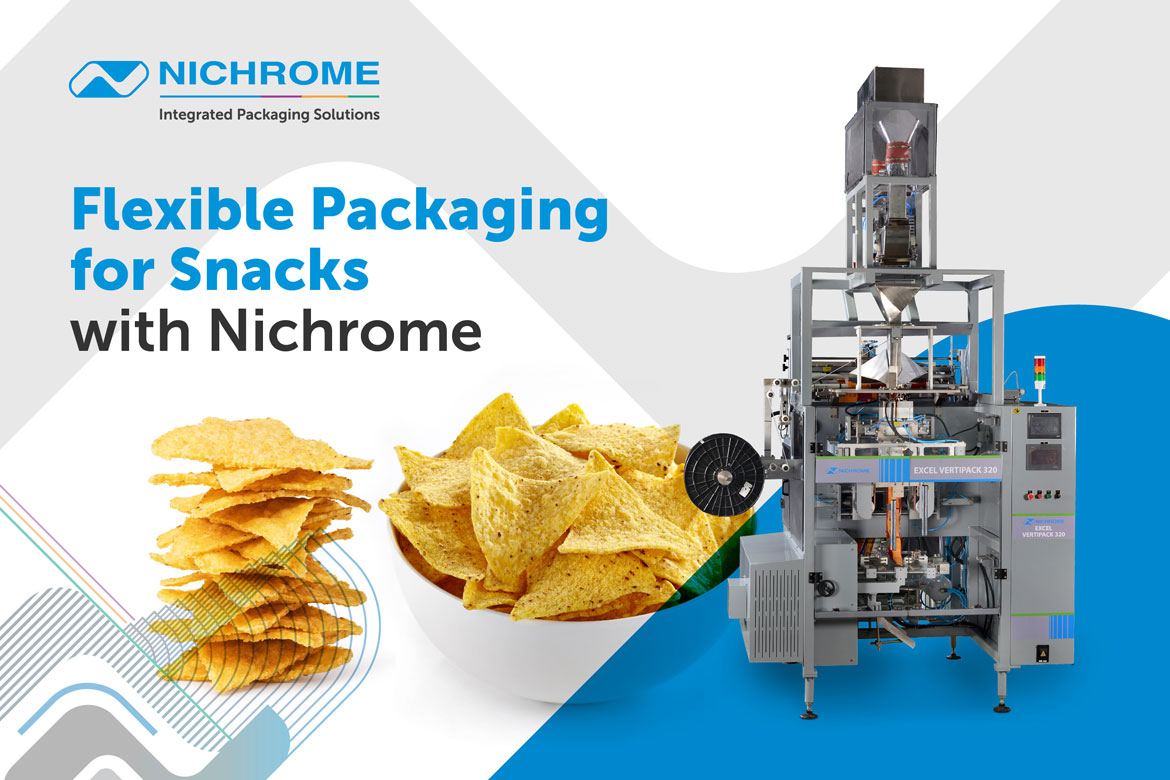 Flexible Packaging for Snacks With Nichrome
According to article in bakingbusiness.com (https://www.bakingbusiness.com/articles/51174-the-importance-of-flexible-packaging-in-the-snack-category), "the modern baking and snack consumer wants packaging that keeps products fresh and tasty as long as possible and offers easy-to-eat, single-serve portions for their on-the-go lifestyle. These consumer demands are driving packaging designers to look toward flexible packaging options."
Flexible packaging now accounts for close to 40% of global packages, according to the Flexible Packaging Assessment Report from PMMI Business Intelligence, part of PMMI. Within flexible packaging, food remains the largest industry by end-use, with biscuits/snack bars and sweet and savoury snacks combining to represent the largest growth segment among areas exceeding industry growth rates. This aligns with consumers' increasing awareness of the health benefits of snacks such as nuts, dried fruits and nutritional bars.
CPG companies recognize that food, in general, is experiencing a higher increase in production and sales using flexible packaging, and is moving many in the snack food sector to embrace this format. The industry is now gearing toward on-the-go packaging, user convenience, smaller pack sizes and easy-to-open and resealability features.
According to the report, the use of bags and pouches is increasing because of the lower cost, shelf-life extension and product visibility. Adding modified atmosphere packaging (MAP) can extend shelf life even more. Coupling the advances of MAP and high-performance films give CPGs flexible packaging products with excellent mechanical strength and chemical resistance against bacteria growth.
NICHROME'S EXCEL VERTIPACK 320
If you're considering a flexible snack packaging machine for your snacks manufacturing industry, we suggest Nichrome's Excel Vertipack 320 – India's first vertical pouch snack packing machine!
Yet another versatile innovation from Nichrome, Excel Vertipack 320 is the ideal potato chips packing machine, and has been developed for packaging other food products such as dry fruits, Indian namkeen, pasta, grains, sugar, confectionaries, etc. in a variety of pouches.
With its high-speed performance, sturdy design, online check weigher & metal detector, compatibility with multiple fillers, and a host of other features, this namkeen packaging machine assures you robust performance with unmatched versatility.
Main features:
Produces standee pouches with or without zipper
Flexibility to pack products in variety of pouch formats in short changeover
Produces pouches of one side/both side heat sealable packing material
Sturdy & versatile design
Pneumatically operated horizontal & vertical sealing system
Servo motor driven belt draw-off for paper pulling
Built in safety door guards with machine off interlock
Use of AC geared motor with VFD for paper & zip unwind
Optimized paper path
Aesthetically improved machine ensuring safety
Less operational cost due to reduced space, manpower & energy consumption
Pouch formats include: standee pouch, centre seal pillow pouch, gusset pouch with D cut, gusset pouch, 3 side seal pouch, Penta Seal pouch, Quad Seal pouch
Applications:
Excel Vertipack 320 is compatible with different fillers and efficiently packs Dry Fruits, Pasta, Snacks, Confectionaries, Indian Namkeens, Grains, Pulses, Sugar, Powdery Products, etc.
WHY CHOOSE VERTIPACK 320?
Buying a VFFS packaging machine can be an expensive proposition so it's important you select one that delivers optimum return on investment. Here are four basic criteria to consider when selecting your automatic snack packaging machine, and how Vertipack 320 fulfils each one.
Flexibility: Customers demand flexibility. They want maximum variety out of the least amount of equipment and investment. Vertipack 320 offers flexibility to handle different package lengths, film types, bag styles and fillers for diverse products. It can handle varied products and deliver a range of pouch formats. All with PLC-controlled ease and fast changeover.
Speed: Speed of packaging has a direct impact on plant productivity, and freshness of the packaged food product. Vertipack 320 offers a bagger speed of 45-55 pouches per minute, depending on the size and type of pouch.
Changeover: Nichrome's packaging solutions are designed for versatility, so easy and fast changeover is a key feature. Users can switch filling systems and products conveniently with just a few touches of a screen or keypad to alter the program that governs the in-feed volume and scales' opening and closing. Cleaning can also be done quickly and easily.
Service: Nichrome is the snacks packaging machine manufacturer who promises a proven and prompt service network across India, so customers need not worry about regular maintenance, repairs or spares. Nichrome ensures that their installed packaging machines work with maximum efficiency and reliability for years. Nichrome is India's leading provider of integrated packaging solutions, offering a wide and proven range of automatic packaging machines, filling systems and complete packaging systems. Nichrome's dedication to the snacks industry goes back decades and they have consistently developed solutions