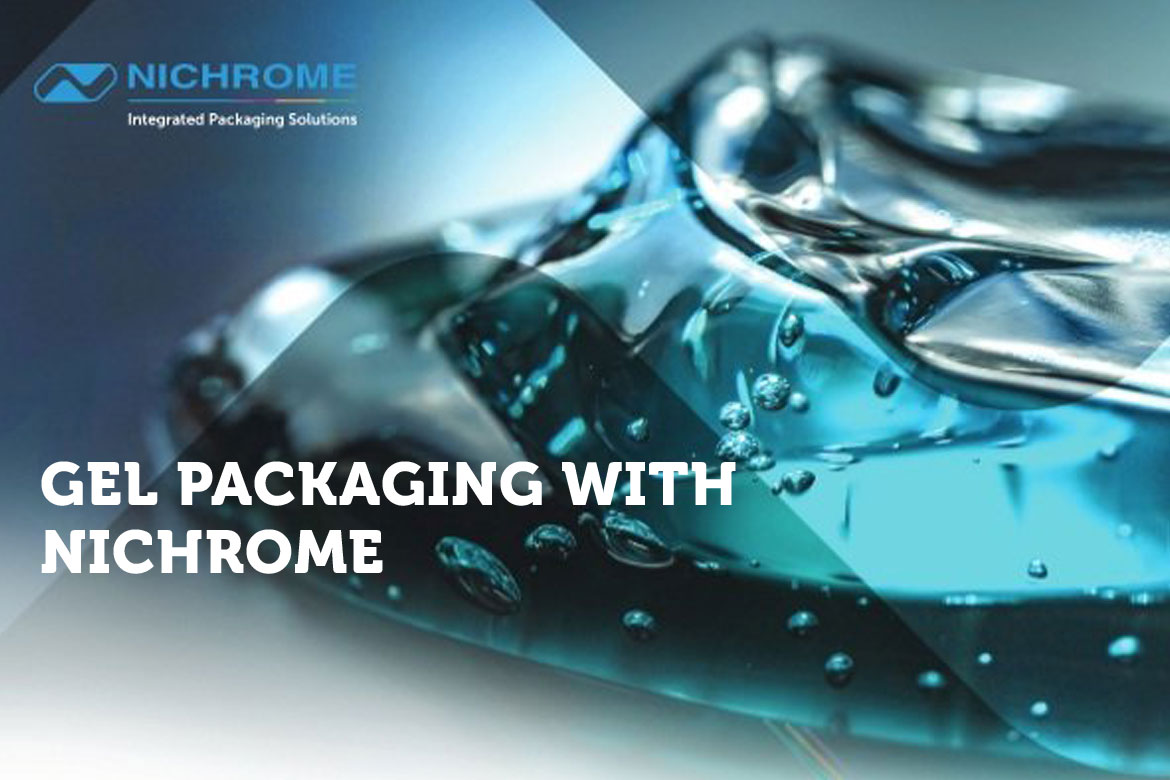 GEL PACKAGING WITH NICHROME
Modern flexible packaging machines are a boon for gel packaging. Whether it's a medicated cream, paste or gel, automated packaging machines make it simple, clean and quick.
Why opt for flexible pouch packaging for gels?
Flexible pouches:
Are lighter and offer better portability for end-users
Use about 60% less plastic than traditional bottles
Require less energy in production
Emit less CO2 and produce less landfill waste
Make for more efficient & economical warehousing and transportation
Criteria for choosing your gel packaging machine
When selecting a liquid pouch packaging machine, it's important to discuss certain details and requirements with your packaging machine manufacturer. These include:
Viscosity: describes the internal friction of a moving liquid. In gel packaging, viscosity affects the rate at which a liquid/gel product travels through a pipe, how long it takes to set, and the time it takes to dispense the fluid into its flexible packaging.
Based on viscosity, your packaging machine manufacturer will determine the product filler to be used so that it provides the right amount of force to induce flow but with accuracy and control so the pouch does not overfill.
Fill temperature: Most viscous products flow more readily when heated as viscosity reduces. The temperature at which the liquid will be filled is therefore of vital importance when deciding the filling system.
Protection: You need to choose a packaging material that's suited for your particular gel product. It should provide a reliable barrier against external elements that may spoil your product – dust, moisture, oxygen, etc.
Printing: Today, consumers expect detailed and authentic information about the product and its usage on the pack. You need a packaging machine that will facilitate this crucial requirement and also present your brand to the world.
Quantity: It's important to plan your pack size and package format – single dose or multiple dose sachets, larger stand up pouch with zipper, spout or handle, etc.
Partner with Nichrome
Nichrome offers a range of HFFS packaging machines with new gen, linear technology from Totpack, Spain. The Totpack Series is versatile, and can be used for packing a wide range of powders, grains, snacks, liquids and viscous products using different fillers. The Series also offers a range of pouch formats with superior pouch aesthetics.
The HFFS machines are PLC based machines with touch screen interface. The compact and versatile design offers both single and perforated chain of pouches with quick and easy changeover. Well designed duplex modules are available for higher outputs.
Nichrome brings Easysnap® to India.
Easysnap® is the revolutionary new worldwide standard for single dose units of liquid/semi-liquid products, offering convenience, easy one hand opening, complete dispensing of contents and on-the-go mobility.
For packaging ointments, liquid medications, medicated gels, Easysnap® offers many advantages:
1.It is easy
Easysnap® opens with one hand only, without efforts. No need to tear, to peel or to unscrew caps… just fold and squeeze. It is suitable for children, elderly and disabled people and all conditions, it is universal.
2. It offers handy, on-the-go mobility
Easysnap® can be transported individually in your pocket or handbag or in greater quantities in packs without the risk of leakage or of being compressed. It has a semi-rigid bottom which is unbreakable unless folded over 90 percent.
3.It is cheap and ecologic
Easysnap® has lower production costs compared to bottles, jars or thermoformed unit dose packaging, does not disperse any residue and is more easily recyclable.
4. It is smart
Easysnap® has an ergonomic design, versatile and stylish, which you can customize in form and graphics for better branding and retail appeal.
5.It is hygienic and clean
Easysnap® dispenses the content in a clear and accurate way; there is no risk of spills or contamination of the product while opening and dispensing.
6. It is safe for consumers
Easysnap® always delivers precise doses and is easy to administer – especially important in pharma products.
7. It minimises wastage
Easysnap® is designed to ensure that 98% contents dispensed, so there is less wastage and consumers can be more certain about quantity of contents used.
8. It is beneficial for manufacturers
Easysnap® is easy to customise, brand, deliver and distribute. The stylish pack boosts brand image, and the no-spill, no-contamination advantage makes smart business sense.
Conclusion
Nichrome is a pioneer, packaging machine manufacturer and one of India's leading companies for integrated packaging solutions. Nichrome partners from planning stage right to commissioning and after sales training and support. With its decades of industry experience, Nichrome understands customer needs and application challenges; adds value with its decades of industry experience. So customers are assured the optimal solution that blends cutting-edge technology with cost-efficiency and sound ROI.
For your gel packaging needs, contact Nichrome for the most effective packaging solution.