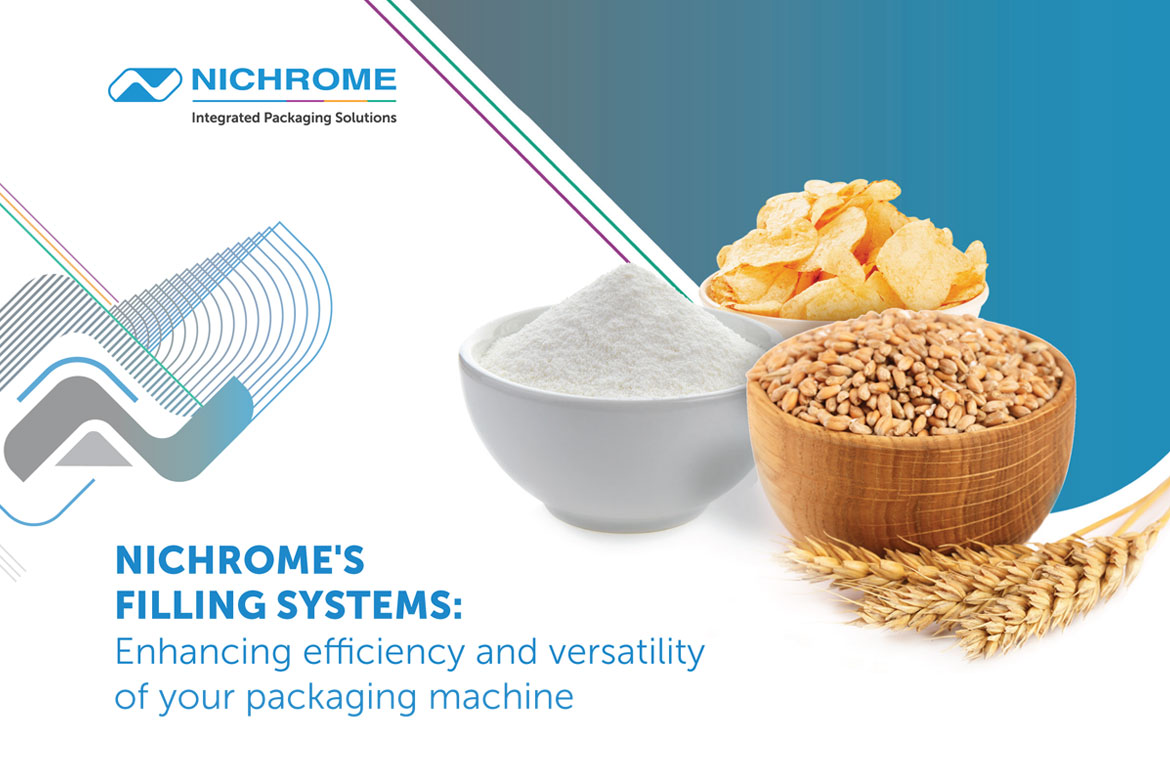 Nichrome's Filling Systems: Enhancing efficiency and versatility of your packaging machine
Today, across industries and geographies, automatic pouch packaging machines are growing in use and popularity. The reasons are obvious: speed, simplicity, ease of use – and superior aesthetics of the finished package.
The filling system or filler is a crucial component of the form-fill-seal machine, both vertical and horizontal. The apparatus is responsible for the correct measurement and discharge of accurate quantities of the product to be filled in each premade pouch. Based on the type of product to be packed, fillers are decided. Some of the typical filling systems include cup filler, auger filler, linear weigh filler, combination weigh filler, piston filler, etc.
As India's leading provider of integrated packaging solutions, and proven packaging machine manufacturer, Nichrome offers a range of filling systems for a wide range of Food, Pharma and other products. Whether you are investing in a new VFFS packaging machine; looking to upgrade an old one or want to use your current automated packaging machine for packing new products, it's worth taking a look at Nichrome's innovative filling systems.
Intelweigh Multi Head Weigher
This filling system has 10 weigh heads and a combination volume of 3000 cc. It is the ideal filler for solid products such as tea, sugar, rice, pulses, snacks, and other free-flowing granular products.
Features include:
Bucket volume: 1.3 l
Accuracy: 0.2 to 2 gm
Weighing range: 10 gm to 1000 gm
Speed: 70 dumps per minute
Product contact parts: SS 304
Display: 7 inch touch screen
Buckets open and close with stepper motor
Weighing method with load cell
Intelweigh Combi Filler DH
This filling system is an aesthetically improved machine ensuring safety for users. It is the ideal filler for solid products such as seeds, whole spices, grocery products, Indian namkeen, etc.
Features include:
Accuracy % sd: 0.5% /0.2%
Weighing range: 50 gm to 2 kg/500 gm to 5 kg
Speed: 40-50 dumps/minute for 1 kg; 15-20 dumps/minute for 5 kg
Display: 7 inch touch screen
Air consumption: 0.15 CFM at 6 bar
Connected Load/Head: 0.25 kW
Built in safety door guards with machine off interlock
Broad range of filling capacities available
Easyfill Servo Auger
For food packaging of powders such as spices, atta (flour products), milk powder, nutraceuticals, coffee powder, premixes, instant mixes, even agro chemicals and pesticides, Nichrome's Easyfill Servo Auger provides accuracy, speed and efficient performance.
The auger is available in different finishes as per customer's requirement. Choose from buffing, Teflon-coating or Nedox coating.
A unique feature of this filling system is its split hopper which facilitates cleaning and easy changeovers.
Other features include:
Filling capacity: 5 cc to 2000 cc
Servo driven auger mechanism
Contact parts: SS 304 or SS 316 depending on product
Gaskets: PTFE/Food grade silicon rubber
Hygienic construction
Structure: MS powder coated
Hopper: inside buffing, outside matt finish
Facilitates easy cleaning
Conclusion
Nichrome offers an exclusive portfolio of filler-weighers for diverse applications. With a range of filling capacities and built-in safety features, Nichrome's filling systems can be integrated easily into existing packaging machines for greater efficiency, speed and versatility.
Whether it is a horizontal form fill seal (HFFS) machine or vertical form fill seal (VFFS) machine, whether you want to package powders, granules or viscous products, consult Nichrome. With over 4 decades in the industry, and proven expertise in automated packaging technology, Nichrome will partner to develop and deliver the most apt and cost-effective integrated packaging solution for your industry.