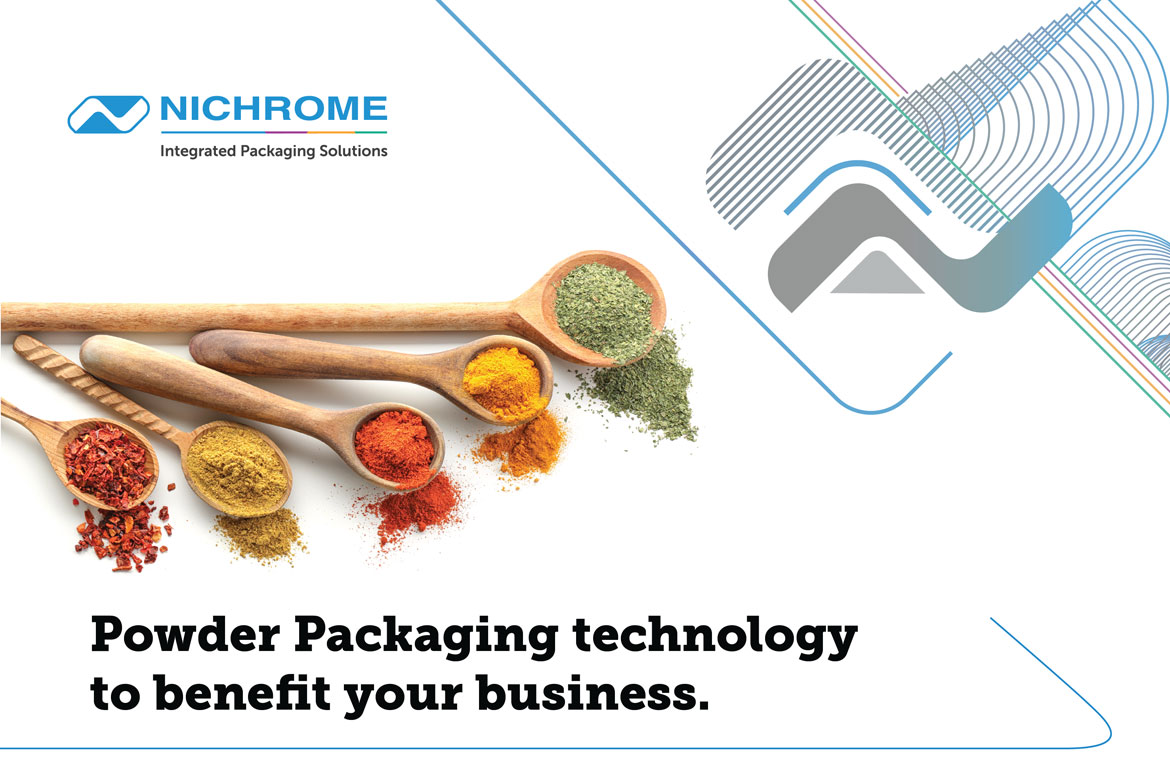 Powder Packaging technology to benefit your business
The FMCG market abounds with different kinds of powders. From spices, masalas, mil powder and flour, beverages like coffee and premixes to personal care products like talcum powder and tooth powder; from household products like detergent and bleach,powdered medicines and healthcare products like nutraceuticals, ORS, sweeteners and health drinks to chemicals like pesticides, fertilisers, powder coatings, etc. – we use and consume an endless list of powders in daily life.
It's obvious that with the current competition in the marketplace, manufacturing companies need to find a way to convey their powder product down the supply chain with safety, and deliver itto end-consumers with quality, hygiene and freshness.
They also need to make their brand more appealing and attractive on retail shelves.The exhausting process of manual packaging is slowly becoming obsolete as automated packaging machines provide a better way to package products.
How automated packaging machines benefit your business
Powder packaging machines can benefit your brand and business in different ways:
Improved brand value: Flexible packaging makes it easier to produce varied pouch formats and designs to make your brand stand out.After all, presentation and appeal on retail shelves is crucial for attracting potential consumers.
Extended shelf life: Powder packaging machines help protect and preserve the flavour and freshness of powder, which in turn increases product shelf life.
More reliability & functionality: Manual processes have their shortcomings. By automating the packaging process, different tasks like filling, capping, sealing and labelling are handled with speed and accuracy. Less human intervention reduces possibility of human errors.Automation ensures reliability and consistency of the powder packaging process.
Cost-effective production: While automated powder packaging machines involve a huge capital investment, in the long run, the machines will enable you to reach (and grow!) your production capacity faster. Labour costs will reduce and human errors will be eliminated.
Nichrome's Powder Packaging solutions
Nichrome offers a range of proven powder packaging machines for the full gamut of freeflowing and non-freeflowing powders across food, pharma and other industry verticals.
Food powder packaging machine or coffee powder packaging machine, detergent powder packaging machine or milk powder packaging machine–Nichrome has a suitable solution for every need. While one machine may not be able to package all powders, Nichrome's powder packaging machines are especially versatile, and one machine can handle several powder applications with easy changeover.
Diverse Powder Packaging formats
Nichrome offers automated packaging solutions to package powders in different ways:
Small sachets & stickpacks: Increasingly popular as single-serve or sample sizes, these small flexible pouches score on economy, portability and low wastage. Nichrome's powder sachet packaging machine also delivers perforated chain of pouches.
Pillow pouches: The centre seal pillow pouch is the simplest and most common solution for retail packaging of powders. They are cost-effective and especially popular for packing smaller quantities.
Vertical pouches: Standee pouch, gusset pouches, Penta Seal are some of the vertical pouch formats, with/without zippers, handles, D-cuts, etc.
Doypacks: These stand-up pouches are really popular and can be provided with or without zipper.
Quad Seal packs: This packaging is used to pack larger quantities of products such as tea and coffee,and is known to retain freshness and aroma of the powder for longer.
Bag-in-bags: Commonly used for tea, coffee, spices, etc., the powder is packed in little single-use packs and thenpacked together within bigger packaging.
Tins & Cans: Composite metal or plastic cans and tins are popular for products such as health drinks, baby food, medical powders, etc.
Bottles &Jars: The preferred choice when moisture-proof and strong packaging is called for. Nichrome's jar and bottle fillinglines ensure fast and accurate filling and capping.
Conclusion
To give your powder manufacturing business the benefit of world-class packaging technology, contact Nichrome. As an industryleader with four decades of experience in packaging, Nichrome offers advantages few others can. Continuous R&D, best-in-classmanufacturing facilities, nation-wide sales & service network, industry and application expertise – Nichrome has all the capabilities to deliver the optimal powder packaging equipment for your application. Even the range of offerings is exhaustive – from compact VFFS and Multilane machines to versatile HFFS machines; bottle filling lines and tin filling lines to secondary packaging solutions and turnkey projects.Trust Nichrome to be your trusted partner to enhance productivity and prospects for your powder manufacturing enterprise.