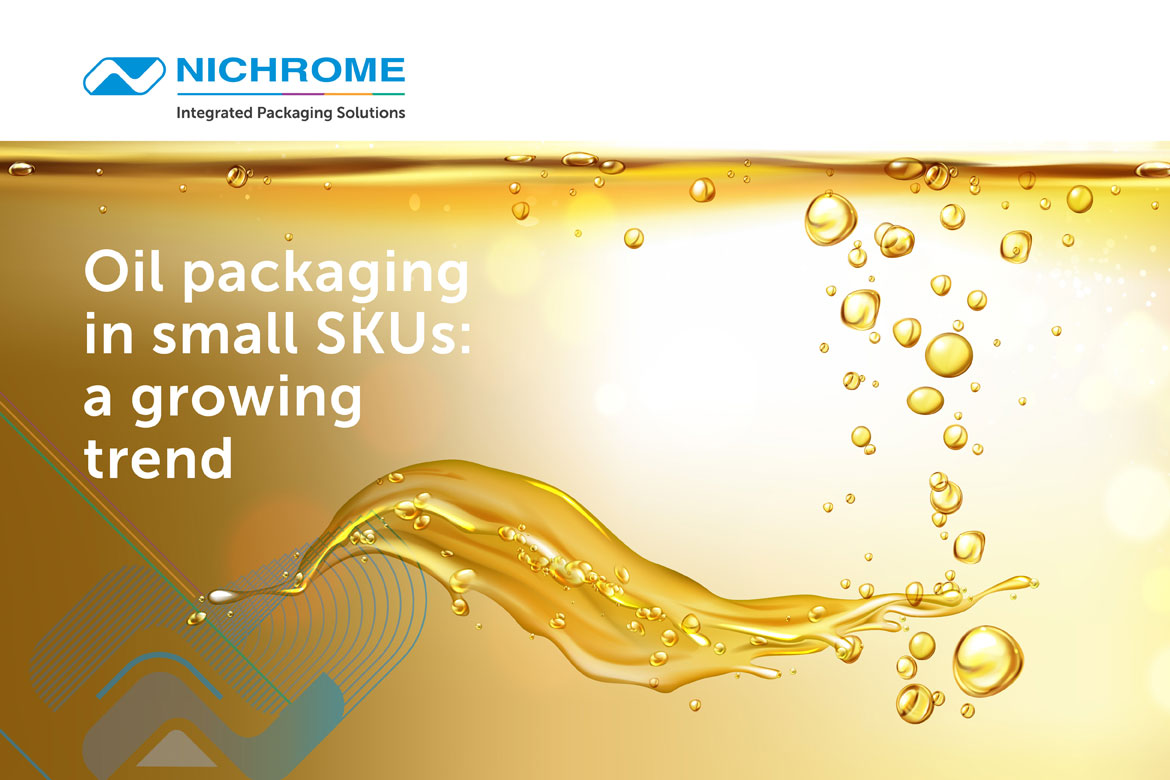 Oil packaging in small SKUs: a growing trend
The edible oil sector is growing – and changing.
The Covid-19 lockdown has resulted in a huge shift in buying patterns. Because of the increasing awareness of food safety and hygiene, Indian consumers are shifting from traditional "loose oil" sold at the local grocery store, to packaged oils. This shift is seen not just in urban centres but in smaller towns and rural areas too. The trend has led the packaged segment of edible oils to grow at 2.5 times the rate of overall edible oil consumption in India.
Moreover, with adversely affected incomes and uncertainty over the future, consumers are hesitant to spend on 5 litre or 15 litre SKUs. They are opting for cooking oil in smaller flexible pouches which cost less, and are easier to carry and store. So the demand for edible oil in bulk packed tins or HDPE jars in waning.
From the oil manufacturer's or marketer's point of view, smaller SKUs enable easy entry into small towns and rural areas as the unit cost is low which encourages trial and usage.
Ride the trend with Nichrome's automatic oil filling machines
Nichrome is one of India's leading edible oil filling machine manufacturers offering the latest, reliable technology for oil pouch packing. Especially for small SKUs of 5 ml to 30 ml, Nichrome offers the Multilane Stickpack with Multi-Piston Filler.
This oil filling machine offers 3 to 6 lanes, packing edible oil in centre seal stickpacks at a speed of 90-240 stickpacks per minute.
Nichrome's Multilane Stickpack is the ideal solution for marketers of edible oil for the travel and hospitality industry where these single-serve, use-&-throw, easy-to-carry sachets are being used to ensure hygiene and prevent wastage or contamination.
For slightly larger SKUs, Nichrome offers the Filpack Servo SMD. For packaging oil, ghee, vanaspati and other viscous products such as ketchup, fruit pulp, mayonnaise, curry pastes, and even grease, paint, adhesives, etc., Filpack Servo SMD is the sturdy workhorse for your packaging operations.
The compact Filpack Servo SMD has touch screen HMI and PLC-controlled operation with enclosed SS cabinet for hygienic operation. Twin head construction with independent head operation enables you to pack two different products and quantities at the same time.
Pack sizes range from 50 ml to 1000 ml, and the bagger speed is 70-85 packs per minute.
Conclusion
Whether you want to pack edible oil, ghee or vanaspati in flexible pouches in small to large SKUs or in rigid bottles, jars and tubs, Nichrome has an edible oil filling machine for you. As experienced oil packing machine manufacturer with multiple successful installations across India and abroad, Nichrome's expertise in edible oil filling machines is proven. In India, Nichrome is also a trusted ghee packing machine manufacturer providing versatile automatic ghee packaging machines that also serve other viscous applications such as ketchup, honey, mustard paste, jam, mayonnaise – even shampoo! Both the Multilane Stickpack and the Filpack Servo SMD will be assets for your packaging line, helping you meet stringent quality and hygiene standards, and powering your retail efforts into new, non-urban territories.