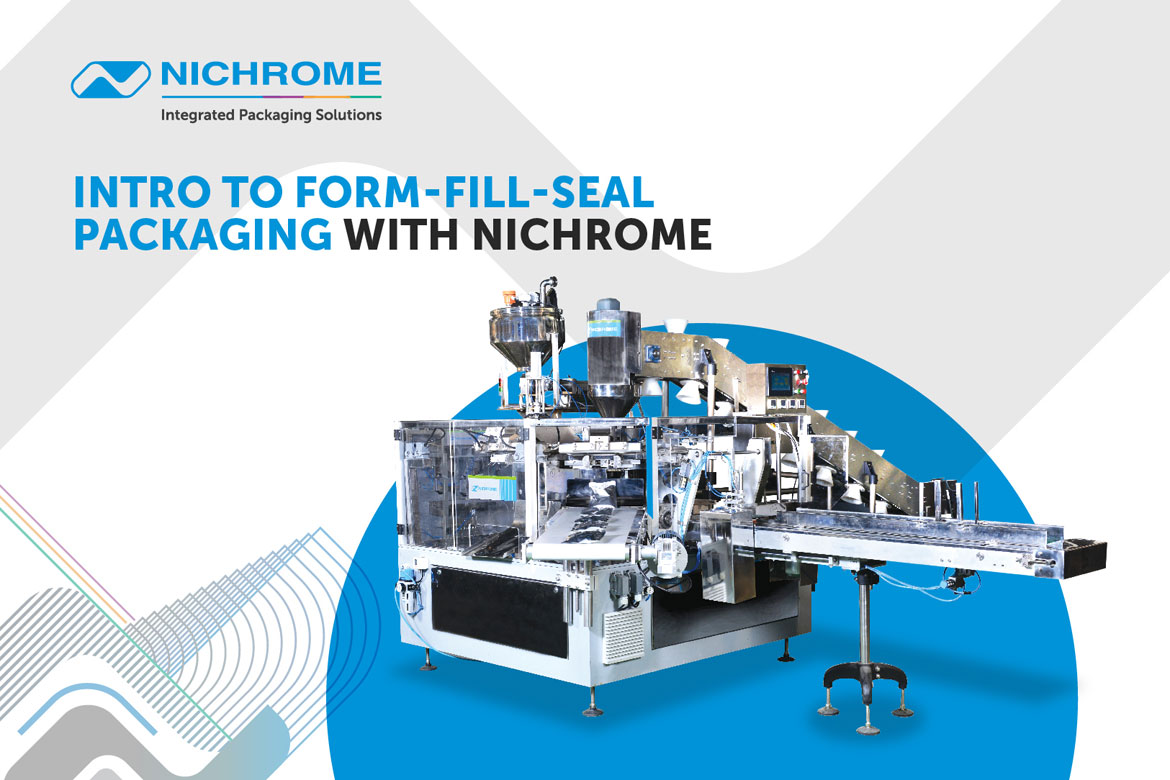 Intro To Form-Fill-Seal Packaging With Nichrome
Almost every industry today relies on form fill seal (FFS) packaging machines. And why not? These pouch packaging machines are fast, accurate, economical and versatile solutions that automatically boost efficiency and profitability.
Greater speed and versatility are the major benefits of FFS systems. For example, snack producers demand systems that have the versatility to package different products and provide fast changeover between many different packaging formats.
Let us walk you through form fill seal packaging machines, and discuss how they work.
What are form fill seal packaging machines?
As the name suggests, form fill seal packaging machines are automatic packaging machines that form the package, fill it with a wet or dry product, and seal it closed. They mainly use flexible film to form the primary packaging such as a pouch or bag, but aseptic cartons are also produced with FFS technology.
Form fill seal packaging machines use a reel of flexible material (paper, film or laminates of paper/film/foil) and either form it into a tube and then seal and fill it at regular intervals, or fold it lengthwise and seal it at right angles to the fold to form a series of pockets which are filled and closed.
Types of FFS packaging machines?
FFS machines are broadly of two types:
1. Vertical form fill seal machines(VFFS), in which the material is formed into a circular section tube over a forming collar
2. Horizontal form fill seal machines(HFFS), in which the material is formed into a rectangular section tube through a forming box. HFFS also cover horizontal versions of sachet packing machines, blister pack machines, four side seal machines and thermoform fill and seal machines.
Advantages of FFS Technology
High speed and consistent packing rate
Economical as the bags made are less expensive than pre-made bags
Provides increased production rate so you can reduce number of shifts
Easy and quick to clean-out between production batches
Online film printing provides readable bar code and product info
Fewer moving parts – especially in VFFS
Disadvantages of FFS Technology
Cannot handle paper
Not economical for short production runs
Cannot handle multi-ply packaging materials
Cannot remove trapped air quickly
Not economical for low density, aerated powders such as wheat flour, talcum powder, whey powder at medium speeds
Applications of FFS packaging machines
The applications of FFS packaging machines are endless. Almost any product that can be packed and marketed in flexible pouches can be packaged by such machines. FFS machines can be used to pack a whole gamut of food, pharm and other products ranging from:
grains (such as rice, pulses, sugar) to granulates (such as detergent, fertilizers)
snacks (such as chips, dry fruits, namkeen) to ready-to-eat foods
bulk goods (such as nuts and cookies to bolts and screws)
powders (such as spice powders, milk powder, ground coffee, nutraceuticals)
liquids (such as water, milk, juice, liquor) to viscous (such as edible oil, ghee, ketchup, mayonnaise, salad dressing, bath gel)
Pouch/Bag formats with FFS technology
Versatility to form and fill a variety of container formats is a strong point of FFS technology. The options include:
Pillow pouch
3 side seal and 4 side seal pouches
Gusset pouch
Pentaseal pouch
Sachet & stickpack
Standup pouch (with zipper/spout/euro slot/handle, etc.)
Doypack
Thermoform trays
Cartons
FFS technology from Nichrome
Nichrome is India's pioneer and leader in FFS technology. For over four decades, Nichrome has innovated automatic packaging solutions for varied applications across Food, Pharma and other industries. Vertical packaging machines, horizontal packaging machines, integrated packaging solutions – Nichrome is the packaging machine manufacturer who can deliver them all.
Nichrome offers a wide range of VFFS and HFFS packaging machines, and can even customise solutions for specific requirements. For enterprises big and small, for applications existing and emerging, Nichrome offers infinite possibilities in integrated, automated packaging solutions – as it partners with customers through the complete lifecycle, offering application-specific solutions, backed by dependable service and support. Based in Pune, India, Nichrome's sales & service network spans India and the world. Nichrome has presence in 45 countries and more than 7000 successful installations worldwide.