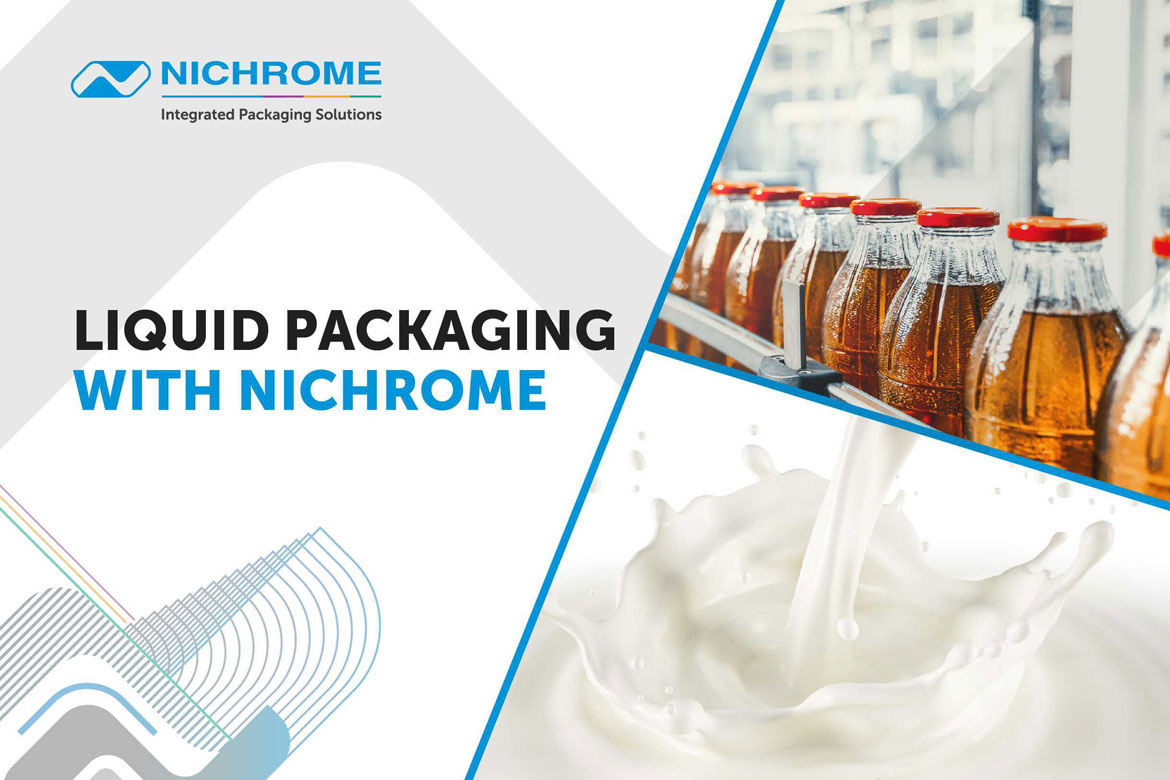 Liquid Packaging With Nichrome
Today, across industries, automatic liquid filling machines and complete lines are helping to make liquid packaging more accurate, fast and hygienic. Manufacturers in food and beverages, pharmaceuticals, chemicals, and cosmetics industries have realised that automated filling machines and automatic packaging machines are capable of far higher production speeds than manual filling. Whether the container type is plastic bottle, glass bottle, flexible pouch or stand-up pouch, automated machines are more reliable in terms of accuracy, hygiene and output.
Nichrome's Liquid Packaging solutions
Nichrome offers a wide range of liquid packaging machines suited to packaging a wide variety of liquids. From free flow liquids to highly viscous, Nichrome has an innovative packaging solution for you. Nichrome has decades of experience handling the different characteristics of different liquids: foam generating liquids, liquids that require constant temperature, liquids that need nitrogen flushing or hot air flushing, liquids containing lumpy particles, flammable liquids, etc. Nichrome can also customise solutions for specific requirements.
The Nichrome Range
Nichrome's range of vertical packaging machines (VFFS) for packaging liquids in flexible pouches includes:
Filpack Servo 6K
Filpack Servo 12K (India's fastest milk filling machine)
Filpack CMD Alpha
Filpack CMS 5L
Nichrome's HFFS machines with modern linear technology include:
Nichrome's Bottle Filling Line
Nichrome also offers a bottle filling line which is an integrated packaging solution that packs liquids in SKUs from 100ml to 20ltrs.
Applications include food & beverage liquids such as flavoured milk, juice, energy drinks, water; non-food liquids such as perfumes, oil, shampoo, handwash; viscous products such as ketchup, ghee, chocolate sauce, varnish, etc.
The Bottle Filling Line covers the entire process from cleaning the bottle to the final packaged bottle. The components of this efficient system include:
Turn Table
Bottle Cleaning System
U V Sterilization Chamber
Automatic Liquid Filling Machine
Cap Feeding Elevator
Rotary Capping Machine
Induction Sealer
Front and Back Labeling Machine
Date and Batch Coding System
Packing Table
Nichrome's Bottle Filling Line is a drip-free, PLC-controlled line, suitable for glass, HDPE or PP bottles. Being a PLC controlled line, it has a digital LCD touch screen that make operation and control graphic and user-friendly.
Changes in the size and shape of containers can affect the speed and accuracy of filling and result in slowed production or increased waste. Nichrome's Bottle Filling Line is designed to accommodate different SKUs without changing parts, and different sizes of bottles can be used with fast changeover.
Machine construction is available in SS304, SS316 & M.S painted. By changing the filler, users can easily pack a wide variety of liquids. With a Piston filler, you can package oil, liquid detergent, shampoo, hand wash, ghee, viscous products, chocolate sauce, ketchup, varnish, etc. With a Gravity filler, it is possible to fill liquids such as flavoured milk, water, energy drinks, soft drinks, butter milk and perfumes.
For safety, accuracy and no wastage, the line has inbuilt devices such as:
No bottle-no filling safety device
Safety enclosures with interlocks for rotary parts
Various bottle sterilisation/cleaning options
Dribble cut-off option
Conclusion
Nichrome India is a leading automatic filling machine manufacturer, well known as India's pioneering Milk pouch packing machine manufacturer.
Since Nichrome developed India's first indigenous milk packaging machine in 1977, it has been at the forefront of next-generation packaging technologies; a brand trusted for its rich legacy of pioneering innovation, extensive domain knowledge and manufacturing competency in packaging systems.
An innovative packaging machine manufacturer, Nichrome has always believed in partnering with customers to understand their product and product challenges, and adding value to every interaction. Nichrome's inhouse R&D and manufacturing capabilities have helped Nichrome build an impressive portfolio of advanced packaging solutions, and spread its presence across the globe.
Contact Nichrome for your liquid packaging machine needs today.