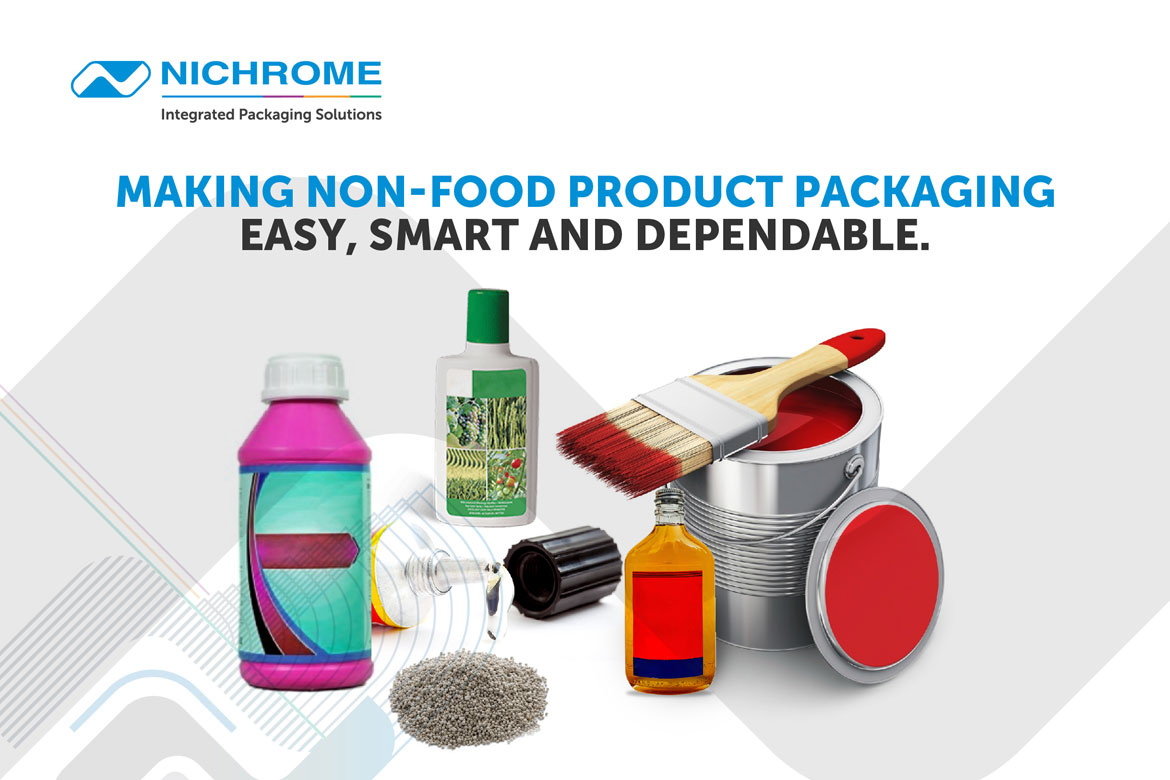 Making Non-Food Product Packaging Easy, Smart And Dependable.
Every non-food product comes with its own challenges, and require a high level of precision and customisation for packaging. For example, a packaging system for hardware will differ from a shampoo packaging machine; packing foundry flux and inoculants requires technology that's different from that in a cosmetic packaging machine.
If yours is a non-food product, we're sure to have a high-performance packaging solution for you. Our machines are built with durability, dependability and repeatability in mind, and tailored to suit the toughest application.
Nichrome is a leader in packaging solutions India for non-food sectors. Some of Nichrome's solutions for non-food product packaging include:
BOTTLE FILLING LINE
Nichrome's bottle filling line for liquids is an efficient integrated system for bottle filling and packaging that covers a turntable, UV sterilisation chamber, automatic liquid filling machine, cap feeding elevator, rotary capping machine, induction sealer, labeling machine, date & batch coding system, and packing table.
SKUs range from 100 ml to 20 ltrs. Applications include a wide range of food & beverage liquids as well as non-food liquids such as perfumes, oil, shampoo, handwash, liquid detergent, machine oil, varnish, etc.
TIN / BOTTLE FILLING LINE
Nichrome offers a sturdy tin filling line designed for accurate and efficient performance. The PLC-controlled line has a digital LCD touch screen displaying settings, and safety enclosures with interlocks for rotary parts.
Machine construction is available in SS3014, SS316 and MS painted material. Various tin sterilisation and cleaning options are available.
By changing the filler, one can pack a wide range of food and non-food products in tin or composite tin containers. Pharma powders and detergent powders can be packed efficientlyin this line.
VACUUM PACKAGING
Vacuum packaging machine enables you to protect valuable, fragile products. Furthermore, it reduces the volume, optimizes your operation and prevents fraud.
Optimal protection against external influences, such as dirt, dust, moisture, scratches and dehydration. Realize significant savings on storage and transport with your compact vacuum packed products.
BLISTER PACKAGING
This is a form of plastic packaging that is used for small consumer goods and pharmaceuticals. Applications include electronics, home improvement tools, stationery and more. It is mostly made from thermoformed plastics. Blister packs have a backing of paperboard, aluminium foil, or even other plastic sheets.
Blister packs are low-cost packaging that is theft deterrent, tamper evident and provides good protection.
POUCH PACKAGING
Nichrome is a leader in integrated packaging solutions for flexible pouch packaging of different products and varied pouch formats. Nichrome offers VFFS and HFFS packaging machines for packaging a wide range of non-food products such as agrochemicals, cement& wall putty, fertilizers, paint powder, varnish, adhesives, dyes & pigments, lube oil, coolants, pet foods, cosmetics, personal care products, and even some hardware.
SOME OF OUR CLIENTS
Nichrome has proved itself as a competent partner for packaging non-food products. Some of our satisfied customers include:
Fevicol- Pidilite Industries
Varnish – Elantas Beck
Hand wash liquid – Asian Paints
Hand wash powder-Godrej
Adhesive – Win
WHY NICHROME?
As one of the country's leading packaging machine manufacturers, Nichrome brings 40+ years of experience & expertise. Nichrome's track record includes presence in 45 countries and 8000+ successful installations worldwide
Nichrome has its own, inhouse R&D and manufacturing capabilities and partners through the complete life cycle to deliver application-specific solutions, backed by dependable service & support.
For some applications, such as pharma process and packaging, Nichrome has technology tie-ups with international majors who are all leaders in their respective fields. So you get the advantage of the latest, international technology backed by dependable, local support. Count on Nichrome for relevant, reliable and cost-effective non-food packaging solutions. Contact Nichrome with your requirements today.