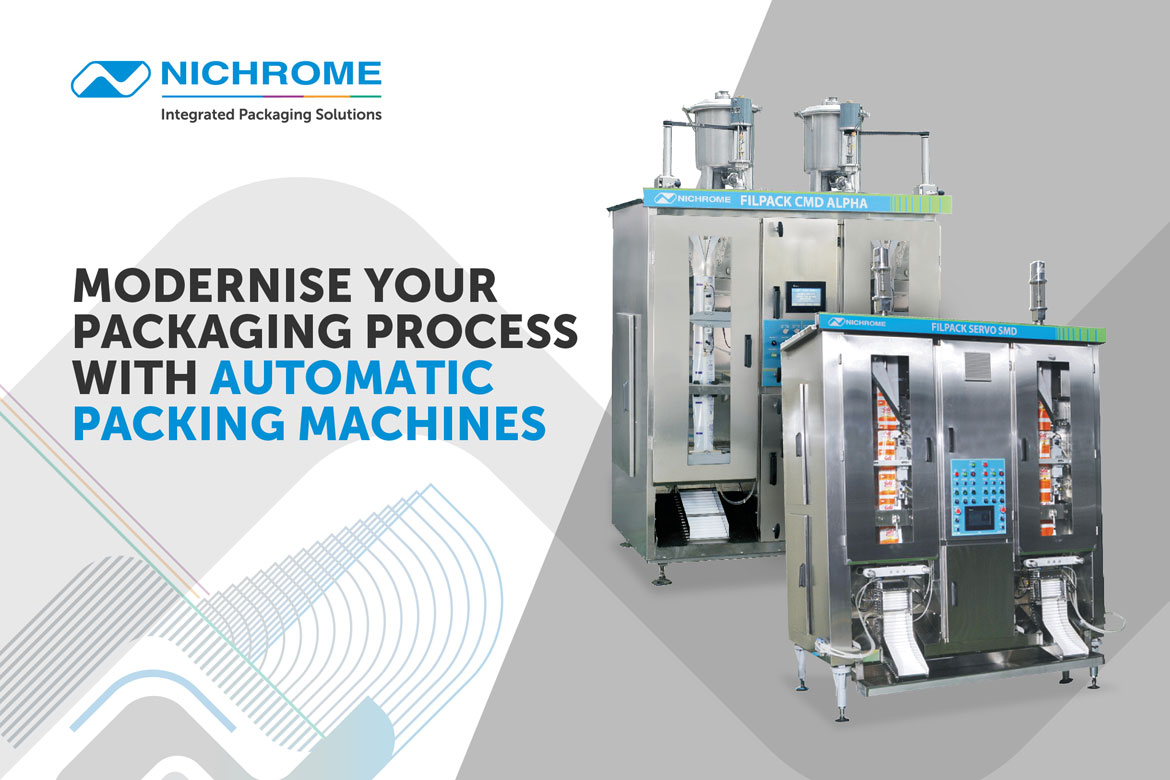 Modernise Your Packaging Process With Automatic Packing Machines
The evolution of the packaging process and the development of packaging technology have come a long way. Further, with the expansion of the market and the ever-growing distribution network, packaging has become a necessity for all goods and products.
Modern industry depends on automatic packing machines to ensure speed, accuracy and error-free efficiency.
Automated packaging makes your products cost-effective, safe and appealing. It will also help you to expand operations, while ensuring employee safety and profitability.
TECHNOLOGY BENEFITS
Most automatic packing machines come with a PLC system for convenient and easy control of the entire packaging process. It monitors the process and raises alarms, if required, in 'real-time'. It generates information and stores data for informed decision making.
Temperature control is achieved through PID controllers that ensure control and constant modulation to maintain the required temperature.
Packing material is controlled through a servo motor which works with precision and also makes it possible for the packing machine to work at high speeds continuously.
Technology in automatic packing machines ensure negligible errors in packing accuracy. The automation enables programming so that only the stated amount of product is discharged and packed. Sensitive weight sensors check and monitor the packing, so there is very low wastage, and consistency of amount in each pack.
CLASSIFICATION OF AUTOMATIC PACKING MACHINES
Packaging machines abound in the market, and there is a wide variety of them to choose from. Some of the ways in which automatic packing machines are classified are:
Primary or secondary:
this can even be referred to as inner and outer packaging. Primary or inner packing is the packaging in contact with the product while secondary or outer packaging refers to the second layer of packing and includes machines such as wrapping machine, cartoning machine, box filling machine, shrink wrap machine, etc.
Single function or multi-function:
Single function packing machines serve only one function in the packing process such as filling or sealing.
Multi-function machines perform multiple functions. For example, modern VFFS machines orHFFS machines automatically form the pouch into various formats like pillow, gusset, sachet, quad seal, stick pack, etc., then fill the product, seal and cut the pouch.
Automatic or semi-automatic:
Multi-function machines are usually fully automatic machines and are generally more expensive. If you have a limited budget or smaller output targets, you could consider a semi-automatic packing machine.
ADVANTAGES OF AUTOMATIC PACKING MACHINES
Regardless of theautomated packaging machinery you choose, you are assured of many or all of the following advantages:
Quality:
Automated systems have precise, standardized settings, so they are accurate and consistent. They help improve product quality, cycle time and operations in general.
Productivity:
Manually packaging can be difficult and time-consuming. Workers become tired from the repetitive, monotonous and strenuous activity. Machines can work much longer at higher speed and full efficiency.
Product care:
If you use the right machinery, your products can be securely packaged. For example, a good stretch wrapping machine will ensure that the products are well-wrapped and safe from contamination. This increases the durability and shelf life of products.
Employee safety:
Manual wrapping and palletizing can cause cuts, tears and back injuries. Automated packaging systems can make your factories safer.
Economy:
Although automation may seem expensive, you will be able to recover the costs in a matter of months. You may also be eligible for tax benefits, such as the write-offs and depreciation.
Low wastage:
Machines are economical in using packaging material, using the precise amount as per set patterns.  They also eliminate spilling and loss of the product. This streamlines the packaging process and reduces waste of materials.
Sustainability:
Modern packaging machinery not only offers good return on investment (ROI), but also is beneficial for the environment. They use fewer materials and have lesser greenhouse gas emissions.
Customer confidence:
Automation means great packaging with accurate information, increased shelf life. Consumers are also assured that the product is packed hygienically and they are getting the amount of product they are paying for. This creates a good impression and helps promote the brand.
AUTOMATIC PACKING MACHINES FROM NICHROME
Nichrome India is a pioneer and leader in automated packaging machines and end-to-end packaging systems. Nichrome's innovative packaging solutions for food, pharma and other applications are complemented by advanced solutions for secondary packaging, wrapping & cartoning, bulk packaging and more. Whether you are looking for a new machine or a complete line, or if you just want to upgrade your current packaging machine, talk to Nichrome. As experts of the industry with four decades of proven expertise, Nichrome will provide the optimal solution backed by excellent consultancy and support.