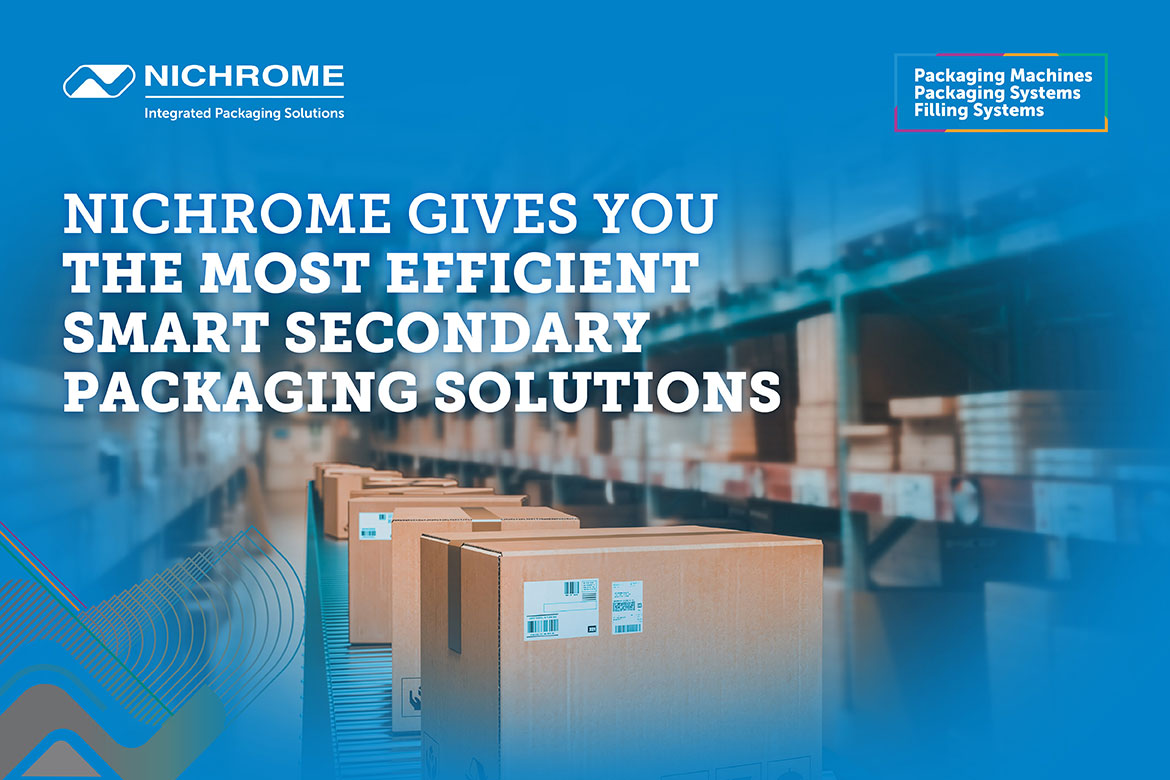 Nichrome Gives You the Most Efficient Smart Secondary Packaging Solutions
Nichrome has always been upfront in providing the best packaging solutions to help you improve your product packaging. To enable you with a complete integrated package solution, Nichrome provides you a full gamut of packaging technology which includes -primary, secondary and tertiary packaging.
Nichrome's secondary packaging consists of various packaging solutions which come with high-end packaging machines like cartoning packaging machine, bulk bag filling machine, flow wrap machine, horizontal flow wrap machine and more.
WHAT IS SECONDARY PACKAGING?
As the name suggests secondary packaging is the second layer of packaging which gives additional protection. The secondary packaging also helps you bring numerous small products together which increases the safety during heavy transportation. It is also referred to as overwrapping, outer packaging and end-of-line packaging.
In recent times, manual packaging which involved heavy labor work has been replaced by the automated packaging solutions which comes with more quality end product packaging and no risk of injuries.
AUTOMATED PACKAGING SOLUTIONS
Automated packaging solution is a much advanced way to deliver more integrated packaging that helps in innovating and integrating solutions that elevate productivity through performance.
Increases productivity rate
Reduces labor cost
Resolves the issue of disordered packaging
Gives you accuracy and consistency in packaging
SECONDARY PACKAGING SOLUTIONS FROM NICHROME
Nichrome is a high-end packaging solution company that gives you the most integrated and automated packaging solutions. Nichrome provides you heavy duty packaging machines and has more than a decade of experience in the industry. Nichrome's secondary packaging solution includes:
CASE ERECTOR: Nichrome's case erectors are reliable and designed to specifically address the usual problems in automatic erection of cases owing to the quality of the corrugated board and the imperfections in its forming process. A unique mechanism is incorporated in this machine to positively open the case irrespective of case quality and ensure squareness throughout the forming process.
FLOW WRAP MACHINE: With the Flexiwrap 700, secondary CSPP Flow-wrapped pouches are formed for a wide range of layflat widths, upto 700mm.
AUTOMATED CASE PACKER: Our Auto Case Packer is a fully automatic solution which includes Automatically forms cases, Automatically counts, collates and forms Carton matrix, Automatically inserts collated Carton matrix into the Case, Automatically tapes top and bottom of Case. The Automated case packer has a speed up to six shippers per minute.
AUTOMATIC BALING MACHINE: Nichrome Flexibale 450 is an innovative secondary packaging system to pack pre-counted numbers of primary pouches in an economical bulk secondary pouch aiming to replace existing packing methods which are labor intensive and less efficient. The Flexibale 450 is designed to be directly coupled with a primary vertical form fill and seal machine enabling a single operator to manage a complete packaging station from automatic primary packaging to finished balers.
HDPE BAG FILLING LINE MACHINE: Nichrome's Flexibale SR ensures maximum productivity with minimum manpower. This system requires only one operator for VFFS Machine, HDPE Bag Filling & Stitching! With this system, you can get consistent output with minimum footprint and investment.
HORIZONTAL CARTONING MACHINE: Discover fast and efficient cartoning with Nichrome. This secondary packaging machine has a rated output of up to 180 cartons per minute, and handles a variety of cartons with option of both side tuck-in, both side gluing or top tuck-in with bottom gluing.We offer both Continuous and Intermittent Fully automatic Horizontal Cartoners which we integrate with primary packaging.
VERTICAL CARTONING MACHINE: This secondary packaging machine has a rated output of up to 120 cartons per minute, and handles a variety of cartons with option of both side tuck-in, both side gluing or top tuck-in with bottom gluing. The machine structure is of MS sheet metal for durability. Some key features include adjustable carton conveyor with chain type design, servo indexing drive to carton and product chain, motorized carton pick up with vacuum cups, and facility for product insertion inside carton through motor-driven product pusher.
AUTOMATIC POUCH COLLATION & FLOW WRAPPING: With Nichrome's new Secondary Packaging Solution – Flexiwrap ST, you can integrate with existing form fill seal/FFS machine to collate/bundle and flow wrap individual pouches in to Distributor Pack/Retail Ready Packs. It gives you access to automatic counting, stacking and flow wrapping.
To give yourself the best secondary packaging solution choose Nichrome now and book your enquiry for an integrated and automated packaging solution which comes with a lot of perks.