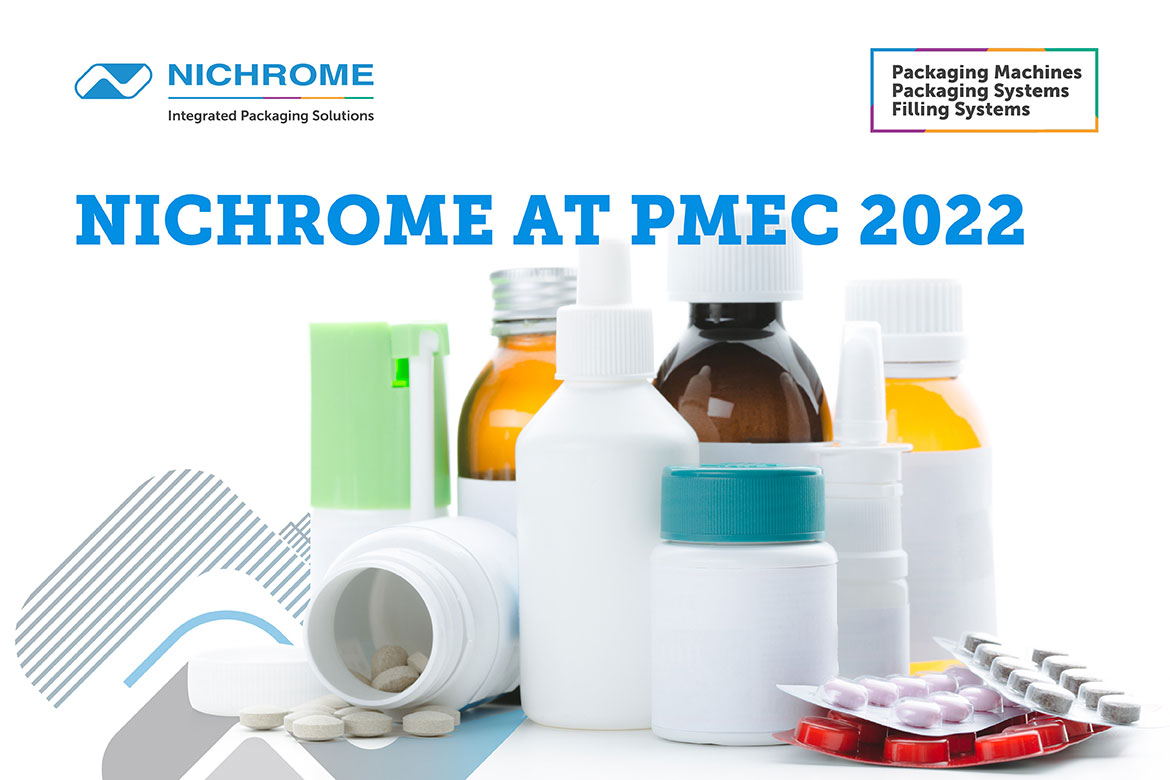 Nichrome at PMEC India 2022
Hark!! Indian pharma industry's biggest exposition of the year PEMC-2022 is just round the corner! This year's action-packed event promises to be more than just an exhibition. With online features and networking opportunities it is envisaged to be bigger and better than the last edition.
…And Nichrome India Limited will be a featuredand popular participant in the expo that is on from November 29-December 1, 2022, at Greater Noida, Delhi NCR.
Pharmaceutical Packaging Machines
Nichrome's pharmaceutical packaging machines and cosmetic packaging machines are legendary. Post-globalisation and post-pandemic, the need to match international quality standards in the pharma industry has become top priority. Pharma manufacturers are compelled to raise their packaging protocols to the highest degree of excellence.
… And Nichrome's pharmaceutical packaging machines are designed to achieve just that!Nichrome's cosmetic packaging machines are available for several applications like packing hair gel, body lotion, shampoo, cream, liquid soap, toothpaste, hair wax and ointments.
Nichrome offers various solutions for granulation like High Shear Mixer for tablets & capsules. We offer an exhaustible portfolio of automated Fluid Bed Dryer (FBD), Tablet Compression Coating, Counting and Filling, Blister Packing, Bulk Packaging, and Cartoning machines.
For Injectable dosages, Nichrome brings proven technology with cost-effective and sustainable solutions.Nichrome has partnered with major suppliers of South-East Asia and Europe to bring the latest solutions to India's pharma industry.
Secondary Packaging, a specialty
Secondary packaging is the first thing your customer sees when picking up your products. Secondary packaging is any type of outer material that protects already packed consumer goods throughout transit. Secondary packaging machines from Nichrome carton packing machine manufacturing plant are designed around three basic concepts: versatility, ergonomics, and optimised efficiency for a small footprint.
Blister Packaging & Bottle Filling Line
Nichrome presents a versatile bottle filling line for liquids, powders, granules & solids. Applications for Nichrome's bottle filling line range from protein powder, pharma powders, tablets, soya chunks etc.
Just change the filler and use the filling line for any liquid, powder, and solid application. Nichrome's ranges of pharmaceutical packaging machines are commendable. The company's bottle filling line is regarded highly preferred in the market.
A Programmable Logic Controller (PLC) system is fitted with a unique 'no bottle no filling' safety device, and safety enclosures with interlocks for rotary parts. It works well for high density polyethylene (HDPE) and glass bottles. The system offers a rapid changeover to bottles of varying sizes.
Nichrome offers world-class pharmaceutical packaging machines for both blister packaging and bottle filling line. Nichrome offers an exclusive portfolio of filler-weighers for diverse applications. With a range of filling capacities and built-in safety features, Nichrome's filling systems can be integrated easily into existing packaging machines.
Nichrome at PMEC 2022
At PMEC India 2022, Nichrome will network and meet the movers and shakers from India's pharma machinery, technology, and ingredients industries, and obtain a competitive advantage.PMEC India 2022, will decidedly power Nichrome's core competencies for integrated packaging systems for pharma.
At the online matchmaking event, we at Nichrome will seek to find the right partners for expansion and diversification. Nichrome will leverage the digital networking and content platform which will be open before and after the event. Extended parleys will be facilitated post-event and several business-specific partnerships are likely to be forged.
Horizontal Flow Wrap Machines
Horizontal flow wrapping machines perform three tasks in one fluid, continuous motion–infeed and spacing of items, wrapping the film around the items, and then sealing and discharging the finished product. The packages need to be protective, consistent, and professional without sacrificing speed. Flow wrappers are often called form fill and seal machines.
Horizontal Form Fill and Seal machines are suitable for pillow-type packaging of big products. Nichrome's Pick-Fill-Seal (PFS) is a Horizontal Form Flow and Seal (HFFS) machine – a durable, cost-effective solution with multiple filler options. An advanced variant of packaging technology innovated by Nichrome enables two or three different fillers to dispense multiple types of ingredients in the same pouch.
Conclusion
Nichrome promises customized pharma packaging services, product integration, on-schedule deliveries, and after-sales care. They also offer the benefit of single-supplier convenience, and the assurance of international technology backed by expert, local support….and all this will be showcased at PMEC India 2022.