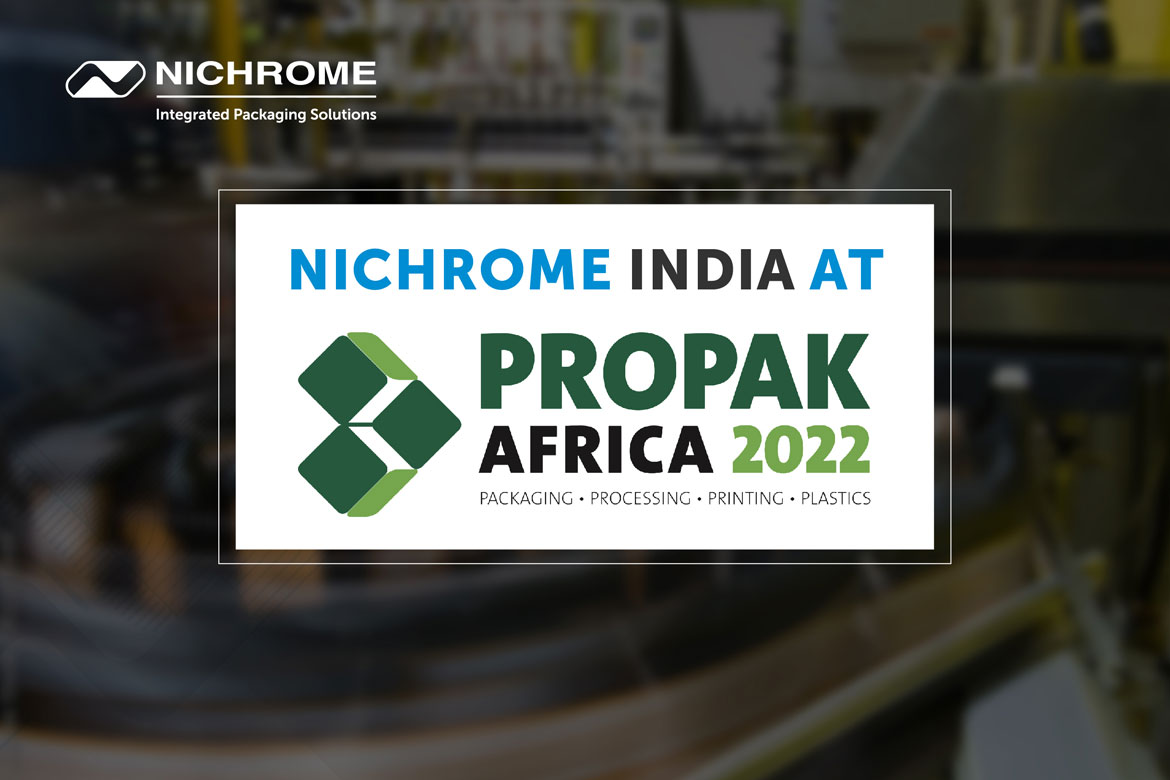 Nichrome India at Propak Africa
On 8th March 2022, the world's industry headed to Johannesburg to visit Propak Africa 2022. Propak Africa is Africa's leading packaging, printing, food processing, plastics and labelling trade exhibition. It's the place to see latest innovations and technologies, packaging initiatives and cutting-edge machinery, products, consumables, systems and services.
Whether as an exhibitor or a visitor, Propak Africa offers 4 exciting days to meet knowledgeable exhibitors, network with suppliers and service providers, source cutting-edge products & technologies, and enjoy live demos, free seminars and more.
Nichrome at Propak Africa
Nichrome India was at Propak Africa, with a stall to display its offerings, network with industry representatives, and showcase its expertise in packaging.
Nichrome is already a well-known name in Africa and other parts of the world. A highly reputable packaging machine manufacturer, with its own impressive design and manufacturing capabilities, Nichrome has presence in 45+ countries of the world and over 10,000 installations. So, their participation in Propak Africa certainly helped to expand their footprint in Africa and neighbouring countries.
Nichrome and Africa
Nichrome is committed to Africa and to its industry. For the last 25 years, they have partnered with food, pharma and non-food manufacturers and marketers to enhance their packaging and retail value.
Nichrome has several achievements to their credit. They helped to successfully launch oil and drinking yogurt in flexible pouches and reintroduced milk pouches in Kenya. They have developed and installed rice plants and efficiently handled turnkey mini dairy plants in Kenya. Nichrome also introduced the penta seal pouch in Africa.
Today, they have a long list of esteemed clients and many successful projects in Africa. The aim is to go further and deeper, growing their reach and improving their support network so they can serve more and more industries across Africa.
Infinite possibilities with Nichrome
For startups, medium sized businesses or large MNCs, for existing or emerging applications, Nichrome offers infinite possibilities in packaging solutions. That too, with one-stop convenience.
With Nichrome's strong thrust on R&D, they partner with customers, study their market and specific application, and innovate integrated solutions that deliver relevant advantages.
It could be a small variation in a pouch format or customization of an existing machine; a pro-actively developed filling system or consultancy & system design for a complete packaging plant – Nichrome has the expertise, capabilities and innovation to transform productivity and enrich customer relationships in endless ways.
Nichrome's packaging expertise
Since Nichrome developed India's first indigenous milk packaging machine in 1977, they have been at the forefront of next-generation packaging technologies; a brand trusted for its rich legacy of pioneering innovation, extensive domain knowledge and manufacturing competency in packaging systems.
Nichrome's expertise covers the complete spectrum of food, non-food and pharma applications. Snack packaging machine, milk packaging machine, powder filling machine, sugar packaging machine, oil filling machine, pulses & grain packaging machine, bottle filling lines, tin filling lines, mini dairy plants, tablet/capsule packaging lines, blister packaging – the list of Nichrome's offerings can go on and on. Nichrome also offers filling systems and integrated packaging systems for a wide range of applications.
Nichrome has also partnered with renowned international companies for some technologies, especially for the Pharmaceutical sector. For enterprises big and small, for applications existing and emerging, Nichrome offers infinite possibilities in integrated, automated packaging solutions – as they partner with customers through the complete lifecycle, offering application-specific solutions, backed by dependable service and support.
Conclusion
In case you missed the Nichrome stall at Propak Africa, please contact Nichrome India directly, to discover their latest, cost-effective solutions for Africa's industry.The leading manufacturer of packaging machines India, Nichrome has proved itself overseas as well with presence in 45 countries and more than 10,000 successful installations worldwide. So, customers in Africa or anywhere can expect top-of-the-line technology and reliable service at any location.