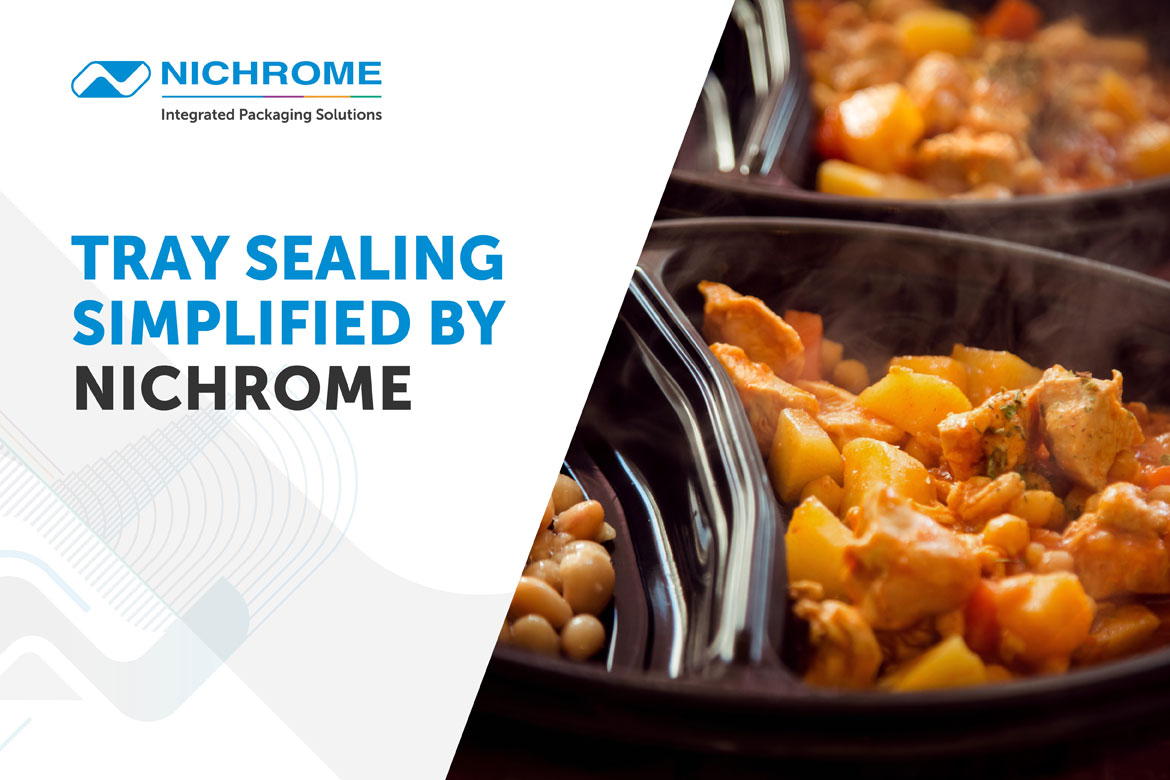 Tray Sealing Simplified By Nichrome
Companies in the food & beverage industry know how critical packaging is for keeping food fresh and preventing deterioration. Packaging also plays a crucial role in attracting customers and making the food easily transportable. Tray sealing is a newish trend that looks like it's here to stay.
Nichrome is happy to introduce you to this new technology for food packaging.
What are Tray Sealers?
Tray sealers are automated packaging machines that apply plastic film lids to trays of varying materials, sizes, shapes and depths. They are also known as heat sealers, top sealers or tray lidding machines. The versatility of this technology makes it the optimal solution for packaging fresh produce, meats, frozen meals, ready-made meals, snacks and more. In India, their application is growing in the snacks and sweetmeats section with a large number of mithai and savoury items being packaged in thermoformed trays.
How do Tray Sealers work?
Tray Sealers come in two basic formats: semi-automatic and automatic. The process begins with the product-filled trays entering the in-feed conveyor where they get indexed and spaced. They are then picked up by a transfer beam to be transferred within the tooling. The seal plate picks up the product-filled trays and lifts them against the film. The film and trays are then compressed against the heated upper tooling to activate the sealing properties against the tray, while simultaneously cutting the film. Finally, after the necessary seal dwell time has elapsed, the seal station lowers the trays back down and ejects them to the out-feed of the machine.
Tray Sealers from Nichrome
Nichrome, India's leading provider of automatic packaging machines and integrated packaging solutions has tied up with Tecnovac, Italy to bring the latest MAP tray sealing technology to India's food industry. The offerings include:
Athena: This is an automatic tray sealer for small to medium production scale, designed for longevity and continuous operation in aggressive environments. The simple and intuitive interface makes it the best choice for most users. Athena is capable of packaging in modified atmosphere any combination of compatible trays and top film studied for such applications. Thanks to the Athena's strong stainless steel structure, easy maintenance and conformity to hygienic requirements, this machine is ideal for use in small and medium sized companies.
Athena is available in different versions: only sealing, sealing and MAP, sealing/MAP/SKIN, and for trays up to 250mm high.
Olympia: This semi-automatic machine has been designed to package food in sealing alone, in a modified atmosphere or with "SKIN effect". The compact size and simple use make this machine the ideal choice for those entering the world of professional packaging.
Built entirely in stainless steel, it is fitted with the best components on the market to guarantee performance and reliability.
Olympia too is available in different versions: sealing alone, sealing/gas-vacuum, sealing/gas-vacuum/SKIN-SKIN PROTRUDING, and for high packages up to 250 mm.
Olympia PRO: The Olympia PRO model has been developed to easily pack foods in pre-formed trays.
The semi-automatic configuration with the rotary table and the two vacuum chambers, maximizes the production! In fact, during the packaging cycle, it's possible to unload and load up the second chamber, increasing productivity.
Why Nichrome?
Since Nichrome developed India's first indigenous milk packaging machine in 1977, they have been at the forefront of next-generation packaging technologies; a brand trusted for its rich legacy of pioneering innovation, extensive domain knowledge and manufacturing competency in packaging systems.
For enterprises big and small, for applications existing and emerging, Nichrome offer infinite possibilities in integrated, automated packaging solutions – as they partner with customers through the complete lifecycle, offering application-specific solutions, backed by dependable service and support.
Based in Pune, India, Nichrome's sales & service network spans India and the world. They have presence in 45 countries and more than 10,000 successful installations worldwide.
Conclusion
Nichrome's tray sealing solutions, for mithai manufacturers and makers of Indian snacks, ready meals, fresh produce, etc., the Tecnovac range offers unmatched advantages, matched by Nichrome's proven expertise, sales & service network, and sound installation support.