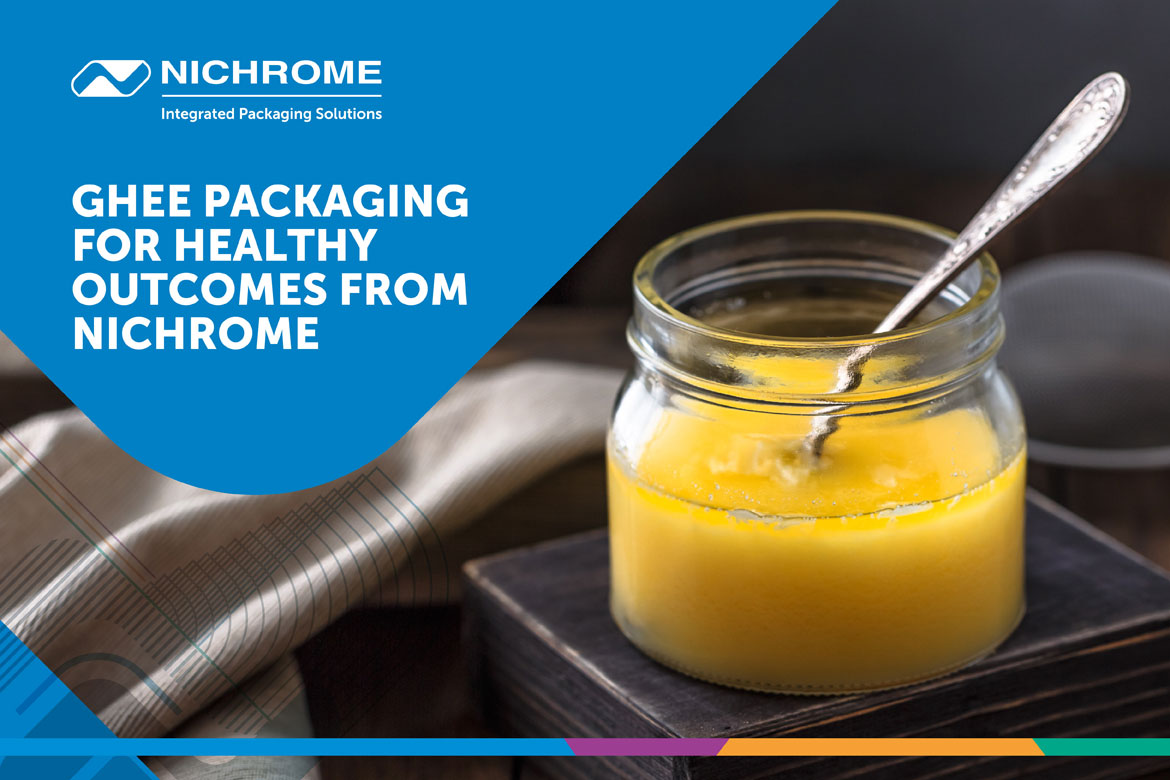 Ghee Packaging for Healthy Outcomes From Nichrome
Ghee is the second most consumed dairy product in India and is widely used in Indian cooking. There are a number of factors for the growing ghee market – population growth, rising incomes, easy availability, and a greater appreciation of the health benefits of ghee. It comes as no surprise that the ghee market is forecast to grow at a rate of 15% till 2024.
Uttar Pradesh currently accounts for the majority of the ghee market in India, followed by Rajasthan and Madhya Pradesh. Some of the prominent players in the market are GCMMF (Amul), RCDF, Mother Dairy, Patanjali, SMC Foods etc.
Ghee Packaging from Nichrome
Even though ghee has a long shelf life – it can be stored for 6 to 12 months under the right conditions – proper filling and packaging play an important role. The ghee can turn rancid when exposed to heat, light, air, water vapour and certain metals that cause deterioration.
Nichrome's technology can be used to package ghee in commonly used ghee packaging materials:
Tin Cans: Most commonly used for bulk packs of 5L and 15L. Coated to prevent rusting.
Glass Bottles: Provide excellent protection to maintain the quality of ghee. Normally used for retail packs of 100g to 500g.
Semi-rigid Containers: Generally made from HDPE and provide advantages of being lightweight, economical and easy to transport. These containers come in a few types: blow moulded HDPE bottles, jars and cherry cans; and odour-free PET bottles that act as gas barriers.
Flexible Pouches: The most economical approach for ghee packaging. These pouches need to be made using materials with the following characteristics:
No reaction with ghee
Easy availability at low cost
Non-toxic materials
Should not let the printing ink penetrate into the produce
Should have good barriers to prevent spoilage
Should be able to survive the rigours of transportation
Ghee Packaging Solutions from Nichrome
Nichrome is a ghee packing machine manufacturer whose product range has many solutions for the packaging of ghee to match your space, packaging format and budget requirements.
Some of the more popular ones are:
VFFS Ghee Pouch Packaging Machine

The Filpack Servo SMD is Nichrome's most popular ghee packaging machine and is a durable, heavy-duty option, with a touch screen HMI panel and PLCs that control operations. It comes with an enclosed SS cabinet for hygienic operation and also occupies less floor space.

The Filpack Servo SMD operates at speeds of 70-85 pouches per minute depending on the package size and can package ghee and other viscous products such as oil, ketchup, fruit pulp, mayonnaise, curry pastes and even products like grease, paint, adhesives etc.

The pouches are in 3 side seal format and quantities range from 50 ml to 1000 ml.

This machine also comes with independent head operation so one can pack two different products and quantities simultaneously.
Bottle Filling Line

Nichrome's efficient integrated system for bottle filling and packaging covers a turntable, UV sterilization chamber, automatic liquid filling machine, cap feeding elevator, rotary capping machine, induction sealer, labelling machine, date & batch coding system, and a packing table.

The system is controlled by PLCs and packs a number of viscous products such as ghee, ketchup, chocolate sauce and more. Some of the other applications of this system include a wide variety of food & beverage products such as flavoured milk, soft drinks, energy drinks, water & buttermilk and non-food liquids such as perfumes, oil, shampoos and handwash with SKUs ranging from 100 ml to 20 litres.
Tin Filling Line

The Tin Filling Line from Nichrome offers sturdy, low maintenance operation with accurate and efficient performance. This line is controlled by PLCs and has a digital LCD touch screen to display settings and safety enclosures with interlocks for rotary parts.

This is a composite friendly line that offers auto lid feeding, placing, and lid seaming. The machinery can be constructed in SS3014, SS316 and MS painted materials with various sterilization and cleaning options available.
Conclusion
If you want to take advantage of the rising demand for ghee and the cost-effectiveness of flexible packaging, you should consider Nichrome's ghee packaging solutions. In addition to offering the latest technology, Nichrome also offers the expertise to customise and manufacture solutions for businesses of all scales. Nichrome – among the best food packaging machine manufacturers in India – started operations 4 decades ago as a pioneer in milk pouch packaging machines for India's White Revolution. In the present day, Nichrome's know-how and capabilities cover the packaging of a wide range of dairy products. Nichrome has a reputation for being a leading integrated packaging solutions provider and oil packing machine manufacturer and is trusted for the superior technology of its automatic packaging machines, manufacturing capabilities, nationwide service support and trenchant problem-solving skills. Nichrome – as a food packaging machine and automatic oil filling machine manufacturer – believes in partnering with customers through the complete lifecycle of the solution, delivering the most effective application-specific solutions. Nichrome is based out of Pune, India and possesses a service network that spans the world. With a presence in 45 countries and more than 7000 successful installations worldwide, Nichrome is truly a Global Player in its domain.

Visit www.nichrome.com for more information.