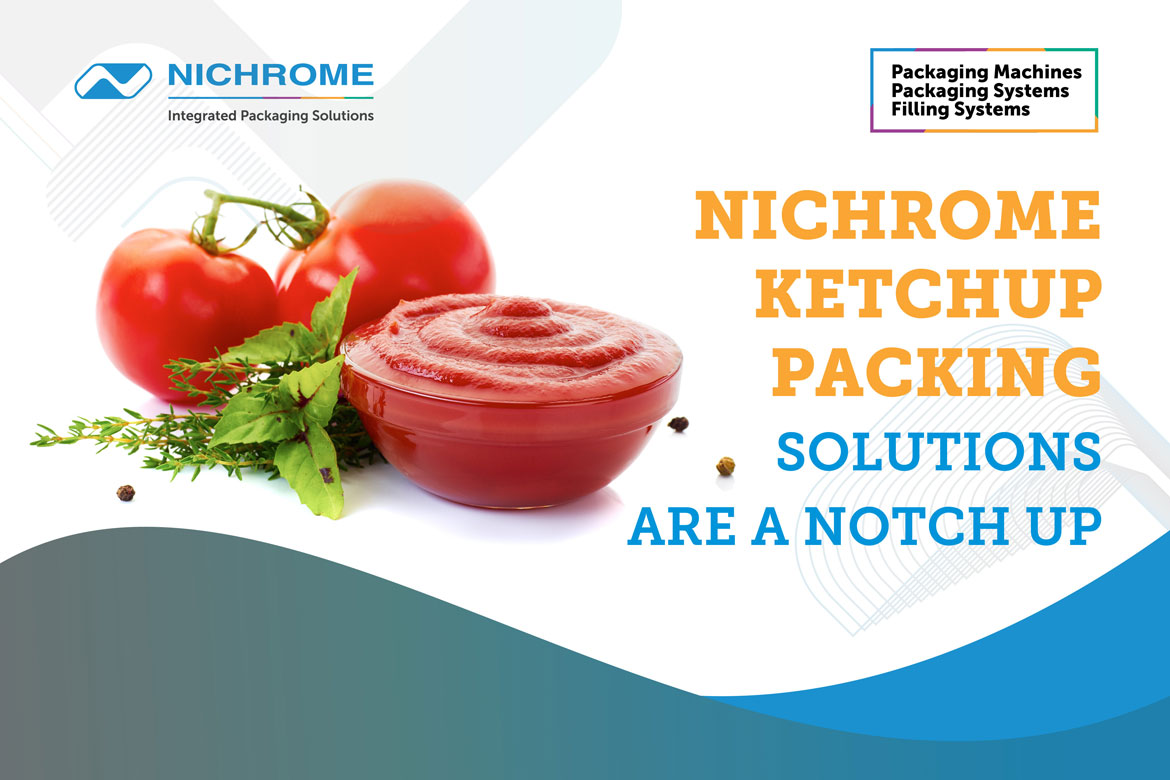 Nichrome ketchup packing solutions are a notch up
Globally, and across industries, pouch filling machines are a popular choice for viscous condiments packing and viscous ready to eat foods like tomato ketchup. Tomato ketchup packing is usually done in two ways- in tear away or standee pouches, or in High Density Polyethylene (HDPE) bottles.
In either case, the tomato ketchup packaging needs to be robust and leak-proof. Hence the need for superior quality packing machinery. Pouches are flexible, lightweight bags that offer many advantages over traditional packaging such as metal cans or glass bottle packing.
Types of Ketchup Packing
There are two major types of liquid pouch filling machines: vertical form fill seal (VFFS) and horizontal form fill seal (HFFS) packing machines. The filled and sealed bag is cut away. As is evident in many tomato sauce/ketchup brands, the top seal on the first bag becomes the bottom of the next bag, and the process repeats. The cut pouch falls to a collection system, typically a belt conveyor that brings the pouch to the next packaging step.
Ketchup packing is generally referred to as 'flexible packaging' or 'sachet packing' as opposed to 'bottle and jar packing' which is rigid.
Flexible packaging offers several advantages: it uses less material, needs less energy during formation, and produces less greenhouse gases during manufacturing. Being lightweight & unbreakable, it is economical to pack, store, and transport.
Nichrome Ketchup Packaging
There are many pouch filling machine manufacturers offering multiple packaging machines for diverse applications. If you are looking for a ketchup pouch packing machine manufacturer – Nichrome is your best bet.
Four decades of experience worldwide, intensive inhouse R&D, state-of-art manufacturing, technology tie-ups with global majors, thousands of successful installations, strong nation-wide service network – few pouch filling machine manufacturers can match the knowhow, capabilities, and record of accomplishment of Nichrome.
HFFS for Ketchup Packing
Whether your ask is for HFFS or multitrack packing machine (for 4 side seal pouches up to 100 gm); pick fill seal machines; bottling line or standee pouch/ DOYPACK pouch packing– explore Nichrome's offerings for packing tomato paste/ketchup. Nichrome offers special sealing technology for viscous liquids on its multitrack machines.
Cost-effectiveness
Nichrome is dedicated to offering the most advanced packaging technology for food, pharma, and other relevant industries. Nichrome can deliver top quality at competitive prices with its own R&D centre, manufacturing, and testing facilities.
High ROI
Nichrome proactively supports customers from consultation and customized packaging machine development to the production of the packaging machine, backing it up with extensive after-sales service. Some hallmarks of Nichrome's packaging solutions are high production rates, optimum accuracy, and consistent pouch quality as per the client's requirements.
T-110
In its T-110 ketchup packaging machine, Nichrome offers an efficient integrated system for ketchup filling and packaging that covers a turntable, UV sterilisation chamber, automatic liquid filling machine, cap feeding elevator, rotary capping machine, induction sealer, labelling machine, date & batch coding system, and packing table. SKUs range from 100 ml to 20 litres. Applications include a wide range of packing solutions for food & liquids such as ketchup.
T-140
Nichrome's HFFS packaging machines bring you next generation, linear technology from Europe. The series is versatile and can be used for packing a wide range of powders, grains, snacks, liquids, and viscous products like ketchup using different fillers. The series also offers a range of pouch formats with superior pouch aesthetics.
T-170
Nichrome's HFFS packaging machines, especially the T-170are PLC based with touch screen interface. The compact and versatile design offers both single and perforated chain of pouches with quick and easy changeover. Well-designed duplex modules are available for higher outputs.
Nichrome is a leading manufacturer of form-fill-seal packaging machines in India. A pioneer of flexible packaging in India, Nichrome brings four decades of experience and innovation to the table.
Nichrome's offerings include a wide range of VFFS and HFFS packaging machines. Horizontal form fill seal machines are traditionally more flexible and versatile than vertical form fill seal ones, although the latest VFFS packaging systems are more adaptable to different products, pouch types & sizes, film types than earlier versions.
Pick and Fill Seal
Nichrome's Pick-Fill-Seal machine provides the combined benefits of variety, productivity, and specialty packaging for ready-to-eat foods. Using versatile rotary technology, the horizontal packaging machine conveniently packs a wide variety of ready-to-eat foods in eye-catching innovative shapes while maintaining freshness of the products.
The machine is sturdy and compact, easy to clean and maintain. An advanced variant of packaging technology innovated by Nichrome enables two or three different fillers to dispense multiple types of ingredients in the same pouch.
Bottle Filling Machine
Nichrome's Bottle Filling system is designed to handle many different types of products, from water to tomato ketchup. From products with thin watery consistency to highly viscous products like ketchup, Nichrome's liquid food packaging system can handle them all.
Nichrome's liquid filling machine also handles a versatile SKU range with fast changeover and no change of parts. It is equally efficient packing in glass, HDPE and PP bottles or metal tins.
Conclusion
It could be a small variation in a pouch format or customization of an existing machine; a pro-actively developed filling system or consultancy & system design for a complete packaging plant – Nichrome has the expertise, capabilities and innovation to transform productivity and enrich customer relationships in endless ways. Call Nichrome to discuss your unique requirements and let us amaze you with our products and services.