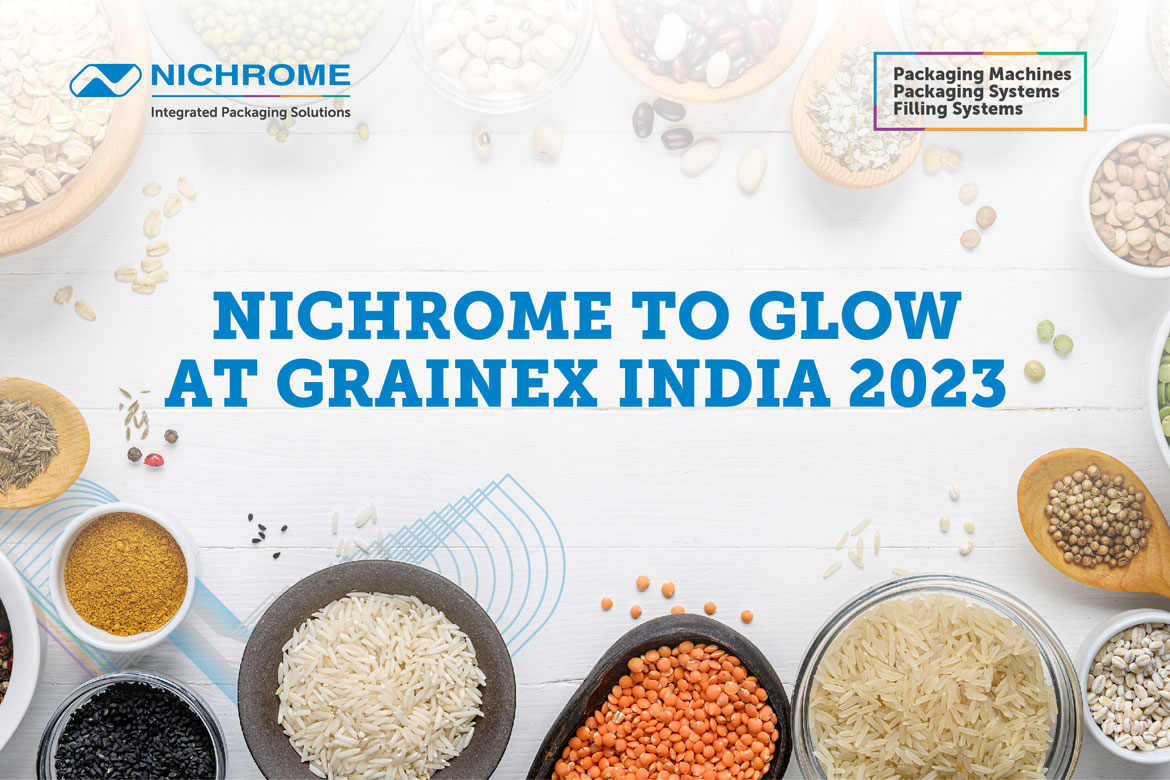 Nichrome To Glow At GrainEx India 2023
GrainEx, India's renowned technology exhibition & conference for the grain milling industry, will be held between January 20-22, 2023, at the Helipad Exhibition Centre, Gandhinagar, Gujarat.
Nichrome India, the world's leading integrated packaging solutions (IPS) manufacturer, will showcase its innovative automated packaging systems at GrainEx India 2023.
Nichrome will participate in this mega event and add lustre to the expo by its very presence because of the uniqueness of its integrated packaging solutions characterised by ease-of-use, superior design and functionality, exhaustive range, customisability, and bespoke manufacturing backed by decades of R&D.
GrainEx India 2023 is sponsored by certain prestigious Indian agricultural and food organizations like the Akhil Gujarat Rice Mill Owners Association, Gujarat Pulses Manufacturing Association, Gujarat Roller Flour Miller's Association, and All India Dal Mills Association.
There are an estimated 1,200 roller flour mills in India. For all of them, GrainEx India 2023 will present an excellent opportunity to explore synergies with other industry players from across the country.
Nichrome's unparalleled IPS range
A pioneer then and a leader now, Nichrome India trumps competition with its plethora of integrated packaging and filling systems forfood, non-food, and pharma.
Nichrome's Vertical Form Fill Seal (VFFS) machines for solids, liquids, and viscous material are bespoke. Nichrome's VFFS multilane and Horizontal Form Fill Seal (HFFS) systems are the preferred choice in India and globally. Nichrome's Map Tray Sealing Machines are the talk of the industry.
Nichrome India spearheads the manufacture of jar filling machines, case packers, shrink wrapping machines, food package machines, pharmaceutical packaging machines, and integrated packaging solutions like auto case erectors, box packing machines, and secondary packaging machines.
For projects big and small in food, non-food and pharma applications, Nichrome partners through the complete lifecycle, innovating and integrating solutions that elevate productivity through performance. Nichrome offers proven expertise and single-source convenience for pre-primary, post-primary, and end-to-end system solutions.
Nichrome grain packing solutions
Think automated grain packaging machines, think Nichrome. Nichrome offers a wide array of products for Multilane Vertical Form Fill Seal (VFFS), solid packaging, liquid packaging, viscous material packaging, Horizontal Form Fill Seal (HFFS) and tin & jar filling systems well known for their performance, durability and versatility.
Nichrome India's integrated packaging solutions take packaging tech to the next level of capability because they are backed by extensive R&D and tailor-made design.
Nichrome's grain filling systems, powder filling machine, tin filling machine, jar filling machine, can filling & sealing machine, carton packing machine, flow wrap machine and horizontal flow wrap machine are the preferred products in India and worldwide.
Nichrome offers a wide range of machines providing numerous solutions for your grain and seed packaging needs. Food Packaging Machines like the Excel Plus series, equipped with modern technology offer innovative packaging solutions that follow stringent packaging quality standards for a wide range of products.
Excel Plus Series
The Excel Plus series comes with an advantage of automation equipped with control engineering (CE) marked Programmable Logic Controller (PLC) and touch screen human-machine interface (HMI).
Key features include print mark scanners, servo motor driven bag length control system, and adjustable stroke of cross sealing jaws for optimum performance. It is designed as per stringent quality standards and can be easily integrated to upstream or downstream machines/systems.
Excel Vertipack 320
Excel Vertipack 320 is India's first vertical pouch packaging machine. Yet another versatile innovation from Nichrome, Excel Vertipack 320 has been developed for packaging dry fruits, snacks, pasta, and grains in a variety of stand-up pouches with or without zipper.
With its high-speed performance, sturdy design, online check weigher & metal detector, compatibility with multiple fillers, and a host of other features, Excel Vertipack 320 assures you robust performance with unmatched versatility.
Sprint 250 Plus
For pouch quantities up to 2 Kgs, Nichrome's Sprint 250 Plus series offers speed, accuracy, and efficiency for flexible packaging of a wide variety of snacks, grains, and powders.
Sprint 250 Plus is an automated machine with CE marked PLC and touch screen HMI. Its servo motor driven sealing system can effectively seal with pressure levels maintained. It is programmed to pull the exact length of film required for packaging and offers a perforation system to deliver a chain of small pouches.
Nichrome's Food Packaging Solutions
Nichrome is at the forefront of path breaking IPS technology with its multitude of food packaging products like the Snacks & Namkeen Packaging Machine, Ready-to-Eat Food Packaging Machine, Grains & Seeds Packaging Machine, Milk & liquids Packaging Machine, Powder Packaging Machine, Spice Packaging Machine, Coffee Packaging Machine, Sugar Packaging Machine, Oil Packaging Machine, Salt Packaging Machine, and Tea Packaging Machine.
Why Nichrome?
For enterprises big and small, for applications existing and emerging, we offer infinite possibilities in integrated, automated packaging solutions. We partner with customers through the complete product lifecycle, offering application-specific solutions, backed by dependable service and support. Based in Pune, India, our sales & service network spans India and the world. We have presence in 45 plus countries and over 10,000 plus successful installations worldwide.
Conclusion
With automated Nichrome packaging solutions, you do not just get machines to do this. We handhold you through the entire operation from kick-off to completion. We believe in providing total turnkey automated secondary packaging solutions that will fit your packaging requirements like a glove.