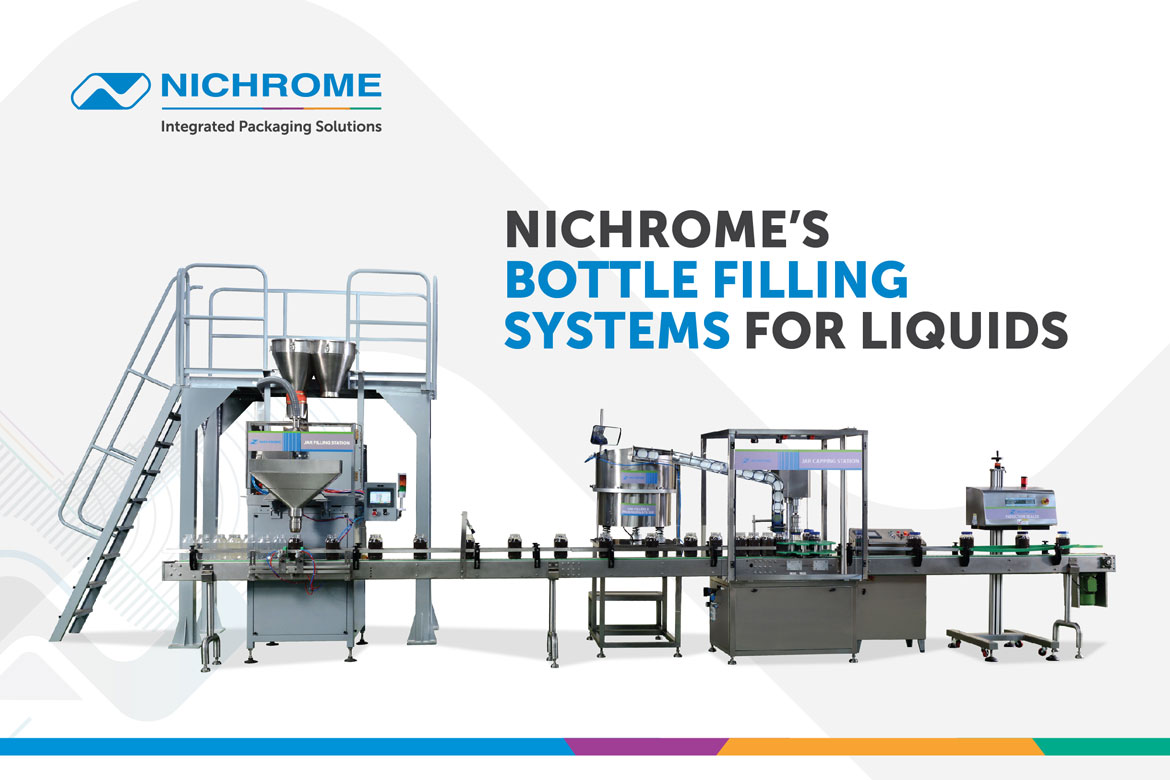 Nichrome's Bottle Filling Systems for Liquids
Automatic liquid filling machines and end-to-end production lines are helping make liquid packaging more accurate, fast and hygienic across a wide range of industries. Producers in the food and beverages, pharmaceutical, chemicals and cosmetics industries have come to realise that automated filling machines and automatic packaging machines have the capacity for much higher production speeds than manual filling. Even in the case of plastic or glass bottle filling, automated machines are more reliable in terms of accuracy, hygiene and output.
Considerations for Liquid Packaging
Even before the product hits the shelves, packaging and processing facilities must ensure that the product remains free of contaminants and possible spoilage before consumption.

While the packaging design is crucial for keeping products safe from contamination and spoilage, liquid products need to be protected prior to the packaging process.

Effective packaging systems integration needs to be utilized to ensure that the products remain safe at all times during the packaging process. In the case of liquid packaging lines, this includes using dependable liquid filling machines and related packaging equipment specifically designed to handle the product.

Nichrome displays its superior capabilities in Bottle Filling Systems for liquids.
Nichrome's Liquid Packaging Solutions
Liquid packaging was the first technology developed by Nichrome way back in 1977. Nichrome answered the government's call for cost-effective indigenous milk packaging by manufacturing India's first indigenous milk pouch packaging machine.
Nichrome's diverse range of liquid packaging machines is suited to packaging a wide variety of liquids. Nichrome has innovative packaging solutions for liquids ranging from free flow liquids, to highly viscous. Nichrome boasts of decades of experience in handling the different characteristics of different liquids: foam generating liquids, liquids with lumpy particles, liquids that need nitrogen flushing, liquids that require constant temperature, flammable liquids etc. Nichrome has the capacity to customise solutions for client-specific requirements.
Nichrome's Bottle Filling Line for Liquids
Nichrome's automatic bottle filling system is an integrated packaging solution that can pack liquids in SKUs from 100ml to 20ltrs.

Some of the applications of this automated bottle filling system include a diverse range of food and beverage liquids such as flavoured milk, water and buttermilk, soft drinks, energy drinks; non-food liquids such as perfumes, shampoo, handwash oil; viscous products such as ghee, ketchup, chocolate sauce et al.
Nichrome's bottle filling line is an efficient integrated system for bottle filling and packaging. The components of this system include:
Turntable
UV sterilisation chamber
Automatic liquid filling machine
Cap feeding elevator
Rotary capping machine
Induction sealer
Labelling machine
Date & batch coding system
Packing table
Key Features of Nichrome's Bottle Filling Line for Liquids
"No Bottle, No Filling" safety device which prevents spillage or drippage of liquids if there is no bottle in the line.
Auto cap placing, pressing and screwing feature available which effectively automates the bottling process.
Glass, HDPE, PP bottle and Metal Tin friendly line, so that a variety of container/bottle types can be filled.
Machine construction available in SS304, SS316 and M.S painted.
PLC controlled line for precision and accuracy.
Fast changeover design for different bottle sizes for quick changeover.
Digital LCD touchscreen display and settings for easy control and operation.
Safety enclosures with interlocks for rotary parts to prevent accidents.
Various bottle sterilization and cleaning options available for specific highly sensitive liquid packaging.
Versatile SKU packing range without the need to change parts.
Fast cut off option to achieve accuracy and speed.
Completely drip-free filling to avoid wastage and spillage.
Conclusion
Nichrome is India's leading automatic filling machine manufacturer, and the pioneer in Milk pouch packing machines in India.
Since Nichrome's development of India's first indigenous milk packaging machine in 1977, it has been at the cutting edge of next-generation packaging technologies. It has been a brand trusted for its rich legacy of groundbreaking innovation, expansive domain knowledge and manufacturing prowess in packaging systems. As an innovative packaging machine manufacturer, Nichrome has always had a strong belief in partnering with customers in order to understand their product and the challenges therewith, and providing value in every interaction. Nichrome's impressive portfolio of advanced packaging solutions and global presence has been built on the platform of its strong in-house R&D and manufacturing capabilities.

Connect with Nichrome for your liquid packaging machine needs today!