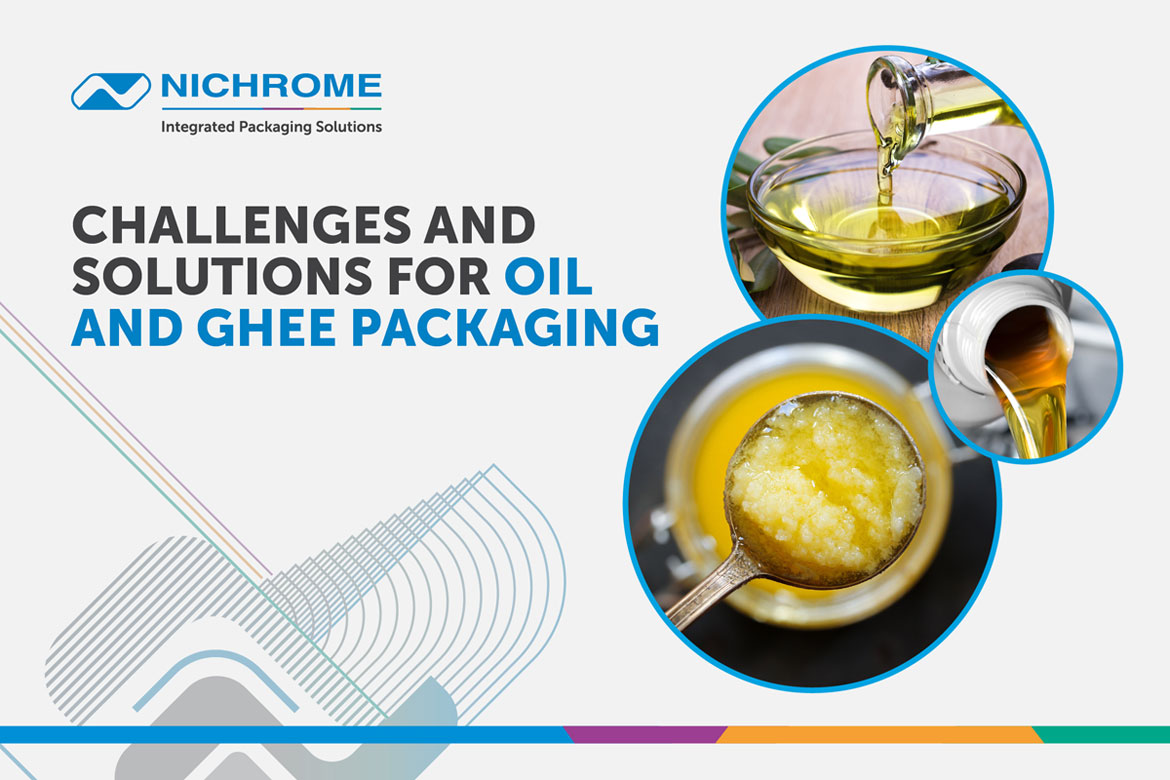 Challenges and Solutions for Oil And Ghee Packaging
Edible oils, ghee and hydrogenated fats (vanaspati) are an integral part of the Indian diet. India is the leading importer of vegetable oils which usually come in expensive tin containers and galvanised iron drums, and then get sold in loose form by retail vendors.This provides scope for adulteration with cheaper oils – a practice that has been the cause of ill health in India and other parts of the world.
Special considerations for oil & ghee packaging
Oils and fats are adversely affected by humidity, oxygen, temperature, light, tainting and are prone to various types of deteriorations. Colour and vitamin degradation can occur due to exposure to UV light and is further accelerated by oxygen.
Ghee too, being a product with very low moisture content needs to be protected from chemical spoilage activated by oxygen, light, humid climates and high temperatures.Off-flavours occur due to oxidative rancidity and hydrolytic rancidity caused by oxygen and moisture respectively.
The packaging of these products is therefore of utmost importance. Excellent quality ghee and oil packaging products help not only in preventing leakage and adulteration but also keep the products fresh and free from bacteria and germs for long length of time.
Improperly packed oil and ghee absorbs foreign odours, oxygen and water vapour. Proper packaging serves to retard deterioration, prevent social hazards of adulteration and the possibility of under-weighing.
Trends in ghee & oil packaging
Storage stability and shelf life of packaged oils/ghee are critical concerns for manufacturers and marketers.It is extremely important that, whatever packaging material is used, it should be food grade and non-toxic. HDPE bottles, PP laminates, Polymer coated cellophane, nylon-6 polymer or food grade PVC and their laminates, glass bottles, PET bottles,PP bottles are being effectively tapped for packing of ghee and edible oil.
Some of the packaging options being used include:
Rigid containers (metal/glass/plastic)
These are generally used for large institutional packs. Glass provides excellent protection, being one of the most inert materials. PET bottles have excellent clarity, are odour-free and have good gas barrier properties. They are accepted internationally for ghee packaging and oil packaging. In fact,plastics are widely replacing glass (heavy weight and fragile) and metal (costly) due to their low cost, light weight, strength, barrier properties and availability in different shapes and sizes.
Semi-rigid packages
These include plastics in flexible, semi-rigid forms such as lined folding cartons, foil-based carton, nylon-based bag-in-box with tap, etc.
Flexible Pouches
The high price of rigid/semi-rigid packs, and lack of assurance on quality and quantity in buying loose oil have led to the popularity of flexible pouches as retail packs – especially for smaller SKUs. Flexible pouches are suitable for high-speed FFS machines and offer optimum balance between cost and benefits.They entail lower handling and storage costs; they are available in different forms such as pillow pouch, flat pouch, three side seal pouch, 4 side seal pouch, standup pouch, gusset pouch and more.
Oil and ghee packaging solutions from Nichrome
With four decades of experience in the flexible packaging industry, and 7000+ installations across India and the world, Nichrome can proudly claim to be the Oil packaging machine manufacturer who delivers outstanding single-source convenience and infinite possibilities in integrated, automated packaging solutions.
Nichrome offers a wide range of both HFFS and VFFS cooking oil packaging machines, so customers can find the oil filling machine that suits their individual needs and budget. The offerings include:
Filpack Servo SMD
Filpack Servo SMD is a durable, heavy-duty VFFS oil pouch packaging machine, with touch screen HMI panel and PLC that controls operations. It occupies less floor space and has an enclosed SS cabinet for hygienic operation.
Filpack Servo SMD oil pouch packing machine comes with twin head construction with independent head operation so you can pack two different products and quantities simultaneously. The format offered is the 3 side seal pouch for oil.
T-Series HFFS oil filling machines
This series of horizontal-form-fill-seal machines incorporate the latest linear technology from Europe. The HFFS cooking oil packaging machines, T-110, T-140 and T-170, are PLC based machines with touch screen interface. Their compact and versatile design offers both single and perforated chain of pouches with quick and easy changeover. Well-designed duplex modules are available for higher outputs.
The T-Series can pack between 5 and 250 cubic centimetres in the Simplex version and between 5 and 90 cubic centimeters in the higher-output Duplex mode. The rated output for the Simplex version is 100 packs per minute while the Duplex version delivers 200 packs per minute.
Alternative pouch formats include the four-side seal and zipper pouch formats as well as a contour/profile pouch format. The packaging materials for the HFFS automatic oil filling machines are heat sealable laminates like PET/PE, Paper/Alu-foil/PE or co-extruded films.
Conclusion
Nichrome is India's leading edible oil filling machine manufacturer and ghee packing machine manufacturer with decades of experience and technology knowhow to its credit. Besides a whole gamut of liquid packaging machines for diverse applications in Food, Pharma and other industries, Nichrome also offers secondary and tertiary packaging solutions. So, whether you are looking for a high-performance, automatic oil filling machine or a complete, integrated packaging system, talk to Nichrome.