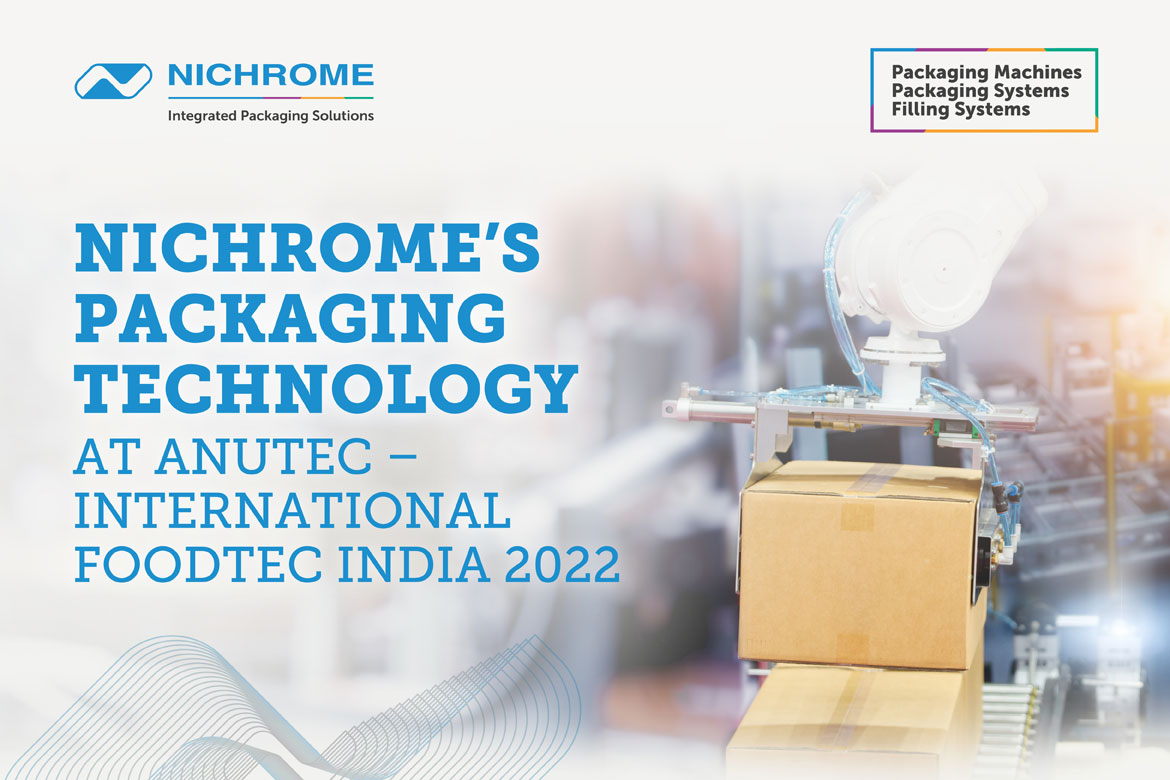 Nichrome's Packaging Technology at ANUTEC International FoodTec India 2022
India is projected as a sunrise sector for food processing – with a profusion of business and growth opportunities – which is why a number of significant food processing and packaging expos are conducted across the country – connecting suppliers and buyers for the growth and advancement of the industry.

'ANUTEC International FoodTec India' is India's leading supplier trade fair for the food and beverage processing industry that covers all aspects of this industry.

The 16th ANUTEC – International FoodTec India exhibition will be held between the 14th and 16th of September at the Bombay Exhibition Centre in Mumbai. The exhibition in Mumbai 2022 connects suppliers and buyers from all across the globe under one roof for the exchange of new developments and to showcase the future of India's food and beverage processing industry.

Nichrome India Ltd – the leading packaging machine manufacturer in India – is showcasing its wares at this food packaging exhibition in India.
About Nichrome India Ltd
Nichrome is among India's foremost packaging machine manufacturers and provides integrated packaging solutions for a diverse range of applications across Food, Pharma and Non-food industries. With over 4 decades of industry experience and authentic expertise, more than 10,000 successful installations and a presence in 45+ countries – Nichrome offers a product range and the capabilities to deliver the ideal cost-effective solutions.

Nichrome has a practice of partnering with its customers to configure the ideal solution. Its expertise, technology, R&D and manufacturing facilities allow Nichrome to deliver the perfect customised solutions. Nichrome also offers training for their customers' staff on the operation of the machine and promises prompt service and maintenance support. With Nichrome as your packaging partner, you're certain of overcoming your packaging challenges!
Integrated Packaging Solutions from Nichrome
Packaging line efficiency as well as the choice of packaging partner are significant considerations for food manufacturers. Among the primary requirements these manufacturers have is the capability of the packaging solution supplier to manufacture and configure a fully integrated line – from primary to secondary to tertiary packaging. The benefits of such a packaging partner include single-source convenience, improved compatibility between machines in the line, and overall layout flexibility.

The goal of integrated packaging solutions providers like Nichrome is to provide fully functional turnkey packaging lines configured according to the customers' specific requirements. Installing such an integrated packaging line simplifies the customers' operations and saves time
Considerations for Integrated Packaging Lines
Some of the considerations when configuring integrated packaging lines include:
Desired production speed
Layout design and floor space utilization
Possibility of further expansion
Packaging line workflow
Nichrome at ANUTEC International FoodTec India 2022
Nichrome will be showcasing its products at ANUTEC International FoodTec India 2022, where the star of the show will be their Flexiwrap 700 Flow Wrap Machine – a high-grade secondary packaging horizontal flow wrap machine in their range.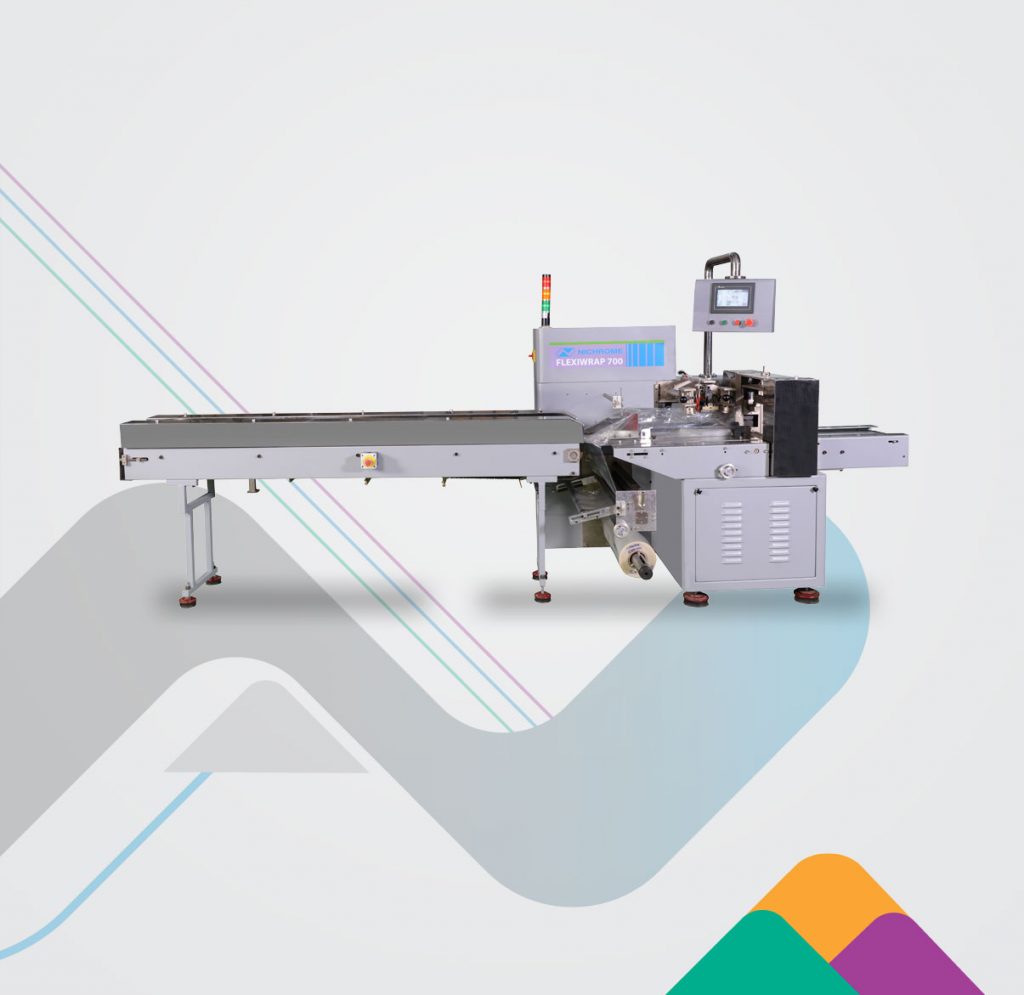 What is Secondary Packaging?
Secondary packaging is the additional layer of packaging for products applied post primary packaging to group a certain quantity of products into a single SKU. The main role of secondary packaging is to provide protection to the products moving through the supply chain. It also preserves the robustness of the primary packaging.

Secondary packaging also permits the transportation of large quantities of the packaged product from the manufacturer to the end-user or point of sale.
Benefits of Secondary Packaging:
Saves time, space, labour, reduces waste material
Eases handling during transportation & storage
Overcomes manual and possible disorderly packaging
Ensures accuracy of weight and pouch count
Enhances productivity
Provides excellent ROI
Allows the conveying of branding and marketing information
Nichrome's Secondary Packaging Solution – Flexiwrap 700 Flow Wrap Machine
The Flexiwrap 700 Flow Wrap Machine forms CSPP flow-wrapped pouches with a wide range of layflat widths up to 700mm.
It operates as follows:
Manual product feeding to a specialised conveyor
Automatic flow wrapping
Salient Features:
Intermittent motion
SS 304 construction material for contact parts
Quick changeover design
Storage of different recipes through PLC programs
Center seal and center conveyor driven by a Servo motor
Side seal driven by pneumatic cylinder
Compatible with BOPP/PPE laminates
Speed of up to 60 packs/min
Conclusion
Whether you are deciding on a Horizontal cartoning machine, automatic bottle filling machine, powder filling machine, tin packing machine, horizontal flow wrap machine, bulk bag filling machine, ghee jar filling machine, powder jar filling machine – whatever your requirements may be, get in touch with Nichrome.
Make the most of the available space, and enhance efficiency and use of resources with Nichrome's bespoke secondary and tertiary packaging solutions. With expertise developed over 4 decades in the packaging industry, and proven in more than 10,000 installations across 45 countries over the globe, Nichrome is your definitive single-source partner for the most effective end-to-end integrated packaging solutions. Visit www.nichrome.com to learn more!