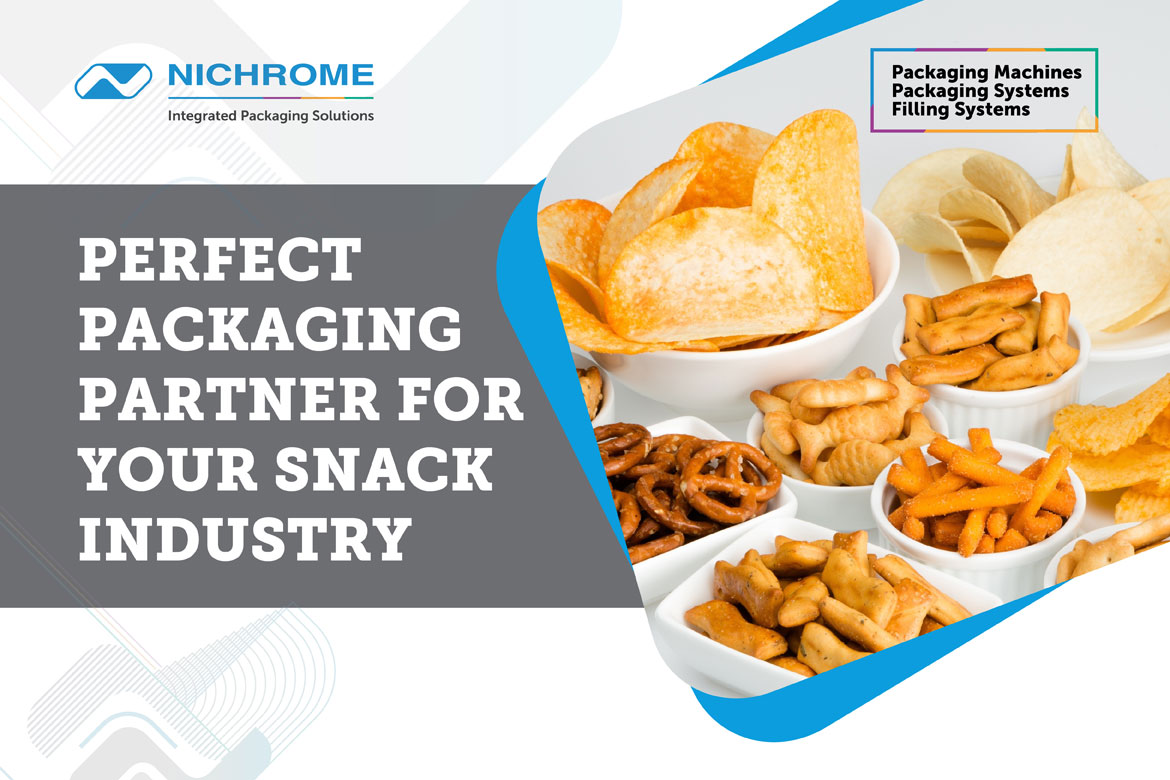 Perfect Packaging Partner for Your Snack Industry
Nichrome is a renowned packaging solution provider that has been offering high-quality innovative packaging solutions to various industries for over 4 decades. With its expertise in the field of packaging, Nichrome has become a leading name in the snack packaging industry.
Snack packaging is an essential aspect of the snack industry. As consumers' preferences change, the snack packaging requirements also need to be modified to cater to their demands. Nichrome offers a wide range of snack packaging machines to meet the industry's demands, such as the Wing 200 E-line Snack Pack, Excel Vertipack 320, Snackpack machine, Excel 400 plus Multi-Head Weigher and Sprint 250 plus Multi-Head Weigher.
Nichrome's Vertical Form Fill Seal Machines
Nichrome's vertical form fill seal machine (VFFS) is one of the most efficient and reliable snack packaging machines & namkeen packaging machines used in the food industry. This food packaging machine is designed to form bags from a roll of packaging material, fill the bags according to your snack requirement, and then seal the bags. Other than snacks & namkeen, Nichrome's VFFS machines are also capable of packaging a wide range of products, including sugar, flour, grains, and other powders.
Wing 200 E-line Snack Pack
The Wing 200 E-line Snack Pack is a compact, versatile, and affordable automatic packaging machine that can pack a variety of snacks, including chips, popcorn, and more. It is designed to provide efficient packaging solutions with minimum downtime, ensuring a high level of productivity.
The Excel Vertipack 320 is another popular food packaging machine designed for packaging snacks. It has a high-speed capacity of up to 150 packs per minute and can be used for various types of snacks, including extruded snacks, namkeens, and more. It is an excellent choice for businesses looking for high-speed and versatile packaging solutions.
The Snackpack machine is designed to offer flexible, efficient and integrated packaging solutions for a wide range of snack products. It can handle both pillow and gusseted bags and is easy to operate, making it ideal for businesses with limited space and staff. It is considered to be one of the best snack packaging machines for puffed snacks.
Excel 400 Plus Multihead Weigher
The Excel 400 plus Multihead weigher is a highly advanced food packaging machine that can handle up to 14 different products simultaneously. It has a high-speed capacity of up to 120 packs per minute and is perfect for businesses looking for a high-speed, reliable, and efficient packaging solution.
Sprint 250 Plus Multi-Head Weigher
The Sprint 250 plus multi-head weigher is another excellent integrated packaging solution designed for snack packaging. It can handle up to 8 different products simultaneously and has a high-speed capacity of up to 130 packs per minute.
There are several advantages to using Nichrome's snack packaging machines for your snack packaging needs. Here are some of the key advantages:
Versatility: Nichrome's snack packaging machines are designed to handle a wide range of snack products, including chips, popcorn, nuts, namkeens, and more. This means you can use a single machine to pack different types of snacks, which saves you time and money.
High-speed capacity: Nichrome's snack packaging machines have a high-speed capacity, which means they can pack a large volume of snacks in a short period. This is especially useful for businesses that have high demand or tight deadlines.
Easy to operate: Nichrome's snack packaging machines are designed to be easy to operate, which means your staff can quickly learn how to use them. This saves you time and money on training costs.
Cost-effective: Nichrome's snack machine prices are cost-effective and provide excellent value for money. They are designed to be affordable and offer a high return on investment.
In conclusion, Nichrome offers a wide range of packaging machines for snack packaging. From providing namkeen packaging machines to potato chips packaging machines, Nichrome has the most innovative packaging solution for your business. With its expertise and experience in the packaging industry, Nichrome is your perfect snack packaging partner. Nichrome is also a leading packaging machine manufacturer in India for providing some of the best coffee packaging machines, milk packaging machines, liquid packaging machines, powder filling machines, sugar packaging machines and oil packaging machines are just a few to name.