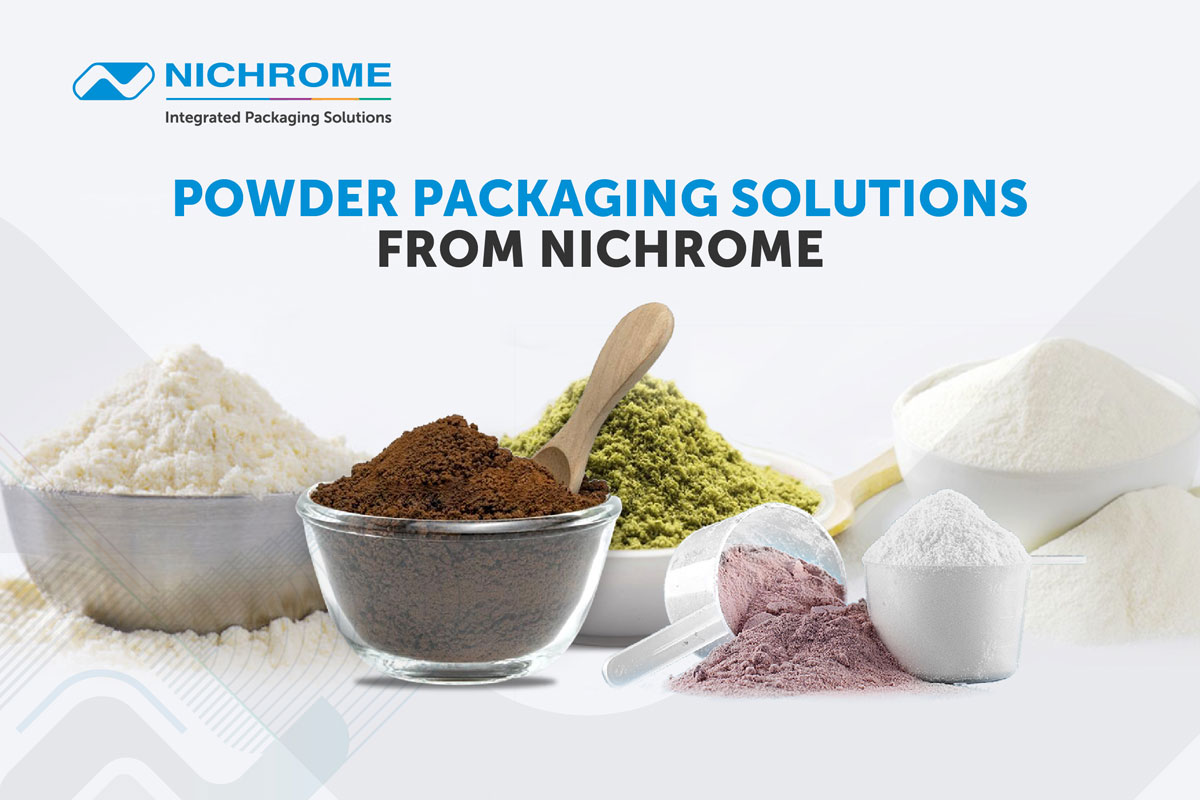 Powder Packaging Solutions from Nichrome
The powder packaging market is growing fast. Whether it be ground masalas or milk powder, drink mixes or nutraceutical products, flour or pre-mixes, there is a huge amount of food, pharma and other powders out there, all waiting to be packed in safe, accurate and hygienic packs.
As convenience products become increasingly popular, we can expect more products and varying package formats for products like spice blends, instant coffee and its variants, drink mixes, protein powders, sweeteners, etc.
Challenges of powder packaging
When choosing a powder packaging machine, or even when providing a powder packaging solution, it is essential to study and understand the pertinent characteristics of the specific powder application. Different powders come with their own challenges. Some are free-flowing, others are not. Some, like flour, cause a dusty environment. Certain powders like agrochemicals can turn explosive with certain gases and an electrical spark. Product changeovers can also cause cross-contamination issues.
Some aspects to be considered when choosing a powder packaging machine are:
Is the powder free-flowing? Products such as table salt or sugar flow freely when dispensed, and do not compact when extra pressure is added.
Is the powder non-free-flowing? These tend to be cohesive and compact under pressure. These include products like brown sugar, powdered milk.
How dusty is the powder? Products like flour, when dispensed, form a cloud of dust that travels far and clings to every surface in the vicinity. These airborne particles can cause serious mechanical issues.
There are other aspects to be considered as well, such as bulk density of the product, which all directly determine pouch sizes and attributes, the type of filler required, as well as the packaging speeds that can be delivered.
Nichrome's Powder Packaging solutions
Nichrome has an automated powder packaging solution to suit every need and challenge. As a reputed automatic filling machine manufacturer and experienced provider of integrated packaging solutions, Nichrome's technology expertise and in-depth knowledge of different industries and applications are unparalleled. Nichrome offers a wide range of spice packaging machines, coffee packaging machines, tea packaging machines, pharmaceutical packaging machines and other powder filling machines. Nichrome can also customise and adapt solutions for specific requirements.
Nichrome prefers to consult with clients before making a sale. Nichrome provides integrated packaging solutions based on four decades of domain expertise, and in-depth study of every client's specific requirements, challenges and goals.
The Nichrome range for powder packaging includes:
Vertical-Form-Fill-Seal (VFFS) Machines
Excel 400 Plus Servo Auger: Easily integrated to upstream or downstream machines/systems this versatile machine offers many pouch formats and has an optimum bagger speed of 80 pouches per minute, depending on the pack size and product bulk density.
Sprint 250 Plus Servo Auger: Sprint 250 Plus Servo Auger: For pouch quantities up to 2 Kgs, Nichrome's Sprint 250 Plus offers speed (up to 120 pouches per minute), accuracy and efficiency for flexible packaging of a wide variety of powders besides snacks & grains.
Maxima 200/400: With a compact design, Maxima 200/400 has a small footprint and produces single or perforated chain of pouches. A PLC-based control system and optional interface with PC & data processors make the Maxima 200/400 a favourite with powder manufacturers.
Horizontal-Form-Fill-Seal (VFFS) Machines
T Series: Nichrome offers HFFS packaging machines from Totpack, Spain. T110, T140 and T170 offer new generation linear technology with a compact design. They offer a range of pouch formats with superior pouch aesthetics. Well-designed duplex modules are available for higher outputs.
Multilane Machines
Multilane Stickpack with Multi-Head Servo Auger: Packs free-flowing powders such as milk powder, coffee powder, salt, sugar, tea/coffee premixes in single-serve stick packs – popular among food chains, travel and hospitality industries.
Conclusion
For a comprehensive range of automated powder packaging machines, few can match Nichrome's portfolio. Nichrome's powder filling machines are high speed, high-performance machines providing accuracy, durability and dependable performance for years. They are easy to clean and maintain, offering versatility with easy changeovers. So if you need a packaging machine manufacturer with proven expertise in powder packaging, contact Nichrome today.