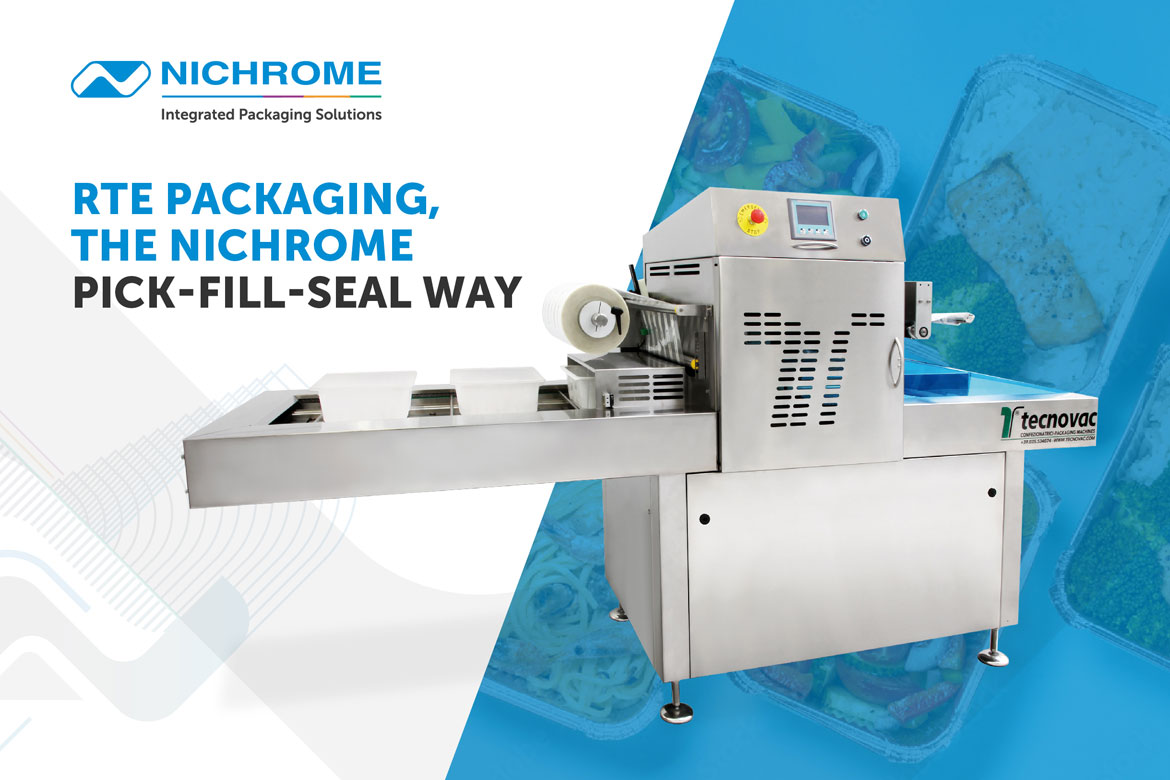 RTE Packaging, the Nichrome Pick-Fill-Seal Way
As lifestyles change, as more and more women join the workforce, as dual-income families increase – the demand for RTE (ready to eat)foods keeps growing. RTE foods offer convenience and portability; they offer a variety of flavours and cuisine styles to delight consumers. Today it could be a South Indian 'bisibilibhaat'; tomorrow a Punjabi 'chhole'; a Hyderabadi 'biryani' the day after. Consumers are spoilt for choice as RTE manufacturers introduce more and more different foods in the RTE format of 'heat & eat'.
For RTE manufacturers, packaging is a crucial concern, and Nichrome, the leading packaging machine manufacturer in India, has just the solution.
Nichrome's Pick-Fill-Seal machine
Nichrome's highly advanced variant of the Pick-Fill-Seal Machine with specially designed RTE fillers can be used to conveniently and quickly pack a wide variety of ready-to-eat and ready-to-cook foods (RTE foods).
This rotary filling and sealing machine has 2 different fillers to dispense different types of ingredients in the same pouch, allowing for easy mixing of ingredients, through gentle handling and without damaging the ingredients.
This high-precision instant food packaging machine allows manufacturers of RTE foods to conveniently pack their perishable products, safely, in a wide variety of stand-up pouch formats, which can then be subjected to retort Packaging for longer shelf life.
The RTE packaging machine also provides a cost-effective integrated packaging solution because it is available with multiple filler options, which can be used for the packaging of items other than RTE foods.
The machine is sturdy and durable, easy to clean and maintain.The compact footprint also helps in saving precious factory space.
Little wonder then, that for foods such as biryani, palak paneer, butter chicken, dal makhana, Punjabi chole & other gravies, besides instant mixes, namkeen, liquid yogurt and sweets such as gulab jamun, Nichrome's PFS is the most preferred automated RTE and RTC packaging machine.
Salient Features:
Servo driven precision indexing
Precision Cam operated mechanism
Less power consumption
Operator friendly, easy-to-clean and maintain
Compact & versatile design
User friendly PLC based machine with touch screen interface
No Pouch, No Fill, No Seal Interlock
Pouch Open Error, No Fill Interlock
Heater malfunction error interlock
Low air pressure alarm
Machine guards with safety interlock
Hygienic stainless steel construction available as an option
Contact parts SS316, SS304 options available
Pouch formats: 3 side seal, 4 side seal, stand up pack, stand up with zipper and Doy pack with side spout.
Nichrome's expertise in RTE packaging
Nichrome has over four decades of experience in the packaging world, and is well known for its indepth understanding of the packaging requirements of diverse applications. Nichrome understands that RTE foods need long shelf life to stay stable and fresh until they reach the consumer's table. It is also important that the foods retain their taste, quality and safety for days after manufacturing, and that the product is protected against contamination during transportation or storage.
Nichrome stays abreast with the latest technologies for ready to eat food packaging and ready to cook food packaging, providing automated packaging solutions for MAP (modified atmosphere packaging), VSP (vacuum skin packaging), and Retort packaging wherein cooked food gets a shelf life of up to 18 months without the need for refrigeration or preservatives.
Nichrome also offers Athena, a horizontal form fill seal machine from Tecnovac, Italy ensures the products stay safe and hygienic till they reach the consumer's table.The machine is able to seal, pack in a protective atmosphere (vacuum + gas) or with "Skin effect" all types of trays or jars, ensuring that the food does not spoil for at least 72 hours.The modified atmosphere packaging (MAP) machine extracts oxygen&carbon dioxide from the air of the trays, synchronously filling them with nitrogen or mixed air, to minimise deterioration of the foods.
Conclusion
In the new normal of work-from-home and the growing emphasis on hygiene in these Covid times, the global demand for RTE and RTC foods is increasing exponentially. For manufacturers in this field, Nichrome offers different solutions for varying needs. Nichrome can even customise packaging solutions to provide the most relevant, cost-effective solution – to package and preserve your products better. Nichrome is a leading automatic filling machine manufacturer, with a comprehensive range of vertical-form-fill-seal and horizontal packaging machines for diverse applications. To make the most of this growing market, Nichrome's packaging solutions provide the hygiene, quality and aesthetics you need to attract and retain customers.